Curiosities, bizarre stuff and trivia
Pearl weird, curious, odd, bizarre and offbeat websites here.
Rules:
-Don't pearl gory, shock or very disturbing stuff
- Please only pearl main websites or blogs, don't pearl posts, videos or features.

Thanks and have fun! kamuiarikado Sep 24
Dangerous Minds
Sometimes Interesting
Boing Boing
Joey Green's Wacky Uses
The Human Marvels
p h r e e q u e s h o w
HYBRID AND MUTANT ANIMALS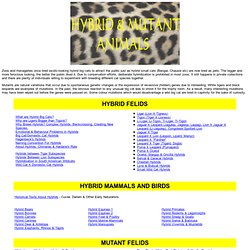 Zoos and menageries once bred exotic-looking hybrid big cats to attract the public just as hybrid small cats (Bengal, Chausie etc) are now bred as pets. The bigger and more ferocious looking, the better the public liked it. Due to conservation efforts, deliberate hybridization is prohibited in most zoos.
occasional hell - infernal device
Abbott, Geoffrey.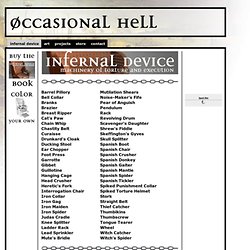 visit4info - The Place for TV Adverts and Funny Video Clips
GIANTmicrobes
Word count - Tracking the Way We Use Language
Tattoo Designs ? Largest tattoo gallery online. Ideas and art pictures for Tribal, Celtic, butterfly, cross, fairy, flower, lower back, dragon, sun, star, armband tattoos & more.
Konky 2000 Collections †
Easter Eggs - Eeggs.com
Today I Found Out
BibliOdyssey
The Straight Dope - Fighting Ignorance Since 1973
Monstrous.com
mental_floss magazine - Where Knowledge Junkies Get Their Fix
Neatorama
Dark Roasted Blend
HowStuffWorks - Learn How Everything Works!
Weird News from all over Asia
Drew Curtis' FARK.com
Top 10 Lists of Everything - Make the list
Top 10 Lists - Listverse