Curation Tools and Ideas
Modern Curation: How Does it Change Teaching? Note: This is cross posted at Smarblog on Education.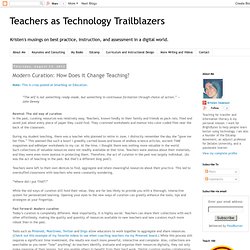 "The self is not something ready-made, but something in continuous formation through choice of action." — John Dewey Rewind: The old way of curation In the past, curating resources was relatively easy. Teachers, known fondly to their family and friends as pack rats, filed and saved just about every piece of paper they could find. They crammed worksheets and memos into color-coded files near the back of the classroom. During my student teaching, there was a teacher who planned to retire in June. Infographics and charts - interactive data visualization | Infogr.am.
Curation Search Tools. iCurate: How to Be A Curation Rockstar. Teaching Students to Become Curators of Ideas: The Curation Project. I know a lot of people view curation as a buzz word devoid of meaning, but I like the metaphor!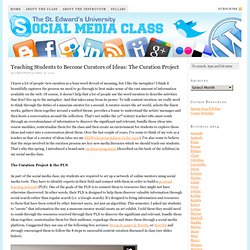 I think it beautifully captures the process we need to go through to best make sense of the vast amount of information available on the web. Of course, it doesn't help that a lot of people use the word curation to describe activities that don't live up to the metaphor. InstaGrok | A new way to learn. Home | JOG THE WEB. Knowit - Share your Knowledge. Paper.li. Storify (Social Media) Pinterest.
FlipSnack. Searcheeze.com. Trapit. Webdoc. Themeefy. Glogster EDU - 21st century multimedia tool for educators, teachers and students | Text, Images, Music and Video. LiveBinders. Knovio. Projeqt\ Qrait.
---