Approche Media de la curation
There's a new world order emerging around media and publishing. Producing original content is simply too expensive to sustain alone for all but the largest media companies. New models are essential -- and emerging.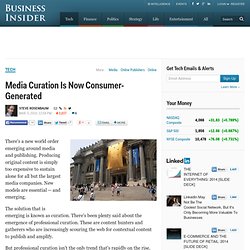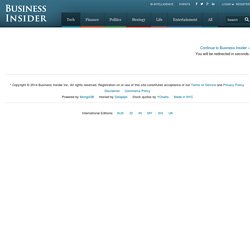 There is a trend evolving at media companies both big and small that promises to have a remarkably positive impact on what you read, watch, and share on the web: Curation. It's not a popular thing to say that things are okay in media. In fact, the changes taking place are useful, necessary, and will in short order result in better editorial experiences, because as shown in the press daily, the sky is falling in old media. But, happily, the future is right around the corner.
That's a controversial post headline and I don't mean that social will always beat search, but there's a rising chorus out there about "content farms" and search optimized content creation that is worth touching on. Arrington started it when he posted about "the end of hand crafted content". Richard MacManus penned a similar post the same day called "Content Farms: Why Media, Blogs, and Google should be worried". And over the weekend, Paul Kedrosky addressed the issue of search spam in his quest to find the perfect dishwasher.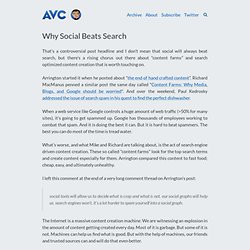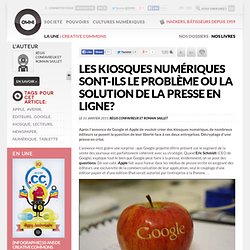 Les Kiosques numériques sont-ils le problème ou la solution de la presse en ligne? » Article » OWNI, Digital Journalism
Après l'annonce de Google et Apple de vouloir créer des kiosques numérique, de nombreux éditeurs se posent la question de leur liberté face à ces deux entreprises. Décryptage d'une presse en crise. L'annonce n'est guère une surprise : que Google projette d'être présent sur le segment de la vente des journaux est parfaitement cohérent avec sa stratégie. Quand Eric Schmidt (CEO de Google) explique tout le bien que Google peut faire à la presse, évidemment, on se pose des questions. De son coté, Apple fait aussi fureur dans les médias de presse écrite en exigeant des éditeurs une exclusivité de la commercialisation de leur application, seul le couplage d'une édition papier et d'une édition iPad serait autorisé par l'entreprise à la Pomme.