Single link - Random content
fUSION Anomalog.
This weekend, the release of Roland Emmerich's 2012 will usher in the cycle of the Mayan calendar that foretells Hollywood running out of shit to make big budget movies about. Of course, it's going to take a whole lot more than a complete and total absence of good ideas to get them to stop. So we asked you to photoshop for us some of the natural disasters, disease outbreaks and animal swarms will be attacking tourist destinations next. The winner is below, but first the runners up.
Rejected Ideas for Disaster Movies Slideshow
i miss college
Twisted Fairy Tale by *Shira-chan on deviantART
Mustache Man
metal-band.jpg (JPEG Image, 300x12200 pixels)
12-e1319500621211.jpg (640×1191)
nanananaananan!
Don't know if this is a repost but what an absolute win!!
Not Very - Super Effective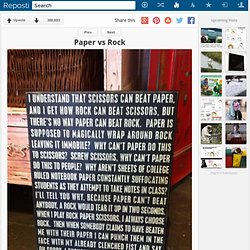 Here is a quick answer. Paper=Money,or people who have alot of it. Rock=Power, like military or political powers. Scissors=Science, or "cutting" edge technology. Those with money, like governments, are able to buy power(military, votes, ect.) to accomplish what they need.
x-men-fail-1 @ pic.epicfail.com
advert1
FYAFR.jpg