United States
Trauma: How We've Created a Nation Addicted to Shopping, Work, Drugs and Sex | World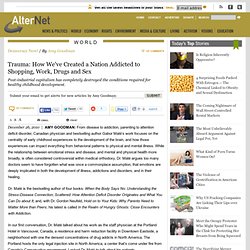 December 26, 2010 | Like this article?
December 16, 2010 | Like this article? Join our email list: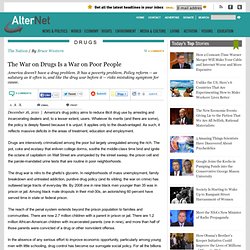 The War on Drugs Is a War on Poor People | Drugs
If you hang out much with thinking people, conversation eventually turns to the serious political and cultural questions of our times.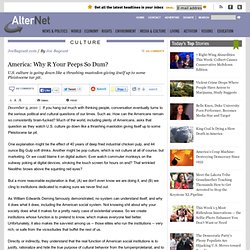 America: America: Why R Your Peeps So Dum? | Culture
HE EMERGED FROM THE METRO AT THE L'ENFANT PLAZA STATION AND POSITIONED HIMSELF AGAINST A WALL BESIDE A TRASH BASKET. By most measures, he was nondescript: a youngish white man in jeans, a long-sleeved T-shirt and a Washington Nationals baseball cap.
Pearls Before Breakfast - washingtonpost.com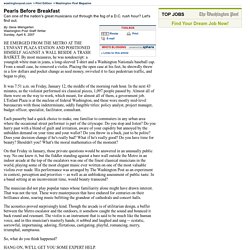 ZhFvn.jpg (JPEG Image, 640x2372 pixels)
December 6, 2010 | Like this article?
52 Year Old Who Came to US as a Toddler to be Deported | Immigration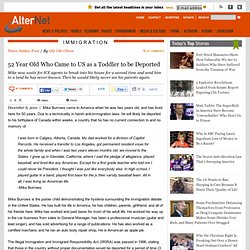 The Origin of America's Intellectual Vacuum
Chris Hedges: The Origin of America's Intellectual Vacuum - Chris Hedges' Columns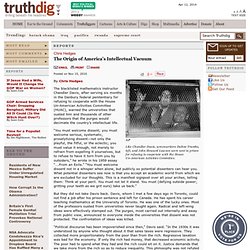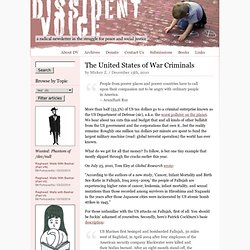 The United States of War Criminals
by Mickey Z. / December 15th, 2010 People from poorer places and poorer countries have to call upon their compassion not to be angry with ordinary people in America. – Arundhati Roy
With Wealth Highly Skewed Toward the Top, US Ranks 12th in New Measure of Human Development | World
Twenty years ago, in 1990, the United Nations began publishing an annual . The economists behind this new initiative -- India's Nobel Prize-winning Amaryta Sen among them -- clearly saw themselves as scholarly subversives.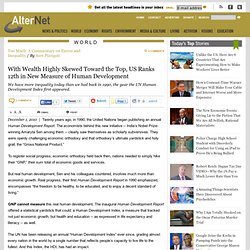 December 5, 2010 | Like this article? Join our email list: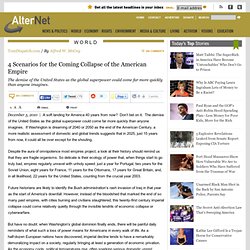 4 Scenarios for the Coming Collapse of the American Empire | World
WHAT MAKES PEOPLE VOTE REPUBLICAN? By Jonathan Haidt
What makes people vote Republican? Why in particular do working class and rural Americans usually vote for pro-business Republicans when their economic interests would seem better served by Democratic policies?
Downsize Nation: Welcome to the New, Smaller American Dream | Environment
December 7, 2010 | Like this article? Join our email list:
December 5, 2010 |
Nation of Pill Poppers: 19 Potentially Dangerous Drugs Pushed By Big Pharma | Personal Health
Information for Healthcare Professionals: Selective Serotonin Reuptake Inhibitors (SSRIs), Selective Serotonin-Norepinephrine Reuptake Inhibitors (SNRIs), 5-Hydroxytryptamine Receptor Agonists (Triptans)
FDA ALERT [7/2006]: Potentially Life-Threatening Serotonin Syndrome with Combined Use of SSRIs or SNRIs and Triptan Medications There is the potential for life-threatening serotonin syndrome (a syndrome of changes in mental status, autonomic instability, neuromuscular abnormalities, and gastrointestinal symptoms) in patients taking 5-hydroxytryptamine receptor agonists (triptans) and selective serotonin reuptake inhibitors (SSRIs) or selective serotonin/norepinephrine reuptake inhibitors (SNRIs) concomitantly (see drug names at the bottom of this sheet). This information is based on reports of serotonin syndrome occurring in patients treated with triptans and SSRIs/SNRIs, and the biological plausibility of such a reaction in persons receiving two serotonergic medications.
George Carlin ~ The American Dream