Cuisine
Récap des recettes bm250. Bonjour à toutes et tous, Cela fait un moment que je ne poste plus de messages, désolée, et pourtant, je continue les recettes en MAP (machine à pains) !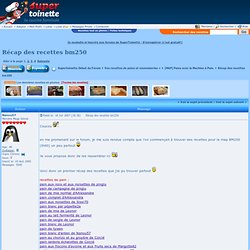 Pour la recette du Pain Blanc de Léonor que je fais chaque semaine, je ne mets pas de sucre ni de citron. Cuisine divers pearltrees. Recettes de cuisine. Bobby Grégoire | Spécialiste en gastronomie. Terroir Symposium | Just another WordPress site. TrancheDePain.com | Cuisine, critiques de recettes et essais culinaires par Francis Laplante. Cuisine. Recettes Cuisine. Introducing soupstones +7 tips for full flavoured soups without using stock [5 ingredients | 10 minutes] Happy New Year Everyone!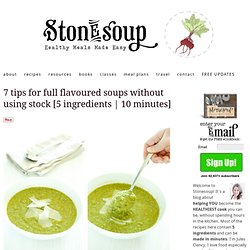 I hope you all had a wonderful break. First a big THANKYOU to everyone who commented on my questions just before Christmas. I really appreciate your thoughts and comments. I'm back feeling super refreshed after a very long holiday and have an exciting announcement for you. But first, let's talk soup. Cuisine Italienne Légumes. Viande Volailles. Exotique. Very Flavorful Vegetable Stock in 1 Hour. One-Hour Vegetable Stock Makes: about 1 quart Time: 1 hour, somewhat unattended For this stock, you cut the vegetables into small pieces, which extracts greater flavor; you pan-cook them first, which browns them at least a bit and makes the flavor more complex; and you add a couple more flavorful ingredients (the mushrooms make a difference, as you'll quickly see, as does the soy sauce).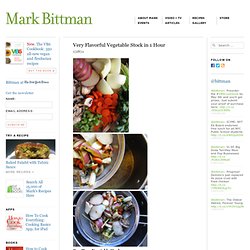 If you have more time for simmering, use it. Double the quantities here if you want to make enough stock to freeze. Eat a bit better™ Menus personnalisés gratuits, recettes faciles et produits frais locaux. SOSCuisine (SOSCuisine) Recettes de conserves-maison. Blogs remarquables. Idées de menus.
---