Cuisine
Natalie's Killer Cuisine
Cooking For Engineers - Step by Step Recipes and Food for the Analytically Minded
CopyKat Recipes
The Hungry Mouse. A visual guide to food and cooking. Tasty, fresh content from Jessie's kitchen.
The Cookie Scoop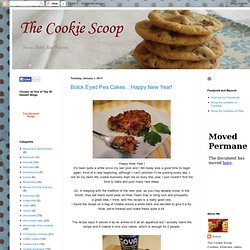 Happy New Year ! It's been quite a while since my last post and I felt today was a good time to begin again. Kind of a new beginning, although I can't promise I'll be posting every day, I will do my best! My cookie business kept me so busy this year, I just couldn't find the time to bake and post many new ideas.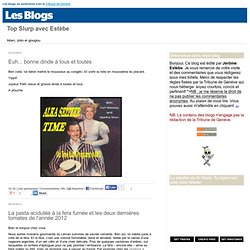 Question. Pourquoi se la couler douce quand on peut se casser dru la nénette? Hein? Ou pourquoi acheter sa poudre curry à la supérette, voire à l'épicerie fine, quand on peut transpirer une heure en cuisine à se pilonner la sienne? Parce qu'on est comme ça chez les Slurp: intègres, jusqu'au-boutistes, un brin tordus du bulbe et finement musclés du bassinet.
Top Slurp avec Estèbe
Two Peas and Their Pod
Avocado, Hummus, and Egg Toasts Avocado, Hummus, and Egg Toasts-one of our favorite quick and healthy meals! Great recipe for any time of the day! We have six chickens and we are always looking for ways to use up our fresh eggs. I am usually not an egg eater, but I do enjoy the eggs from our chickens.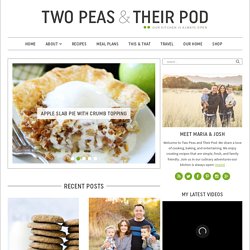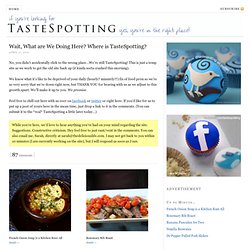 TasteSpotting's Chill-Out Lounge — hanging here until the main site gets back up
No, you didn't accidentally click to the wrong place…We're still TasteSpotting! This is just a temp site as we work to get the old site back up (it kinda sorta crashed this morning). We know what it's like to be deprived of your daily (hourly?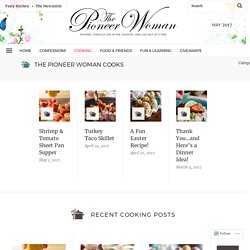 The Pioneer Woman Cooks | Ree Drummond
This is a very special recipe for two important reasons: One, it's delicious, hearty, and comforting. Noodles. Meatballs. No brainer! Two (and even more importantly!)
Are you sick of pumpkin everything yet? Well, have I got the recipe for you! This recipe has been in the works for a while, but I wanted to get it just right before I shared it with you. Ginger, orange and dark chocolate is not a combination I would have come up with on my own. I like those things in pairs – ginger + chocolate, orange + chocolate – but all mixed together? Never would have occurred to me.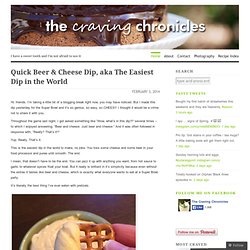 The Craving Chronicles
Je vous souhaite un très bon réveillon et tous mes vœux les plus sincères pour une excellente année 2014 ! Nous arrivons à la fin de l'année 2013, la nouvelle année nous attends dans quelques heures et pour fêter ce passage ensemble je vous offre comme tous les ans une petite gourmandise pour terminer l'an qui va et accueillir l'an qui vient avec douceur. Il s'agit d'une petite mousse très facile à réaliser, gourmande et avec un joli craquant. A déguster ce soir comme pré-dessert et tout au long de l'année comme dessert, ou pour un goûter gourmand.Je vous souhaite un excellent réveillon : passez des bons moments avec tous ceux que vous aimez!
Savoirs & Saveurs | Accueil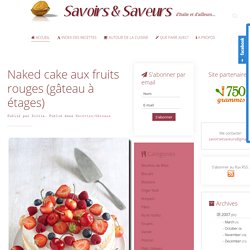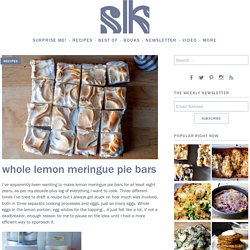 smitten kitchen
Thursday, January 16, 2014 pear and hazelnut muffins We all know that muffins teeter precariously on a razor-thin line that divides the food categories of "Acceptable for Breakfast" and "Nope, This Is Dessert" and one must maintain firm boundaries during the breakfast hours lest the day that follows devolve into a full-on bacchanal of Resolution decompensation that ends with one passed out amid scatters of Cheetos, ketchup packets and French fry grease with a side of cronut. Thus, when I come upon a new muffin recipe — or in this case, when my son is told to pick a recipe for us to make from a new book, and he predictably chooses the thing that most resembles cake — I immediately assess the list of ingredients and label them accordingly: Continued after the jump » Monday, January 13, 2014
Recette de cuisine - 24 000 recettes avec L'Internaute Cuisiner
recipelook.co
Recipes
Picky Palate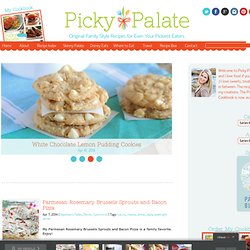 Skinny Greek Yogurt Chicken Salad Jan 8, 2014 | Chicken, Sandwiches and Burgers, Skinny Palate | Tags: chicken, sandwiches, vegetables, yogurt You'll never know this is a Skinny Greek Yogurt Chicken Salad! Tastes just like the real deal lathered in mayonnaise
- Papilles et Pupilles
Pass the Sushi
This family run recipe site is intended to be a 'living' cookbook, constantly updated and refreshed. Enjoy our great selection of Indian and international recipes, sumptuous meal ideas and cooking tips and visit our discussion forum to ask questions and share feedback. Since the site went live back in May 2001, we have had a total of 14344343 visits. Of those, 4877 were yesterday and 1693 so far today! Recipes of the week: • Lamb (Meat) Boti Kebab 1 • Upcoming festivals: • Ram Navmi • Baisakhi • Palm Sunday • Mahavir Jayanti • Good Friday • Easter Sunday •
Mamta's Kitchen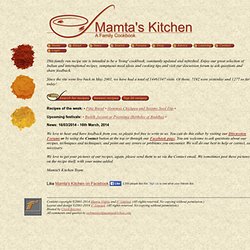 mingmakescupcakes.yolasite
Easter will be here before we know it, so today I have a fun and yummy treat to share with y'all. I know Easter is always filled with sugary sweets, chocolate bunnies, jelly beans and those famous colored Easter peeps. It's hard to avoid the sugar this time of year, and my mind is already in sugar overload just thinking about it.
Mommy's Kitchen
Happy Friday!!! I'm really looking forward to a low key weekend. What about you? Do you need a recommendation for a fun dinner place in DC? If you do, this post is for you. Recently I was invited to dine at Masa 14 and took my friend Evi along for the ride.
Mango & Tomato
My Kitchen Cafe —
50000 recettes de cuisine ! Recettes commentées et notées pour toutes les cuisines. Recette de cuisine. - Accueil - Marmiton.org
Joy the Baker —
il cavoletto di bruxelles
Handle the Heat
gimme some oven
Foodwhirl
Food for Poems
Former Chef — Cook. Eat. Travel. Grow.
Fraîchement
Delicious Meliscious - a cooking blog by Melissa
Culinary Travels
Cookie Madness
Confessions of a Bake-aholic
Baking & Cooking Blog | Evil Shenanigans
broma bakery
Brown Eyed Baker | Sweet. Savory. Sinful.
A boire et à manger - Blog LeMonde.fr
A Cozy Kitchen
101 Cookbooks - Healthy Recipe Journal