Html5
HTML5 Favicon
20+ Professional Examples of Websites Using HTML5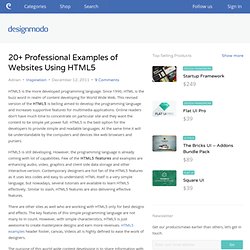 HTML5 is the more developed programming language. Since 1990, HTML is the buzz word in realm of content developing for World Wide Web. This revised version of the HTML5 is be3ing aimed to develop the programming language and increases supportive features for multimedia applications. Online readers don't have much time to concentrate on particular site and they want the content to be simple yet power full.
Mr Doob has created a 3D engine library called "three". Currently the engine only supports particles and triangles/quads with flat colors. Comments from the Author: The aim is to keep the code as simple and modular as possible.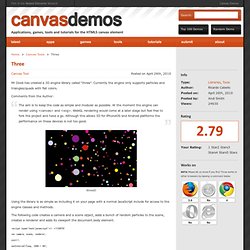 Three – Libraries, Tools
Dual licensed under the MIT or GPL Version 2 licenses Full original, uncompressed source available here: https://github.com/aFarkas/html5shiv Source code adds new HTML5 elements (which is simple code), but also supports printing HTML5 elements and includes the default styles for HTML5 elements, like block on article and section.