CSS Code Snippets
Chunks of css goodness one piece at a time!
Making Your Footer Stay Put With CSS | Blog | FortySeven Media. One problem I run into pretty frequently when coding a site in to XHTML and CSS is making my footer dock to the bottom of the screen.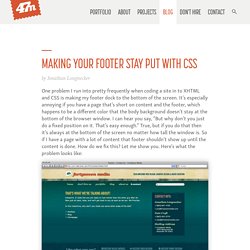 It's especially annoying if you have a page that's short on content and the footer, which happens to be a different color that the body background doesn't stay at the bottom of the browser window. I can hear you say, "But why don't you just do a fixed position on it. That's easy enough." Code Snippets. 25 Incredibly Useful CSS Snippets for Developers. CSS is no doubt up there with the most important web languages that we use.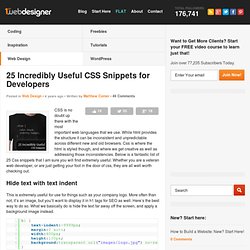 While html provides the structure it can be inconsistent and unpredictable across different new and old browsers. Css is where the html is styled though, and where we get creative as well as addressing those inconsistencies. Below is a fantastic list of 25 Css snippets that I am sure you will find extremely useful. Whether you are a veteran web developer, or are just getting your foot in the door of css, they are all well worth checking out. Karate Corners: XHTML/CSS Rounded Corners | Kyle Schaeffer - Web Design and SharePoint Branding.
I've seen a lot of different ways to create round corners and boxes in web sites, and quite frankly I haven't exactly fallen in love with any of them.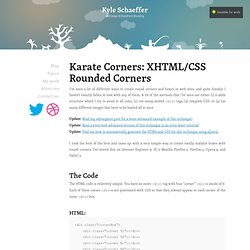 A lot of the methods that I've seen use either (1) a table structure which I try to avoid at all costs, (2) too many nested <div> tags, (3) complex CSS, or (4) too many different images that have to be loaded all at once. Update: Read my subsequent post for a more advanced example of this technique! Update: Read a even more advanced version of this technique in an even newer tutorial! Useful CSS Snippets - webSemantics.
Author: mike foskett incept: 5th June 2005 last update: 24th September 2012 A few useful snippets for style sheets.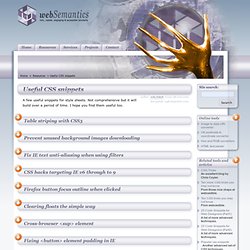 Not comprehensive but it will build over a period of time. I hope you find them useful too. Table striping with CSS3. Master your CSS3! Ultimate CSS code snippets | djavupixel.com. CSS3 is coming and we as webdesigners should be ready for it!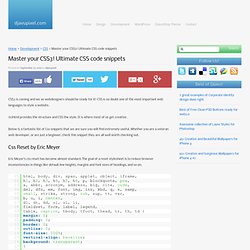 CSS is no doubt one of the most important web languages to style a website. (x)html provides the structure and CSS the style. It is where most of us get creative.
---