CSS Code Snippets
chunks of css goodness one piece at a time! pingram3541 Jun 12
Get flash to fully experience Pearltrees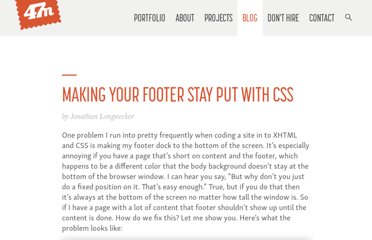 One problem I run into pretty frequently when coding a site in to XHTML and CSS is making my footer dock to the bottom of the screen.
CSS is no doubt up there with the most important web languages that we use.
author: mike foskett incept: 5th June 2005 last update: 24th September 2012
CSS3 is coming and we as webdesigners should be ready for it!