Crowdsourcing
(2) Twitter / @kcbader/xplatformsm... UNAIDS Uses Social Media For Socially Responsible HIV Education Initiative. Crowdsourcing, or engaging group of people or community through an open call to collectively develop ideas and concepts, is a key concept in the age of social media.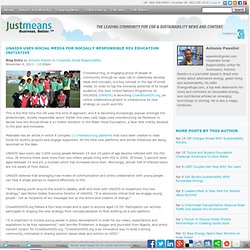 In order to tap the immense potential of its target audience, the Joint United Nations Programme on HIV/AIDS (UNAIDS) is launching CrowdOutAIDS.org, an online collaborative project to crowdsource its new strategy on youth and HIV. This is the first time the UN uses this kind of approach, and it is becoming increasingly popular amongst the philanthropic, socially responsible sector. 11 Innovative Crowdfunding Platforms for Social Good. The Commerce With a Conscience Series is supported by Fedex.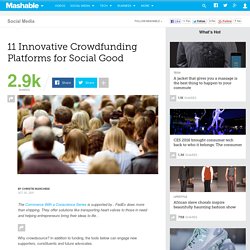 FedEx does more than shipping. They offer solutions like transporting heart valves to those in need and helping entrepreneurs bring their ideas to life. See how. Why crowdsource? In addition to funding, the tools below can engage new supporters, constituents and future advocates. Michael Bernstein, MIT CSAIL. Michael Bernstein is an Assistant Professor of Computer Science at Stanford University, where he directs the Human-Computer Interaction group and is a Robert N.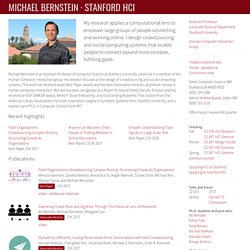 Noyce Family Faculty Scholar. His research in human-computer interaction focuses on the design of crowdsourcing and social computing systems. This work has received Best Paper awards and nominations at premier venues in human-computer interaction and social computing (ACM UIST, ACM CHI, ACM CSCW, AAAI ISWSM). Michael has been recognized with the NSF CAREER award, as well as the George M. Crowdsourcing: What It Means for Innovation. Some have predicted that is the future of the , , and industries.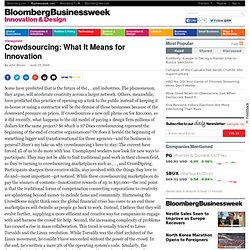 The phenomenon, they argue, will accelerate creativity across a larger network. Others, meanwhile, have predicted this practice of opening up a task to the public instead of keeping it in-house or using a contractor will be the demise of those businesses because of the downward pressure on prices. If crowdsources a new cell phone on for $20,000, as it did recently, what happens to the old model of paying a design firm millions of dollars for the same project?
So which is it? Your crowdsourcing Platform. Your Crowdsourcing Platform. Is Crowdsourcing the Future of Advertising. 5 Creative Uses for Crowdsourcing. When Jeff Howe coined the term "crowdsourcing" in a 2006 Wired article his examples were mainly "labor markets for specialized talents," like iStockphoto, iFilm, and InnoCentive.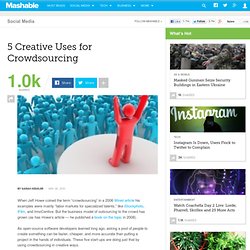 But the business model of outsourcing to the crowd has grown (as has Howe's article — he published a book on the topic in 2008). As open-source software developers learned long ago, asking a pool of people to create something can be faster, cheaper, and more accurate than putting a project in the hands of individuals. Graphic: Follow the tweets of the Occupy movement.
---