Crowdsourcing
Digital Disaster Response. Instant Market Feedback | PickFu. Humanoid | Welcome. Freelance Graphic Design, Logo Design, Web Design Services | DesignCrowd. Online Fundraising Pages | Personal Internet Fundraisers | Fund Raise Online for Charity | Crowdrise. It will take anywhere from 3 seconds to 1 minute for your pic to upload, depending on how big it is.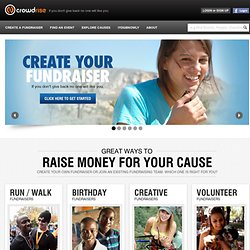 You're going to see this message every time you post a new pic. So, we're making the text really long so that it'll take you at least five picture uploads to read it all. Here's what we're thinking...While your first picture is uploading think about someone you want to kiss. Post a Project | DesignCrowd. Your crowdsourcing Platform. Concept Feedback | Get Expert Website Feedback and Increase Conversions. CrowdFlower - Crowdsourcing / Labor-on-Demand. Bands | Mobile App Challenge. Amazon Mechanical Turk: Best Practices Guide. Future of distributed work and crowdsourcing. Home | CloudCrowd - The next evolution of outsourcing. We reorganize your work into small tasks and make them available to our highly-talented, richly-experienced virtual workforce.
TopCoder,Inc. Amazon Mechanical Turk - Welcome. UserVoice - Customer Feedback 2.0 - Harness the ideas of your customers. Build great products. Turn customers into champions.
Demand Media | The Leader in Social Media. Start your project. Makes crowdsourcing simple. Crowdsourcing specific microtasks. Since the first-ever Mechanical Turk meetup a year ago, there has been an explosion in crowdsourcing services and a well-attended conference in San Francisco.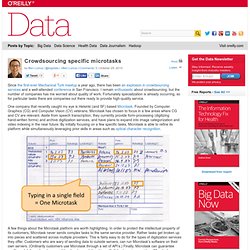 I remain enthusiastic about crowdsourcing, but the number of companies has me worried about quality of work. Fortunately specialization is already occurring, so for particular tasks there are companies out there ready to provide high-quality service. One company that recently caught my eye is Helsinki (and SF) based Microtask. Founded by Computer Graphics (CG) and Computer Vision (CV) veterans, Microtask has chosen to focus in a few areas where CG and CV are relevant. Home | InnoCentive. Brightidea, Inc. Innovation Management,Idea Management, Crowdsourcing tools, Ideation Platform. Home | InnoCentive. Halshs.archives-ouvertes.fr/docs/00/36/73/73/PDF/TrompetteChanalPelissierEGOS.pdf.
Make stories - storify.com. Crowdsourcing's Champions (GE, OMC, SNE, WEN) Crowdsourcing is all the rage these days, another aspect of the cloud computing proliferation that has companies doing crazy things.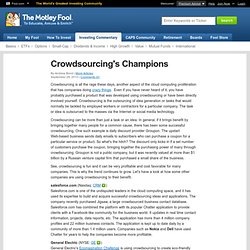 Even if you have never heard of it, you have probably purchased a product that was developed using crowdsourcing or have been directly involved yourself. Crowdsourcing is the outsourcing of idea generation or tasks that would normally be tackled by employed workers or contractors for a particular company. The task or idea is outsourced to the masses via the Internet or social media technology.
---