MICROFINANCE
ET Bureau Feb 14, 2012, 02.54AM IST MUMBAI: Microfinance institutions in India have deviated from the idea of micro credit, Professor Muhammad Yunus, chairman of Yunus Centre and pioneer of micro-credit, has said. "They (MFIs) moved away from the idea of micro credit. That has created all the problems," said Yunus, in a media brefing in Mumbai. "MFIs based in Andhra Pradesh have drifted from their mission.
Indian MFIs have deviated from idea of micro credit: Muhammad Yunus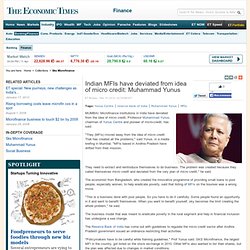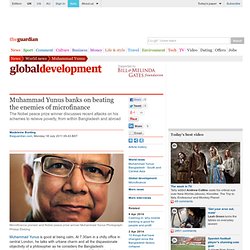 Muhammad Yunus banks on beating the enemies of microfinance | World news
Muhammad Yunus is good at being calm.
Alternative currencies, monetary systems
The microfinance movement began in south Asia when Muhammad Yunus started Grameen Bank in Bangladesh in the 1970′s.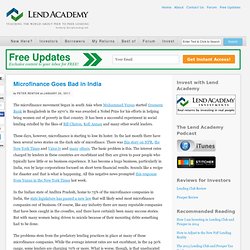 Microfinance Goes Bad in India
Microfinance
Community-based savings bank in Cambodia. There is a rich variety of financial institutions which serve micro-entrepreneurs and small businesses. Microfinance is a source of financial services for entrepreneurs and small businesses lacking access to banking and related services. The two main mechanisms for the delivery of financial services to such clients are: (1) relationship-based banking for individual entrepreneurs and small businesses; and (2) group-based models, where several entrepreneurs come together to apply for loans and other services as a group. In some regions, for example Southern Africa, microfinance is used to describe the supply of financial services to low-income employees, which is closer to the retail finance model prevalent in mainstream banking.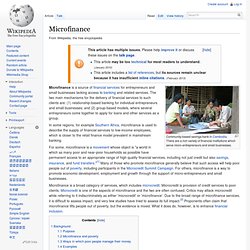 David Roodman's Microfinance Open Book Blog
David Roodman's Microfinance Open Book Blog