Crowdfunding
Gmail - CapLinked and Opportunities - ignacio.fonts
Micro Angel Investment Corporation
Crowdsourcing is the practice of obtaining needed services, ideas, or content by soliciting contributions from a large group of people, and especially from an online community, rather than from traditional employees or suppliers.[1] This process is often used to subdivide tedious work or to fund-raise startup companies and charities, and can also occur offline.[2] It combines the efforts of numerous self-identified volunteers or part-time workers, where each contributor of their own initiative adds a small portion to the greater result. Crowdsourcing is distinguished from outsourcing in that the work comes from an undefined public rather than being commissioned from a specific, named group.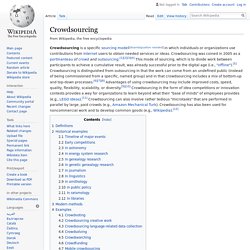 Gmail - Compose Mail - ignacio.fonts
PitchStartup - Start getting your daily elevator pitch today!
El crowdfunding llega a España de la mano de Lánzanos
¿Qué pasa cuando alguien tiene un proyecto pero no el dinero suficiente para llevarlo a cabo?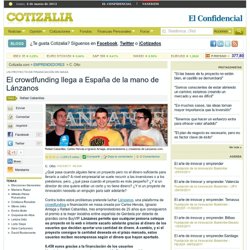 ¿Qué es Ready4Ventures? - Ready4Ventures
Grow Venture Community > Seed Funding Startups in The Virtual Silicon Valley
Investing in start-ups and early stage businesses involves risks, including illiquidity, lack of dividends, loss of investment and dilution, and it should be done only as part of a diversified portfolio.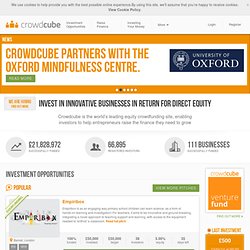 Helping to raise business investment for UK entrepreneurs
In 10 Words, or Less… Crowdfunding |
Espana Crowdsourcing for Entrepreneurs and Investors
Gmail - COLOURlovers - Dave McClure and Alex Ohanian committed, 500K registered users and $350K in 2010 revenues -
El 'crowdfunding' llega a España · ELPAÍS.com
Producir un documental solidario, escribir una novela fantástica o montar un banco de tiempo. El crowdfunding , en español financiación en masa o micromecenazgo , encuentra el dinero necesario para sacar adelante cualquier proyecto creativo a través de Internet. La idea es sencilla: poner en contacto a creadores y mecenas.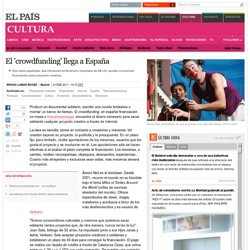 Proyecto: Computador Biológico por Carlos Toscano Ochoa
Arcanum Project presenta: el computador biológicowww.arcanumproject.com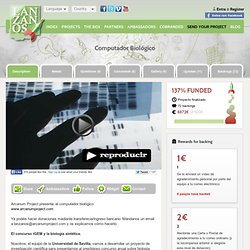 Open Innovation, crowdsourcing, co-creation… overlapping terminologies to describe a trend towards more open business models and a closer collaboration with customers. On this page we gather a list of inspiring examples Jump to the Open innovation Examples list Tip us about other initiatives (info@boardofinnovation.com – or twitter: @philderidder). Map out partnerships and value networks? try our Business Model Kit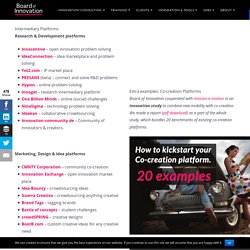 (4) AngelList: What do people think of AngelList
"a 5000 person crowd can solve almost anything" says Crowdsourcing guru Jeff Howe
Marketplace Inc - Home - Giving Small Businesses Big Opportunities
Or you can sign in with an existing Grow VC account.
Grow VC » Dashboard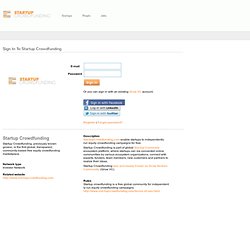 Feed The Muse - Fueling Creativity $1 At A Time
AUAMUSIC.COM