Crowdfunding
Batelers - La première chasse au trésor au prix illimité. Anti-Bank FastPay Raises Additional $25 Million to Finance Digital Advertising Receivables. By Michael Carney On June 25, 2012 No longer do digital publishers or ad-tech businesses have to wait months for payment from advertisers.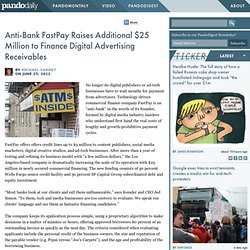 Technology-driven commercial finance company FastPay is an "anti-bank" in the words of its founder, formed by digital media industry insiders who understand first hand the real costs of lengthy and growth-prohibitive payment cycles. Raising cash in the 21st Century | Bellevuepartner's Blog. My latest assignment has taken me back to London and the world of dotcom start-ups.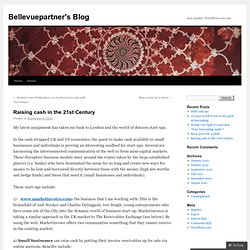 In the cash-strapped UK and US economies, the quest to make cash available to small businesses and individuals is proving an interesting seedbed for start-ups. Several are harnessing the interconnected communication of the web to form mini-capital markets.
2012 Cours Social Banking & Prêt participatif. Kickstarter-Like Crowdfunding Platform For Local Merchants Launches. The hyperlocal crowdfunding platform Lucky Ant has launched this week, giving people the opportunity to help small businesses grow in their community by raising money for things like new equipment, brand development, advertising campaigns and repairs.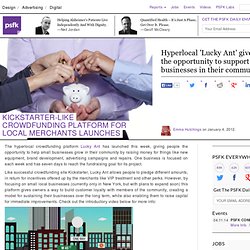 One business is focused on each week and has seven days to reach the fundraising goal for its project. Like successful crowdfunding site Kickstarter, Lucky Ant allows people to pledge different amounts, in return for incentives offered up by the merchants like VIP treatment and other perks. The new face of venture capital: The rise of crowdfunding | Vent. (Editor's note: Kevin Lawton is a serial entrepreneur.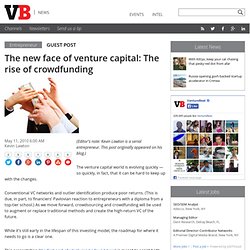 This post originally appeared on his blog.) The venture capital world is evolving quickly — so quickly, in fact, that it can be hard to keep up with the changes. Conventional VC networks and outlier identification produce poor returns. Crowdfunding / FrontPage. Kickstarter. PartiZipa.com (Nuevas formas de hacer negocios) - Portada. Crowdfunding: Et le crowdfunding dans tout ça ? Quand le crowdsourcing permet d'externaliser la réalisation d'une tâche à un groupe indéfini d'individus, le crowdfunding offre une variante de taille : il permet son financement !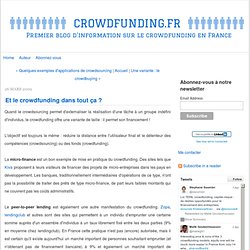 L'objectif est toujours le même : réduire la distance entre l'utilisateur final et le détenteur des compétences (crowdsourcing) ou des fonds (crowdfunding). La micro-finance est un bon exemple de mise en pratique du crowdfunding. Des sites tels que Kiva proposent à leurs visiteurs de financer des projets de micro-entreprises dans les pays en développement. Les banques, traditionnellement intermédiaires d'opérations de ce type, n'ont pas la possibilité de traiter des prêts de type micro-finance, de part leurs faibles montants qui ne couvrent pas les coûts administratifs. Le peer-to-peer lending est également une autre manifestation du crowdfunding. Crowdfunding créatif. Chaordix, The Crowdsourcing Engine for Enterprises. Spot.us. Spot.Us is a nonprofit platform for "community powered reporting."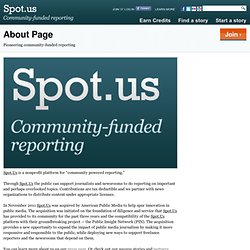 Through Spot.Us the public can support journalists and newsrooms to do reporting on important and perhaps overlooked topics. Contributions are tax deductible and we partner with news organizations to distribute content under appropriate licenses. In November 2011 Spot.Us was acquired by American Public Media to help spur innovation in public media. How It Works | Cameesa - Crowdfunding Fashion T-shirt Shop - cro. Thanks for joining us!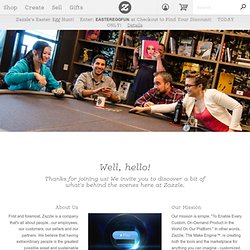 We invite you to discover a bit of what's behind the scenes here at Zazzle. About Us First and foremost, Zazzle is a company that's all about people...our employees, our customers, our sellers and our partners. We believe that having extraordinary people is the greatest possible asset and sustainable advantage for a company. We began with an idea 10 years ago, and publicly launched our website in the summer of 2005.
Crowdfunding: Quelques exemples d'applications de crowdsourcing. Plusieurs applications sur le modèle du crowdsourcing se sont développées ces dernières années.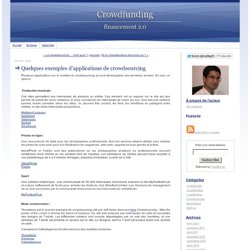 En voici un apercu : Production musicale : Nonprofit.
---