FILM CROWDFUNDING
Having run a successful KICKSTARTER campaign (raising over $31K), I've been asked by a few people to share any strategies, tips and insights on what can be done to help reach their fundraising goals. First off, I'm not sure how much value-add I can do surrounding this topic as there are some really great articles already posted by filmmakers who ran successful campaigns: Gregory Bayne's NEW BREED Article "The Crowd" Q-TIP: Quick Tip for Indie Filmmakers – Crowdfunding DAVID BRANIN's CROWDFUNDING CHEAT SHEET So what can I do to offer my take on the whole crowdfunding phenomenon?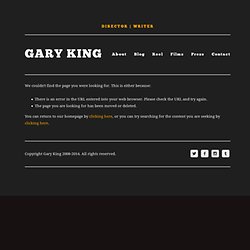 Lessons Learned in the Land of Crowdfunding
My personal Crowd Funding Review 2011 | gumpelMEDIA
Jetzt ist der Jänner fast schon wieder vorbei. Dabei habe ich mir vorgenommen, gleich zu Beginn des neues Jahres den aktuellen Crowdfunding-Newsletter auszuschicken und einen kleinen Rückblick zum meinem Crowdfunding-Jahr 2011 zu verfassen. Beides kommt noch, beginnen werde ich mit dem Rückblick. Dabei ging es mir ursprünglich darum, meine eigenen Crowdfunding-Aktivitäten zu erfassen, zu sortieren und aufzulisten. Zuerst hatte ich vor eine Chronologie der Ereignisse zu schreiben – nur für mich selbst.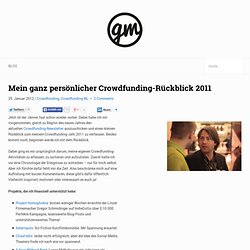 Welcome - EU1
CineCrowd ~ Start your own adventure movie
BULLETINS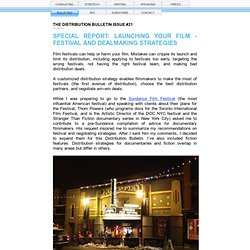 SPECIAL REPORT: HOW FILMS CAN CHANGE THE WORLD Three new studies assessing the impacts of AN INCONVENIENT TRUTH , THE END OF THE LINE , and WAITING FOR "SUPERMAN" finally prove Sam Goldwyn wrong. The Hollywood mogul famously declared, "If you want to send a message, use Western Union." These reports highlight the real world results these films sparked and provide a new framework for evaluating the impacts of documentaries and features. In the past, there was little research or rigorous analysis of powerful films such as FAHRENHEIT 9/11 , SICKO , SUPER SIZE ME , and FOOD, INC. Instead they were evaluated primarily on anecdotal information and subjective impressions.
Institute for Communication in social media "crowd funding in the film - Event on Social Media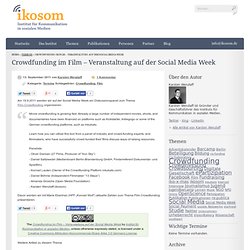 Am 19.9.2011 werden wir auf der Social Media Week ein Diskussionspanel zum Thema Film-Crowdfunding organisieren: Movie crowdfunding is growing fast. Already a large number of independent movies, shorts, and documentaries have been financed on platforms such as Kickstarter, Indiegogo or some of the German crowdfunding platforms, such as Inkubato.
Crowdfunding im Filmbereich - Medien FINANZIEREN - ... gemeinsam!