FILM CROWDFUNDING
My personal Crowd Funding Review 2011 | gumpelMEDIA. Jetzt ist der Jänner fast schon wieder vorbei.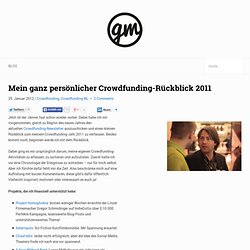 Dabei habe ich mir vorgenommen, gleich zu Beginn des neues Jahres den aktuellen Crowdfunding-Newsletter auszuschicken und einen kleinen Rückblick zum meinem Crowdfunding-Jahr 2011 zu verfassen. Beides kommt noch, beginnen werde ich mit dem Rückblick. Dabei ging es mir ursprünglich darum, meine eigenen Crowdfunding-Aktivitäten zu erfassen, zu sortieren und aufzulisten. Zuerst hatte ich vor eine Chronologie der Ereignisse zu schreiben – nur für mich selbst. Welcome - EU1. CineCrowd ~ Start your own adventure movie. BULLETINS. A customized distribution strategy enables filmmakers to make the most of festivals (the first avenue of distribution), choose the best distribution partners, and negotiate win-win deals.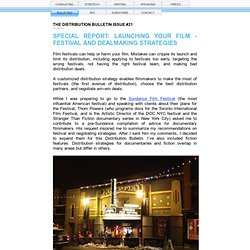 While I was preparing to go to the Sundance Film Festival (the most influential American festival) and speaking with clients about their plans for the Festival, Thom Powers (who programs docs for the Toronto International Film Festival, and is the Artistic Director of the DOC NYC festival and the Stranger Than Fiction documentary series in New York City) asked me to contribute to a pre-Sundance compilation of advice for documentary filmmakers. His request inspired me to summarize my recommendations on festival and negotiating strategies. After I sent him my comments, I decided to expand them for this Distribution Bulletin. I've also included fiction features. Institute for Communication in social media "crowd funding in the film - Event on Social Media.
---