CROWDFUNDING UK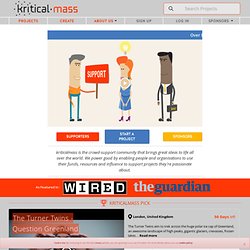 Sponsor Registration Please provide full contact details. kriticalmass checks the details of all Sponsors before access to the community. Sponsor Identity This section provides the audience with further information about and resources to promote your brand. Branding & Logos * :
kriticalmass : Powering Good
Today, Fund It is saying thanks to 18,000 people who together have donated more than €1m to 350 projects on the site over the past 16 months. Fund It is Ireland's first crowdfunding platform, running on the same idea as Kickstarter, where users can ask others to fund a project they're working on, be it a work of art, a book of poetry, a music festival or a video game. Users set a target they need to reach in a certain time frame, and they also offer various rewards depending on how much visiting philanthropists are willing to donate. Since the site launched in March 2011, pledges coming from all over the world have funded 250 performances, films, events and projects in science, art, fashion, publishing and more.
Irish crowdfunding platform Fund It passes €1m in donations - Digital Life - Digital Life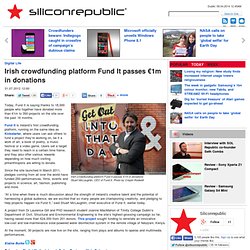 Peer 2 Peer Lending and Social Lending in the UK - RateSetter.com: A better way to save or borrow, peer to peer.
Transform a Life with a £15 Microloan Featured Entrepreneur Cecilia magdalena Gaona salinas, Ecuador Cecilia Magdalena Gaona Salinas is 44 and divorced with four children, the eldest three are over the age of 18. Cecilia lives in the parish of Vilcabamba and has run a bakery for the last ten years.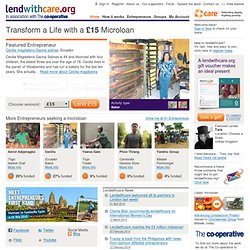 Crowd Investments - Crowd Investment by BriceAmery Capital Ltd
Terms of Service
This page states the Terms & Conditions of Use under which members and users (collectively 'Users') may make use of this Website, its Services and any other websites under VODO control (whether partial or otherwise). Access to this Website and the use of information on it and use of its Services are subject to these Terms & Conditions. You should carefully read these Terms & Conditions. By using the Website and its Services, you agree and will be deemed to have accepted them.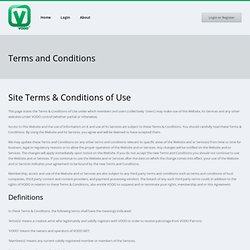 FAQs - Bloom - Venture Catalyst
Crowdfunding a community festival – case study and tips Friends of Cale Green Park (Stockport) are running a campaign of part of the NESTA funded CrowdMatch Project. Partners Community Development Foundation, Buzzbnk and CrowdfundUK are supporting organisations in running crowdfunding campaigns across the country. The donations they raise will be matched by a Community First Grant.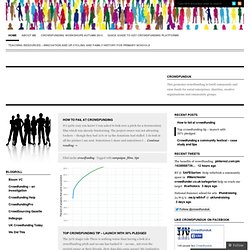 crowdfund uk blog
Access to finance is a key barrier to growing the interactive entertainment industry in the UK. UKIE believes that crowd funding models can provide a valuable source of finance for games and interactive entertainment businesses, particularly the large number of innovative and creative start-ups and SMEs that are emerging in the UK. The interactive entertainment industry is at the forefront of the adoption of crowd funding and crowd sourcing in the digital sector; a recent American crowd funding project (Double Fine Adventure) recently broke records by raising over $1.5 million in 24 hours on the crowd funding platform Kickstarter. However, we also believe that crowd funding has the potential for much wider use by SMEs in other sectors and wider community based projects throughout the UK.
UKIE Crowd Funding Report - A Proposal to Facilitate Crowd Funding in the UK - February 2012 | The Association for UK Interactive Entertainment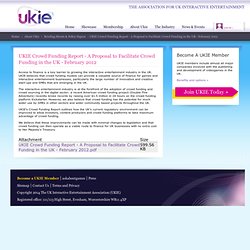 About | My Major Company UK
Homepage | WeDidThis
Investing in start-ups and early stage businesses involves risks, including illiquidity, lack of dividends, loss of investment and dilution, and it should be done only as part of a diversified portfolio. Crowdcube is targeted exclusively at investors who are sufficiently sophisticated to understand these risks and make their own investment decisions. You will only be able to invest via Crowdcube once you are registered as sufficiently sophisticated. Please click here to read the full Risk Warning. This page has been approved as a financial promotion by Crowdcube Ventures Limited, which is authorised and regulated by the Financial Conduct Authority. Investments can only be made on the basis of information provided in the pitches by the companies concerned.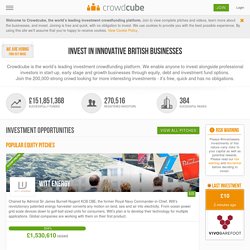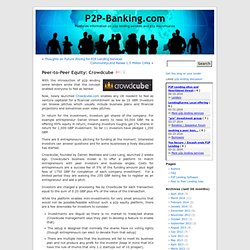 Peer-to-Peer Equity: Crowdcube
With the introduction of p2p lending some lenders wrote that the concept enabled everyone to feel as banker. Now, newly launched Crowdcube.com enables any UK resident to feel as venture capitalist for a financial commitment as low as 10 GBP. Investors can browse pitches which usually include business plans and financial projections and sometimes even video pitches. In return for the investment, investors get shares of the company. For example entrepreneur Daniel Vinson wants to raise 50,000 GBP. He is offering 49% equity in return, meaning investors roughly get 1% shares in return for 1,000 GBP investment.
How to Become a Shareholder of Crowdcube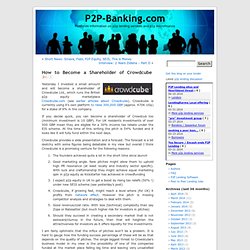 Yesterday I invested a small amount and will become a shareholder of Crowdcube Ltd., which runs the British p2p equity marketplace Crowdcube.com (see earlier articles about Crowdcube). Crowdcube is currently using it's own platform to raise 300,000 GBP (approx. 470K US$) for a stake of 9% in the company. If you decide quick, you can become a shareholder of Crowdcub too (minimum investment is 10 GBP). For UK residents investments of over 500 GBP mean they are eligible for a 30% income tax rebate under the EIS scheme.
crowdcube's Channel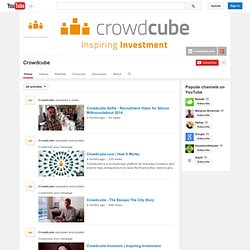 Welcome to YouTube! The location filter shows you popular videos from the selected country or region on lists like Most Viewed and in search results.To change your location filter, please use the links in the footer at the bottom of the page. Click "OK" to accept this setting, or click "Cancel" to set your location filter to "Worldwide". The location filter shows you popular videos from the selected country or region on lists like Most Viewed and in search results. To change your country filter, please use the links in the footer at the bottom of the page.
SoLoCo
Language: English Bahasa Indonesia Bahasa Melayu Dansk Deutsch
Crowdfunding Today (crowdfundtoday) on Twitter
Lending via Buzzbnk involves significant risks and lenders may not recover all or part of any loans advanced, therefore lenders should not participate in lending to a Project unless they can readily bear the consequences of such a loss. Loans are unsecured and the primary purpose of lending via Buzzbnk is to enable the positive social or environmental outcome the project seeks to achieve and any financial returns should be secondary. Any person who is in any doubt about lending to a Project featured on this Site should consult an independent financial advisor or other appropriately qualified persons. SellAVenture LLP (trading as Buzzbnk) is regulated under an Interim Permission (CCI-IP-055569) by the Financial Conduct Authority (FCA) and will become fully authorised as per the FCA Loan-based crowdfunding timetable set.
Sponduly | Welcome
WeSayWePay.com (wesaywepay) on Twitter