CROWDFUNDING 2.0
Crowd Valley. Cash Mobs: Will They Save American Small Business? | Small Business Marketing Ideas | UPrinting.com Small Business Blog. News February 24, 2012 Cash mobs are perhaps one of the more interesting things to happen to small businesses in the United States in the past year.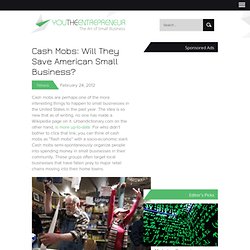 The idea is so new that as of writing, no one has made a Wikipedia page on it. Urbandictionary.com on the other hand, is more up-to-date. An investigation: Some thoughts. I've been looking at Crowdfunding resources online over the last few days and I have a few thoughts in my head in response to some articles that I wanted to just get written down before they get lost for good.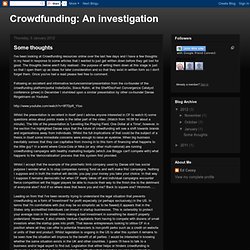 The thoughts below aren't fully realised - the purpose of writing them down at this stage is just so that I open them up as ideas for later consideration and so that they exist in written form so I don't forget them. Once you've had a read please feel free to comment. Following an excellent and informative lecture/seminar/presentation from the co-founder of the crowdfunding platform/portal IndieGoGo, Slava Rubin, at the SheffDocFest Convergence Catalyst conference (phew) in December I stumbled upon a similar presentation by other co-founder Danae Ringelmann on Youtube:
Questions? « Credibles by Slow Money – Prepaid Crowdfunding by Slow Money. Prepaid Crowdfunding – how it works with Credibles « Credibles by Slow Money – Prepaid Crowdfunding by Slow Money. Pre-pay your favorite food businesses Credibles is a service offered by Slow Money , and powered by Clearbon , for crowd-funding small, sustainable food-related businesses.
The re-payment of the funding is in-kind – edible credits, or . For customers, the crowdfunding supporters You're a fan of a particular food business? GoFundMe Clone | GoFundMe Script for Sale | GoFundMe Website Clone | Site Like GoFundMe | Script Like GoFundMe. What is fundraising?
Fundraising has been typically associated with the non-profit organizations; it is an act of collecting money for various non-profit organizations that serve different purposes and help the society. However, today, it has a new definition. Fundraising is not only limited for social services or causes. Even for business purposes, fundraising can be a great idea for the improvement and betterment of new business plans and functions. Raise Money for YOU! How to raise money on your donation website! PLEDGESTREAM. ADBACKER | Crowdfunding Ads. The Innovative Platform Is Deemed as the Arrival of 'Crowdfunding 2.0' New York, NY (PRWEB) December 08, 2011 Last week, Adbacker, an extraordinary, new company was launched amidst a swarm market of crowdfunding platforms.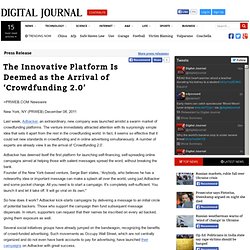 The venture immediately attracted attention with its surprisingly simple idea that sets it apart from the rest in the crowdfunding world. In fact, it seems so effective that it could set new standards in crowdfunding and in online advertising simultaneously.
---