CROWDFUNDING 2.0
Crowd Valley
Cash Mobs: Will They Save American Small Business? | Small Business Marketing Ideas | UPrinting.com Small Business Blog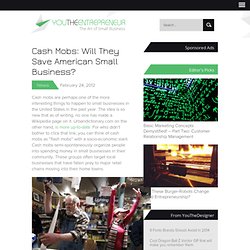 Cash mobs are perhaps one of the more interesting things to happen to small businesses in the United States in the past year. The idea is so new that as of writing, no one has made a Wikipedia page on it. Urbandictionary.com on the other hand, is more up-to-date . For who didn't bother to click that link, you can think of cash mobs as "flash mobs" with a socio-economic slant. Cash mobs semi-spontaneously organize people into spending money in small businesses in their community. These groups often target local businesses that have fallen prey to major retail chains moving into their home towns.
I've been looking at Crowdfunding resources online over the last few days and I have a few thoughts in my head in response to some articles that I wanted to just get written down before they get lost for good. The thoughts below aren't fully realised - the purpose of writing them down at this stage is just so that I open them up as ideas for later consideration and so that they exist in written form so I don't forget them. Once you've had a read please feel free to comment. Following an excellent and informative lecture/seminar/presentation from the co-founder of the crowdfunding platform/portal IndieGoGo, Slava Rubin, at the SheffDocFest Convergence Catalyst conference (phew) in December I stumbled upon a similar presentation by other co-founder Danae Ringelmann on Youtube: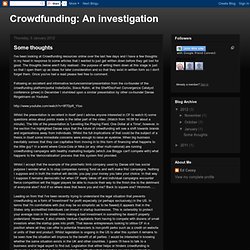 An investigation: Some thoughts
Questions? « Credibles by Slow Money – Prepaid Crowdfunding by Slow Money
Prepaid Crowdfunding – how it works with Credibles « Credibles by Slow Money – Prepaid Crowdfunding by Slow Money
Pre-pay your favorite food businesses Credibles is a service offered by Slow Money , and powered by Clearbon , for crowd-funding small, sustainable food-related businesses. The re-payment of the funding is in-kind – edible credits, or . For customers, the crowdfunding supporters You're a fan of a particular food business?
LoudSauce: Fund ad campaigns that matter
GoFundMe Clone | GoFundMe Script for Sale | GoFundMe Website Clone | Site Like GoFundMe | Script Like GoFundMe
Crowd Funding Project | tagvillage | a Tithing Corporation
ADBACKER | Crowdfunding Ads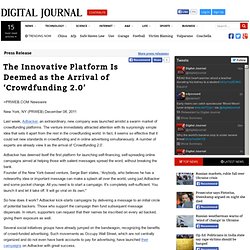 New York, NY (PRWEB) December 08, 2011
The Innovative Platform Is Deemed as the Arrival of 'Crowdfunding 2.0' - Press Release - Digital Journal