TOP CROWDFUNDING ARTICLES
15 Hacks to Raise the Most Money for Your Indiegogo Campaign. Indiegogo is no longer just for filmmakers.
The largest crowdsourcing campaign in history was on Indiegogo… and it wasn't a film, it was tech; Ubuntu Edge open source, a smartphone and desktop PC device getting over 12 million dollars in contributions. There are 3 vital questions to ask when putting together a campaign; Peter H. Diamandis - Google+ - Funding Crazy Ideas In this blog, I'm going to introduce… Funding Crazy Ideas In this blog, I'm going to introduce you to the crowd funding site RocketHub and how it aims not only to tell the story of people looking to fund their dream projects, but how crowd funding can help science move forward.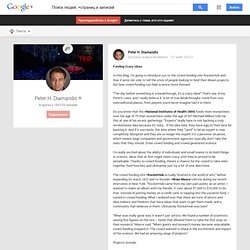 "The day before something is a breakthrough, it's a crazy idea! " That's one of my Peter's Laws, and I really believe it. Everybody's Critic • A darker perspective on crowdfunding. ▷ crowdfunding.ch – Online Fundraising » Blog Archive » Why due diligence matters in equity crowdfunding. May 31 VentureBeat recently reported that funding marketplace MicroVentures raised over $16 million for tech startups.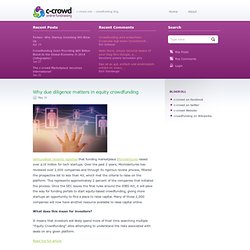 Over the past 2 years, MicroVentures has reviewed over 2,000 companies and through its rigorous review process, filtered the prospective list to less than 40, which met the criteria to raise on the platform. This represents approximately 2 percent of the companies that initiated the process. CMW Crowdfunding Panel. Never send the B team.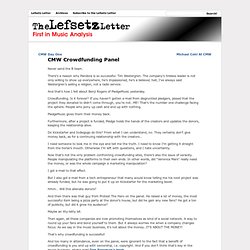 There's a reason why Pandora is so successful. Tim Westergren. The company's tireless leader is not only willing to show up everywhere, he's impassioned, he's a believer, hell, I've always said Westergren's selling a religion, not a radio service. And that's how I felt about Benji Rogers of PledgeMusic yesterday. Crowdfunding. Commentary: It's time for our own crowdfunding law. As you are probably well aware by now, Congress passed a federal crowdfunding law.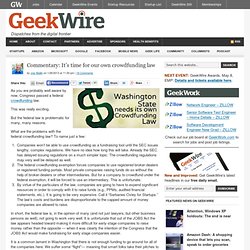 This was really exciting. But the federal law is problematic for many, many reasons. Crowdfunding More Marketing Than Fundraising: Opinion - US Business News. 1.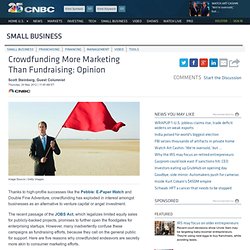 You have to give to get in return. If you simply ask for contributions, and offer nothing of value in exchange, you'll quickly discover why crowdfunding isn't like running a charity fundraiser. Backers expect meaningful returns in exchange for contributions — and that means offering compelling rewards. Whether providing preorders at a fraction of retail prices, exclusive merchandize, or singular experiences (e.g. a cameo in your next creation or executive producer credits), meaningful incentives must be provided. End Online Panhandling Forever! You're absolutely right about how hard it is to get any kind of funding, even under the BEST circumstances.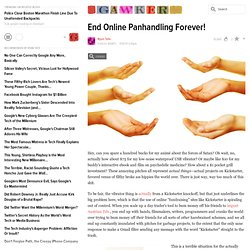 I'm a smart guy, and I have some great ideas. But I suffer from agoraphobia and acute social phobia and am living on disability. After bills and food, I literally have $30 left every month. Raising capital online: The new thundering herd. Kickstarter vs NEA with Real Numbers. Kickstarter vs NEA with Real Numbers Feb 27, 2012 Clay Johnson Kickstarter by the Numbers Yancey posted a response to my post about the NEA and Kickstarter, and in it he states my numbers are inaccurate.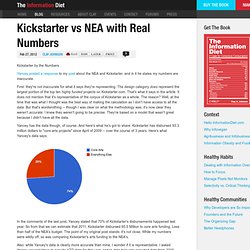 First: they're not inaccurate for what it says they're representing. The design category does represent the largest portion of the top ten highly funded projects on Kickstarter.com. Kickstarter's Sting In The Tail: Tax. Blog Archive The crowdfunding bubble of 2013. When President Obama signed the Jumpstart Our Business Startups (JOBS) Act on April 5th, the era of crowdfunding began as individual investors everywhere were promised an opportunity to gain access to venture investments previously limited to institutions, funds, and so-called qualified investors.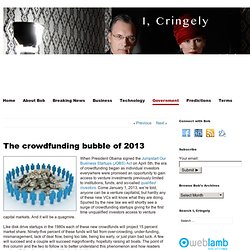 Come January 1, 2013, we're told, anyone can be a venture capitalist, but hardly any of these new VCs will know what they are doing. Spurred by the new law we will shortly see a surge of crowdfunding startups giving for the first time unqualified investors access to venture capital markets. And it will be a quagmire. Like disk drive startups in the 1980s each of these new crowdfunds will project 15 percent market share. Ninety-five percent of these funds will fail from over-crowding, under-funding, mismanagement, lack of deal flow, being too late, being too early, or just plain bad luck. Crowdfunding offers startups a chance at financing their ideas from the mainstream, but what's the catch? — Capitalist Exploits. 3 Flares Twitter 0 Facebook 3 Filament.io Made with Flare More Info 3 Flares × I wrote a piece on crowdfunding back in November, right after congress overwhelmingly passed The Entrepreneur Access to Capital Act.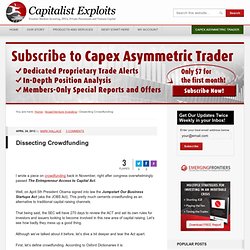 Well, on April 5th President Obama signed into law the Jumpstart Our Business Startups Act (aka the JOBS Act). This pretty much cements crowdfunding as an alternative to traditional capital raising channels. That being said, the SEC will have 270 days to review the ACT and set its own rules for investors and issuers looking to become involved in this new area of capital raising. Is CrowdFunding A Boon, Or A Disaster? Crowdfunding: The Train to the Future Is Leaving—Get on Board. Tim Rowe3/12/12 It has been a whirlwind last few days in the crowd-funding world. For those of you who have not yet tuned in to this, there is legislation afoot, backed by the President and (so far) the House, that would enable, in effect, mini- IPOs as a way to fund startups.
A social history of crowdfunding. Many refer to crowdfunding as a "new phenomenon" (or – at worst – the "new bubble"). However, it is not as new as we may think; as a concept, it has been around for some centuries already. The novelty lies in the technologies and the mindset that are giving it a new momentum, technologies and mindset that we will consider in this chronological record of the main events leading to what we now refer to as crowdfunding. We should mention in passing both Jonathan Swift's Irish Loan Fund, and Dr.
If it makes the mass. Christian Rauch über Schwarmintelligenz und Schwarmdummheit Text: Christian Rauch Das Web-2.0-Zeitalter hat bewiesen: Die Masse kann kreativer und intelligenter sein als Einzelne. Developments in Crowd-funding. There's a glimmer of hope that Congress and the Administration might be able to agree on one piece of legislation this year—the JOBS Act introduced in the House last week by Majority Leader Eric Cantor—that could do something significant for startups, and in turn the broader economy. This legislation combines a number of proposals that would change various SEC rules so as to lower the costs of raising capital by new businesses. Most of these have already separately passed the House by large bipartisan majorities.
The Obama Administration also has endorsed most of the ideas in the bill, and reportedly is willing to work with Cantor and like-minded (on this issue) Democrats in the House to get the bill passed. There is one provision in the proposed Act that is unusually controversial that I'd like to address in this post, because it sure to get some attention in the Senate (assuming the House passes the bill, which is a good bet at this writing). Crowd Funding - "Share Savings" for startups?
In den letzten Monaten sind einige Plattformen erschienen, welche interessierten Kleinanlegern das Investieren in Startups erlauben und schmackhaft machen soll. In der Regel finanzieren sich diese Plattformen über einen Prozentsatz der vermittelten Gelder. Persönlich betrachte ich diese Entwicklung mit gemischten Gefühlen. Einerseits ist es gewiss positiv, dass nun auch Kleinanlegern die Möglichkeit offensteht, sich mit Beträgen ab einigen tausend Franken in Startups zu engagieren. Andererseits habe ich den Eindruck, dass genau diese Möglichkeit vielleicht sogar zu einfach gemacht wird.
Many Kickstarter-Funded Films Played at the Sundance Film Festival. Will Crowdfunding Drive a New Wave of Startup Investing? Crowdfunding Promises New Opportunities for Entrepreneurs and Emerging Companies- The Law Firm of Faegre Baker Daniels. The DeanBeat: Crowd-funding gives hope to mid-size game developers. Crowdfunding Nation: The Rise and Evolution of Collaborative Funding. Crowdfunding Bill Stuck in the Senate. A Proposal to Allow Small Private Companies to Get Investors Online. Crowdfunding Set to Explode with Passage of Entrepreneur Access to Capital Act.
Crowdfund in 30 Seconds: The New Wave "Elevator Pitch" I'm with the Band. Crowd Funding: an alternative financing? - Blog - Reporter - Journalism & New Media.
---