CROWDFUNDING TIPS
Crowdfunding Canvas
The 7 Deadly Sins of Crowdfunding
Aspiring entrepreneurs face new challenges in the new economy: credit card limits are down, banks are stingy with loans, grants are harder to find and odds are that once-rich uncle is now underwater on his mortgage. Put simply, once reliable shortcuts for startup funding aren't so reliable anymore. But in some ways, startup funding is actually more accessible now thanks to social networking and crowdfunding platforms that match amazing new ideas with people who want to be part of the next big thing. At IndieGoGo, we connect aspiring innovators and creators -- inventors, entrepreneurs, restaurateurs, designers -- with the millions of people worldwide who want to be a part of exciting new ventures. Anyone can create a campaign to fund any dream, any passion, any idea that just needs some capital to get started.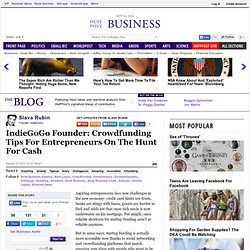 Slava Rubin: IndieGoGo Founder: Crowdfunding Tips For Entrepreneurs On The Hunt For Cash
http://www.crowdfundingguides.com/The%20Crowdfunding%20Bible.pdf is not available
schooltipline/wp-content/uploads/2011/07/RocketHub-SchoolTipline-Crowdfunding-Tutorial.pdf
Crowdfunding Bible: Top Book on Crowd Funding, Kickstarter
Dream of launching a new product, project or startup? Wish granted! Thanks to crowdfunding, today's hottest form of high-tech investment, suddenly anyone can bring virtually any idea or invention to life with a little help from the Internet. The world's most comprehensive guide to raising money online, The Crowdfunding Bible shows you how to launch, market and successfully operate a high-tech fundraising campaign, regardless of your chosen industry, scope or budget.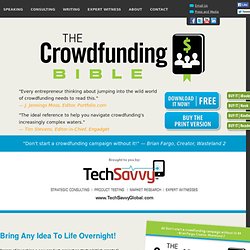 Looking for advice on how to run a successful crowdfunding campaign? This article lays out some of the most important considerations you'll need to take into account if you want to build your crowd, get them engaged, and drive them to a rewarding conclusion. So first things first: you've got to have a crowd to crowdfund something. Who are you going to reach out to with your pitch? How do you know if they'll care about what you're doing?
How To Run a Successful Crowdfunding Campaign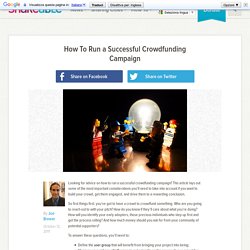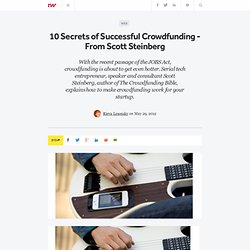 10 Secrets of Successful Crowdfunding - From Scott Steinberg
With the recent passage of the JOBS Act, crowdfunding is about to get even hotter. Serial tech entrepreneur, speaker and consultant Scott Steinberg, author of The Crowdfunding Bible, explains how to make crowdfunding work for your startup. Steinberg, CEO of TechSavvy Global, answered ReadWriteWeb's most pressing questions with these 10 insights into successful crowdsourcing: ReadWriteWeb: Are particular types of tech startups better suited for crowdfunding than others, and why is that so? Scott Steinberg: It's best for [startups] with a strong consumer focus that can easily communicate their value proposition. Crowdfunding works for creative projects - apps, consumer products, software - that resonate with average, everyday people.
s3.amazonaws.com/ezs3-51dda223-1422-1d54-b1ad1219245607d9/Crowdfunding Formula/Crowdfunding Formula Handouts.pdf
How to Crowdfund to Raise Money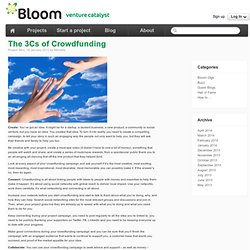 Posted: Mon, 16 January 2012 by Michelle Create: You've got an idea. It might be for a startup, a student business, a new product, a community or social venture, but you have an idea. You created that idea.
Blog Post - The 3Cs of Crowdfunding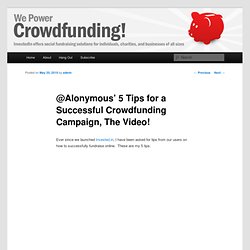 Ever since we launched Invested.in, I have been asked for tips from our users on how to successfully fundraise online. These are my 5 tips. And if you'd rather read my 5 tips, here they are: Choose the right project type – On Invested.in, we let people create different types of projects. You can choose to raise as much money as possible within a certain amount of time, you can choose to set a specific target goal, or you can choose both. You have to remember that if you don't hit your target, if you set one, your "investors" will get their money back.
@Alonymous' 5 Tips for a Successful Crowdfunding Campaign, The Video!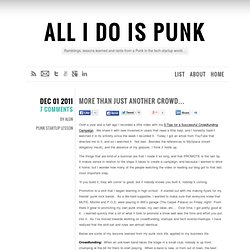 Over a year and a half ago I recorded a little video with my 5 Tips for a Successful Crowdfunding Campaign. We share it with new Invested.in users that need a little help, and I honestly hadn't watched it in its entirety since the week I recorded it. Today I got an email from YouTube that directed me to it, and so I watched it. Not bad.
"More than just another crowd!" - A Lesson in Promotion from a Punk
Components Of A Good Crowdfunding Campaign
Like everything, there is no secret recipe for a successful crowdfunding campaign. From our previous posts it should be clear that there are lots of options, motivations, possibilities and tools behind every single crowdfunding project and similarly there is no single approach to creating a successful campaign. However, we have used our experience and analysis of crowdfunding to come up with a bit of general advice that should be useful to anyone wishing to start a crowdfunding campaign. 1.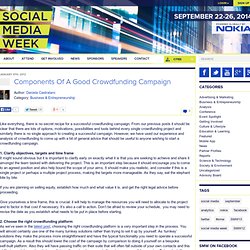 Kicking Ass & Taking Donations: 9 Tips on Funding Your Kickstarter Project
Kickstarter is getting pretty hard to ignore. In 2011 alone, creatives used the crowdfunding platform to raise nearly $100 million for projects that ranged from feature-length films and industrial design products to print magazines and pop-up restaurants. Over 11,000 projects successfully met their funding goals. So how can you use Kickstarter to get your creative endeavor off the ground?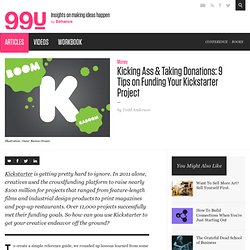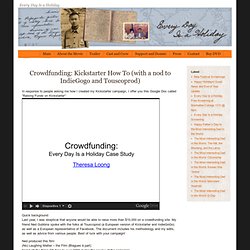 Crowdfunding: Kickstarter How To (with a nod to IndieGogo and Touscoprod)
In response to people asking me how I created my Kickstarter campaign, I offer you this Google Doc called "Raising Funds on Kickstarter": Quick background: Last year, I was skeptical that anyone would be able to raise more than $10,000 on a crowdfunding site. My friend Ned Gubbins spoke with the folks at Touscoprod (a European version of Kickstarter and IndieGoGo) as well as a European representative of Facebook. The document includes his methodology and my edits, as well as advice from various people.
Lessons from a Floundering Kickstarter Project » The Kickstarter Blog
Earlier today I got an email from a man named David Lang linking to a blog post he had written called Lessons From a Floundering Kickstarter Project. In it, David discusses his project The Great Mate Journey, which has raised $240 in its first 30 days, 10% of its total. He's disappointed in its performance thus far, and his post offers an extremely frank assessment of why he thinks that's true.
On Twitter, Gareth M. Skarka (@GMSkarka) asked me for some advice about a Kickstarter project he's planning, so I shared these lessons I learned from the e20 System project. This advice is largely oriented toward game design projects (since that's my experience), but most of this should apply to any Kickstarter project:
15 Steps for a Successful Kickstarter Project » GMSarli Games
The Crowdfunding Rockstars
Jim, Adam, and Kent: Revolights My walkaway impression after my interview with the Revolights team was of pure warmth and authenticity. This is a team that replied to every single email sent to them, over 4000 messages during their active Kickstarter campaign.
David Branin's CROWD-FUNDING CHEAT SHEET
2 weeks ago, we reached our all or nothing fundraising goal of raising $15,000 in 52 days. Thanks to 227 amazing backers, we ended up 108% funded with $16,203 in Post-Production monies for our film Goodbye Promise. As I crunch the numbers I see that 85% of contributions were $50 or less. I have had a number of folks approach me for advice on how we did it. I thought it would be best capture some of my ideas, principles, and lessons learned in one place for all to benefit.
NEW BREED: The Crowd « WorkBook Project :: an open creative network
By Lance Weiler, March 16th, 2010 By Gregory Bayne – As some of you know, I recently completed a successful funding campaign using Kickstarter.com to raise the initial capital needed to get my new film, Jens Pulver | Driven, an intimate documentary about legendary UFC Champion Jens Pulver, off the ground. The end result of the campaign was $27,210 pledged, my goal was $25,000, via 410 contributors, in 20 short days. Since the close of the campaign I have received a number queries as to how this was accomplished, especially since 72 hours out from my deadline, I was still $10,000 short of my goal.
Hints and Tips | WeDidThis
ted hope | Hat & Soul
Successful crowd funding – my mantra | Vinod Bharathan
How to Get Crowdfunding for Your Small Business : The World
Why Your Crowdfunded Campaign Failed
TechMoola Offers Five Valuable Tips for Crowdfunding Success
Lessons Learned in the Land of Crowdfunding
How to Lose Everything on Kickstarter and Still Raise a Production Budget | Film Courage
Crowd Funding LIVE :: Just another WordPress siteCrowd Funding LIVE
Five Lessons Learned from the Crowdfunding Trenches from the Founder of olloclip®, on the One-Year Anniversary of Kickstarter
6 Mistakes We Made In Our Crowdfunding Campaign
Insight: Campaigns That Take These Six Actions Raise 8 Times More Money Than Campaigns That Don't | Indiegogo Blog
Tips and Tricks for a Successful Crowdfunding Campaign