CROWDFUNDING TIPS
Crowdfunding Canvas
The 7 Deadly Sins of Crowdfunding
Aspiring entrepreneurs face new challenges in the new economy: credit card limits are down, banks are stingy with loans, grants are harder to find and odds are that once-rich uncle is now underwater on his mortgage.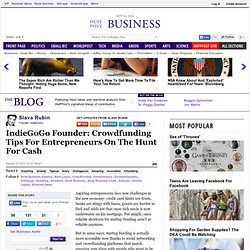 Slava Rubin: IndieGoGo Founder: Crowdfunding Tips For Entrepreneurs On The Hunt For Cash
http://www.crowdfundingguides.com/The%20Crowdfunding%20Bible.pdf is not available
schooltipline/wp-content/uploads/2011/07/RocketHub-SchoolTipline-Crowdfunding-Tutorial.pdf
Crowdfunding Bible: Top Book on Crowd Funding, Kickstarter
10 Tips For A Successful Crowdfunding Campaign | Starting Trends
How To Run a Successful Crowdfunding Campaign
10 Secrets of Successful Crowdfunding - From Scott Steinberg
s3.amazonaws.com/ezs3-51dda223-1422-1d54-b1ad1219245607d9/Crowdfunding Formula/Crowdfunding Formula Handouts.pdf
Crowdfunding: follow the guide | Blog MonArtiste crowdfunding: follow the guide | Analysis of financing the new tracks
How to Crowdfund to Raise Money
The Funded By Me - Blog on crowdfunding | Category Archive | Tips & tricks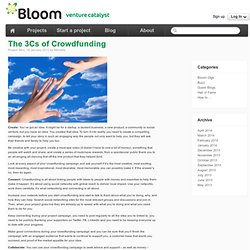 Posted: Mon, 16 January 2012 by Michelle
Blog Post - The 3Cs of Crowdfunding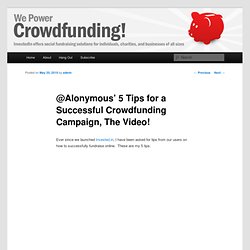 Ever since we launched Invested.in , I have been asked for tips from our users on how to successfully fundraise online. These are my 5 tips.
@Alonymous' 5 Tips for a Successful Crowdfunding Campaign, The Video!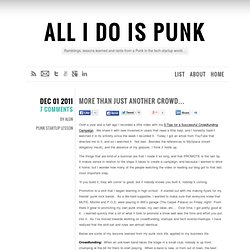 Over a year and a half ago I recorded a little video with my 5 Tips for a Successful Crowdfunding Campaign .
"More than just another crowd!" - A Lesson in Promotion from a Punk
Components Of A Good Crowdfunding Campaign
Like everything, there is no secret recipe for a successful crowdfunding campaign. From our previous posts it should be clear that there are lots of options, motivations, possibilities and tools behind every single crowdfunding project and similarly there is no single approach to creating a successful campaign. However, we have used our experience and analysis of crowdfunding to come up with a bit of general advice that should be useful to anyone wishing to start a crowdfunding campaign.
Kicking Ass & Taking Donations: 9 Tips on Funding Your Kickstarter Project
Kickstarter is getting pretty hard to ignore. In 2011 alone, creatives used the crowdfunding platform to raise nearly $100 million for projects that ranged from feature-length films and industrial design products to print magazines and pop-up restaurants. Over 11,000 projects successfully met their funding goals. So how can you use Kickstarter to get your creative endeavor off the ground?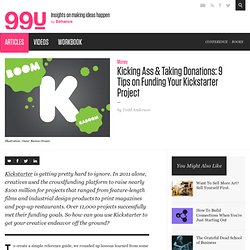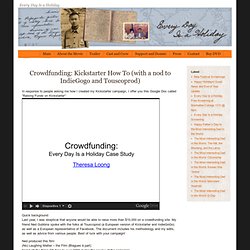 Crowdfunding: Kickstarter How To (with a nod to IndieGogo and Touscoprod)
In response to people asking me how I created my Kickstarter campaign, I offer you this Google Doc called "Raising Funds on Kickstarter":
Lessons from a Floundering Kickstarter Project » The Kickstarter Blog
Earlier today I got an email from a man named David Lang linking to a blog post he had written called Lessons From a Floundering Kickstarter Project . In it, David discusses his project The Great Mate Journey , which has raised $240 in its first 30 days, 10% of its total.
On Twitter, Gareth M. Skarka ( @GMSkarka ) asked me for some advice about a Kickstarter project he's planning, so I shared these lessons I learned from the e20 System project . This advice is largely oriented toward game design projects (since that's my experience), but most of this should apply to any Kickstarter project: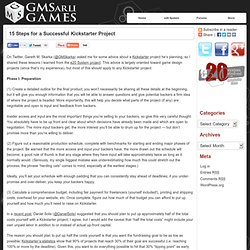 15 Steps for a Successful Kickstarter Project » GMSarli Games
3 Tips for Setting Crowdfunding Goals You Can Really Achieve | CrowdFundingHelp
The Crowdfunding Rockstars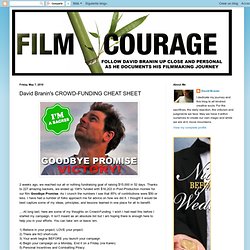 David Branin's CROWD-FUNDING CHEAT SHEET
2 weeks ago, we reached our all or nothing fundraising goal of raising $15,000 in 52 days.
NEW BREED: The Crowd « WorkBook Project :: an open creative network
By Lance Weiler, March 16th, 2010
How to Get Started with Crowdfunding | CrowdFundingHelp
Our arts channel is brought to you by WeDidThis - the UK's leading arts crowdfunding platform, dedicated to making great fan-funded art happen. In its first year WeDidThis funded over 40 projects from over 1,600 donations.
Hints and Tips | WeDidThis
ted hope | Hat & Soul
Yes, i have managed to raise 4000$ in 60 days using the crowd funding platform IndieGoGo . I would like to share my mantra with you. There are tons of sites teaching you how to go make a successful campaign.
Successful crowd funding – my mantra | Vinod Bharathan
Now there's a Kickstarter for small business. New York City-based Lucky Ant launched Jan. 2, hoping to link small businesses with their neighborhoods (and, of course, make some money in the process). In exchange for funding for improvement projects at local businesses—the site will feature one per week—users receive loyalty rewards and other perks. The company already has funded its first project: New York fitness studio Bari Studio wanted $5,000 to trademark its workout. As of Jan. 9, it had raised $5,020 . Co-founder Jonathan Moyal said the idea grew partly out of his history: His great-grandfather in Morocco "ran a drug-store type thing," he told Street Fight .
How to Get Crowdfunding for Your Small Business : The World
Why Your Crowdfunded Campaign Failed
TechMoola Offers Five Valuable Tips for Crowdfunding Success
Lessons Learned in the Land of Crowdfunding
How to Lose Everything on Kickstarter and Still Raise a Production Budget | Film Courage
INTERVIEW: How HelpersUnite Empowers Artists and Startups to Become Philanthropists | CrowdFundingHelp
Crowdfunding Your Idea - Crowdfunding LIVECrowd Funding LIVE
Crowd Funding LIVE :: Just another WordPress siteCrowd Funding LIVE
Five Lessons Learned from the Crowdfunding Trenches from the Founder of olloclip®, on the One-Year Anniversary of Kickstarter
6 Mistakes We Made In Our Crowdfunding Campaign
Insight: Campaigns That Take These Six Actions Raise 8 Times More Money Than Campaigns That Don't | Indiegogo Blog
Tips and Tricks for a Successful Crowdfunding Campaign