CROWDFUNDING LAW
Crowdfunding für Startups in den USA (Crowdinvesting) – Reform der Regulierung
Robert K. Ranum von Fredrikson & Byron, P.A., fasst die wichtigsten Neuerungen der Reform des Crowdfunding-Rahmens in den USA zusammen und benennt den Unterschied zwischen der Version des Senats und des Abgeordnetenhauses: The House and Senate crowdfunding bills would eliminate the traditional private placement restrictions on general solicitation and the number of non-accredited investors in order to allow the offerings to be sold over the internet to a large number of investors. Under current law, private placements may not be offered by any means of "general solicitation or general advertising" which includes communications in newspapers, magazines, or broadcast over television or radio or over the internet. Current private placement rules also limit the number of investors that may purchase in the offering, although investors meeting certain financial criteria, known as "accredited investors," are not subject to the limitation.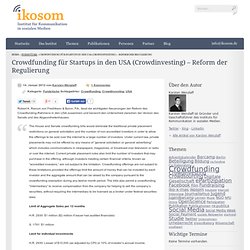 Survey on Crowdfunding Regulation in Europe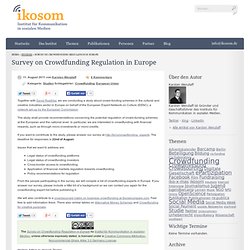 Together with David Roethler, we are conducting a study about crowd-funding schemes in the cultural and creative industries sector in Europe on behalf of the European Expert Network on Culture (EENC), a network set-up by the European Commission. The study shall provide recommendations concerning the potential regulation of crowd-funding schemes at the European and the national level. In particular, we are interested in crowdfunding with financial rewards, such as through micro-investments or micro-credits. If you want to contribute to the study, please answer our survey at http://bit.ly/crowdfunding_experts. The deadline for responses is 22nd of August.
Don't Wait for the Crowd: Legalization of Crowdfunding Could Take a WhileChris Hurtado and Bruce Campbell, Campbell Law Group
Don't Wait for the Crowd: Legalization of Crowdfunding Could Take a While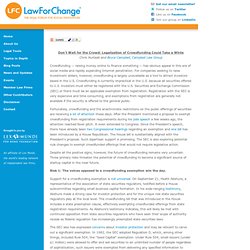 Crowd Funding - nearly legal? | iBusinessAngel
Moves are afoot in the USA to legalise crowd funding. Senator Scott Brown wants to allow startups to raise up to $1m via crowd funding. Read the article here…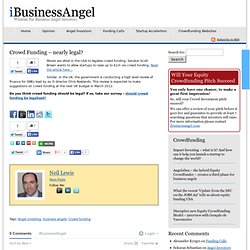 Homeowners use peer lending sites such as Prosper.com to pay for a new deck, and artists use Kickstarter to pay for their next project. But so far, it's been difficult for business owners to use peer lending or crowdsourcing, as it's variously known, to fund their business.
Why Crowdfunding is Bad for Business (Opinion)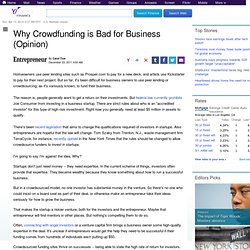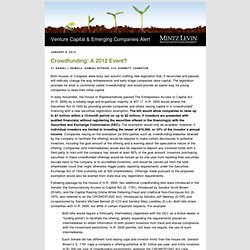 Crowdfunding: A 2012 Event?
January 9' 2012
Change Crowdfunding Law
Race to relax crowdfunding rules invites strange bedfellows
Crowdfunding (alternately crowd financing, equity crowdfunding, crowd equity, crowd-sourced fundraising) is the collective effort of individuals who network and pool their money, usually via the Internet, to support efforts initiated by other people or organizations.[1][2] Crowdfunding is used in support of a wide variety of activities, including disaster relief, citizen journalism, support of artists by fans, political campaigns, startup company funding,[3] motion picture promotion,[4] free software development, inventions development, scientific research,[5] and civic projects.[6] Crowdfunding can also refer to the funding of a company by selling small amounts of equity to many investors.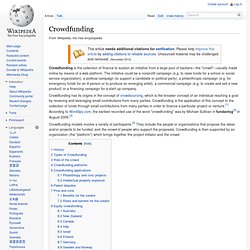 Crowd funding
crowdfunding law