Yarn
About: 3/2 Pearl Cotton Yarn Pearl Cotton has to be one of the most versatile yarns we sell. It Can be used for household projects: table cloths, coverlets, dish towels, placemats and napkins, curtains, baby blankets, and scarves - to name a few!
Pearl Cotton 3/2 - Halcyon Yarn, Quality and Value for Fiber Artists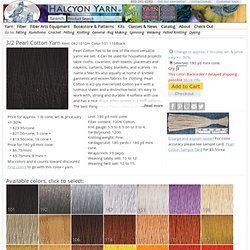 wiseNeedle - An Online Resource for Knitters
Perfection is a worsted weight blend of domestic merino and acrylic. It is a soft, easy care, wool blend that won't break the bank. Perfection is, well, perfect!
Kraemer Yarns: Our Yarn: Perfection Worsted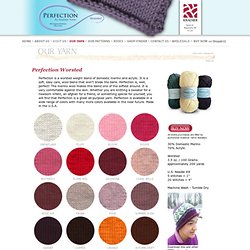 Henry's Attic
The Sheep Shed Studio
Cascade Yarns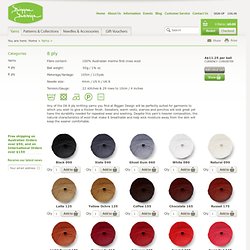 Fibre content: 100% Australian merino first cross wool Ball weight: 50g / 1¾ oz Meterage/Yardage: 105m / 115yds
Biggan Design