Yarn
About: 3/2 Pearl Cotton Yarn Pearl Cotton has to be one of the most versatile yarns we sell. It can be used for household projects: table cloths, coverlets, dish towels, placemats and napkins, curtains, baby blankets, and scarves - to name a few!
Pearl Cotton 3/2 - Halcyon Yarn, Quality and Value for Fiber Artists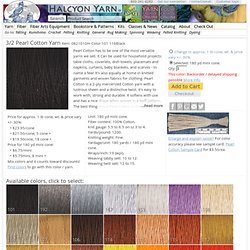 wiseNeedle - An Online Resource for Knitters
Perfection is a worsted weight blend of domestic merino and acrylic. It is a soft, easy care, wool blend that won't break the bank. Perfection is, well, perfect!
Kraemer Yarns: Our Yarn: Perfection Worsted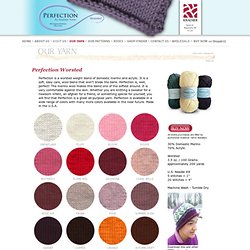 Henry's Attic
Brown Sheep Company, Inc.
The Sheep Shed Studio
Cascade Yarns
nipsale
All first-quality yarns at 50% off list price! This is Silk City Peluche Variegated Yarn in the Waterfall color. The picture does not do the yarn justice...the various shades of reds and blues and the colors are more vivid than shown.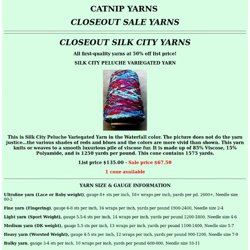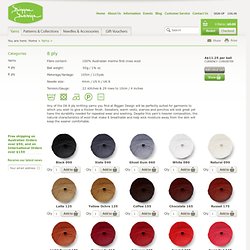 Fibre content: 100% Australian merino first cross wool Ball weight: 50g / 1¾ oz Meterage/Yardage: 105m / 115yds
Biggan Design