Toys
Get flash to fully experience Pearltrees
EDIT! Just wrote out a long photo-tutorial on my blog so you've no excuse now not to learn amigurumi if you've been wanting to! I made these for a class I'm going to be teaching for people who have never crocheted before, so I had to make them super easy, but still cute and customizable.
by Darlene Michaud Created on : August 13, 2010 Here are some free crochet patterns for butterflies, bugs and insects. One pattern is for a beautiful butterfly throw. The others are for various items, including some Amigurumi critters. Free Crochet Pattern - Butterfly Throw: This is a beautiful crocheted afghan that is made in blocks.
I just love weird elongated limbs! And bunnies. So, I decided to combine the two, resulting in this threesome of rather unusual rabbity things. I was going to just call them linguine bunnybuns, but my boyfriend insisted that they're space bunnies. So now they're linguine bunnybuns... from outer space!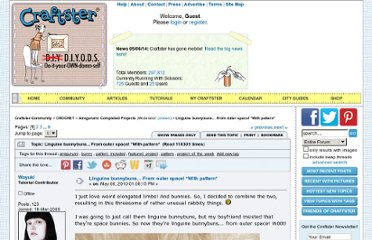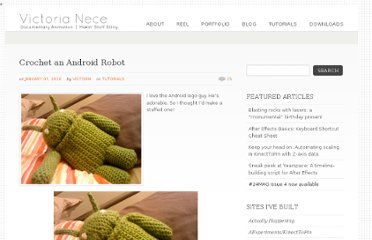 I love the Android logo guy. He's adorable. So I thought I'd make a stuffed one! I improvised the entire pattern as I went, so this is a bit of a rough how-to, and can be adapted to make robots of all shapes and sizes.
Approximately 4.5 inches in diameter Foamies can be made with small amounts of any sport weight cotton yarn. The photographed foamies were made from the following the yarns: Yellow Foamie: