Crochet
Slipper Pattern. Back Scrubber Pattern to Crochet. I'm not flexible enough to maneuver a washcloth to reach my whole back so a crocheted back scrubber used with both hands was a good solution.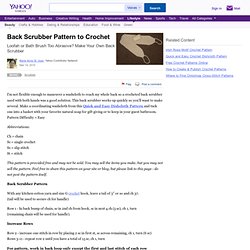 This back scrubber works up quickly so you'll want to make several. Make a coordinating washcloth from this Quick and Easy Dishcloth Pattern and tuck one into a basket with your favorite natural soap for gift giving or to keep in your guest bathroom. Pattern Difficulty = Easy Abbreviations: Ch = chain Sc = single crochet Ss = slip stitch St = stitch. BACK SCRUBBER Crochet Pattern. BACK SCRUBBER Crochet Pattern Crochet pattern courtesy of Crochet 'N' More Click below to learn more about CNM: Copyright Tisa Enterprises, All Rights Reserved To print a new copy visit: The following pattern is my original design.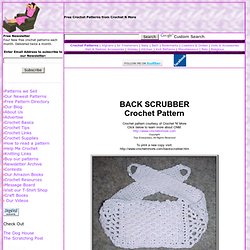 Please only copy or print this pattern for personal use. Learn to Crochet - The Double Foundation Chain. The double foundation chain (also called the "double base chain" or "Japanese Foundation Row") is anotehr way to begin a crochet project.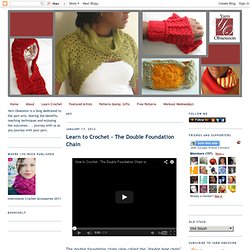 One of the great benefits of the double foundation chain is that is gives your crocheted piece greater elasticity than a straight chain. Because of that elasticity this is a great way to start a hat that is being worked from the brim up or for a sleeve. Once you get the hang of it, you'll be able to quickly decide if you'd like to use a chain or a double foundation chain in your project. You'll also know how to do it when you encounter a pattern that asks for this type of foundation row. I'd love to hear your feedback. Products I Love / Red Eye Glass Case with Black Button by ChrissyAnnCreations, $5.99. Products I Love / Iphone Smartphone Cozy Holder Rainbow by ChrissyAnnCreations, $8.49.
Long Scarf with Loopy Fringe | Size: 6" x 60" before fringing Materials: 8 oz worsted weight yarnSize H (5 mm) crochet hook, or size needed for gaugeSafety pinYarn needle or large-eyed tapestry needle.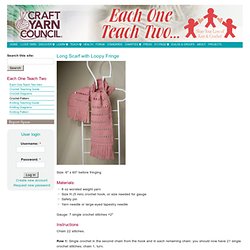 Chrissy Ann Creations by ChrissyAnnCreations. Vickie Howell for CARON | Wrapster. Timber Lily Fingerless Mitts -- A Free Crochet Pattern. Timber Lily Fingerless Mitts Fingerless mitts have always been among my favorite projects.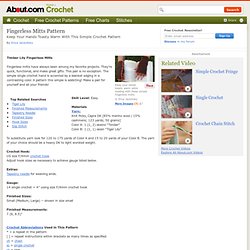 They're quick, functional, and make great gifts. This pair is no exception. Football Patterns -- Free Crochet Patterns With a Football Theme. Find free crochet patterns featuring a football motif or football theme.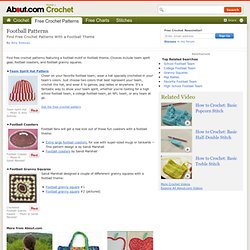 Choices include team spirit gear, football coasters, and football granny squares. Team Spirit Hat Pattern. Crochetville. Free Crochet Patterns -- Index of Free Crochet Patterns. Welcome to our directory of free crochet patterns, free charts for filet crochet, and free crochet projects.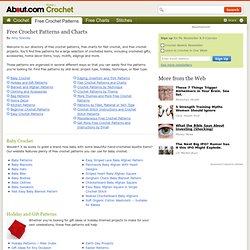 You'll find free patterns for a large selection of crocheted items, including crocheted gifts, accessories, home decor items, toys, motifs, edgings and more. These patterns are organized in several different ways so that you can easily find the patterns you're looking for. Find free patterns by skill level, project type, holiday, technique, or fiber type. Baby Crochet Wouldn't it be lovely to greet a brand new baby with some beautiful hand-crocheted layette items? AfricAmi Rhinoceros amigurumi crochet pattern [AF003] : PlanetJune Shop, cute and realistic crochet patterns & more. An original crochet amigurumi Rhino pattern from the AfricAmi range by June Gilbank.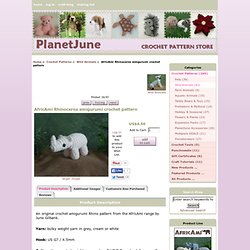 Yarn: bulky weight yarn in grey, cream or white Hook: US G7 / 4.5mm. Crochet Me. Crochet Pattern Easy Kimono Shrug by HipKittyDesigns. Crochet your Christmas by Christina. <div id="javascript-nag" class="notice"><p> Take full advantage of our site features by enabling JavaScript.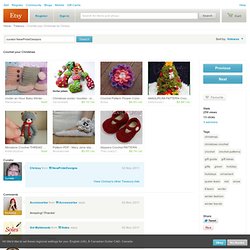 <a href=" more</a>. </p></div> Help Etsy Cart. Dreidel Softie. Dreidel Softiefinished measurementsapprox 1" by 2" YARNRowan Cotton Glace, approx 50yd (100% Cotton), any color, I used raspberry and aqua CROCHET HOOK· Size E/5 (3.5mm) crochet hook or any size to obtain correct gauge NOTIONS· Yarn needle· embroidery floss for decoration· handful of polyfill.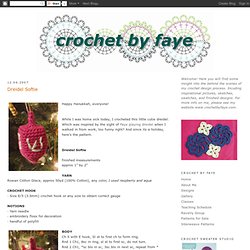 How To Crochet An Easy Ponytail Holder. [ Close Privacy Policy ] Privacy Policy / Your California Privacy Rights Revised and posted as of March 4, 2013 Prime Publishing, LLC ("Company," "we" or "us") reserves the right to revise this Privacy Policy at any time simply by posting such revision, so we encourage you to review it periodically. In order to track any changes to this Privacy Policy, we will include a historical reference at the top of this document. This Privacy Policy will tell you, among other things: Christmas Potholders Pattern - Free Crochet Pattern for Potholders in Christmas Colors. Use this free potholder pattern for making crocheted potholders in Christmas colors. These potholders are worked in afghan stitch, and are embellished with cross stitched accents.
Guaranteed to put you in a festive mood - bake your Christmas cookies, cakes and pies in style using these cheerful potholders, or crochet several sets to give as gifts to all the cooks on your Christmas shopping list. Potholders make excellent Christmas gifts! They work up relatively quickly, and they don't use much yarn, making them quite economical. Materials: Happy Bottle Bags - free crochet pattern. Happy Bottle Bags(c)crochetroo 2006 please respect my copyrightHere is a pattern for some Happy Bottle Bags which I have designed with Christmas in mind. The pattern hasn't been tested, and you may have to experiment with different types of yarn. I have used Carnival , or Magnum 8ply. The cheeper the yarn the better as the tough scratchy stuff works up pretty stiff which is perfect for these bags. Christmas Wreath Potholder [FP198] - $0.00 : Maggie Weldon, Free Crochet Patterns. Click the banners below for more beautiful holiday patterns, available via mail or download!
Easy Skill Size:Finished size - 7" across. Cell Phone Cozy Tutorial #1. Absolutely Easy Coffee Cup Sleeve. Learning Center | Untitled. CAN COZY. WM1060 Christmas Crochet Coffee Cozy. International Yarns | Free Project | Party Bracelets. International Yarns and Latch Hook Kits. A Mug Cozy Tutorial. Drawstring Phone Cozy. SUMMER WATER BOTTLE COZY Crochet Pattern. SIMPLE CAN COZY. iPad 2 Cozy (or Book Cozy) Grab and Go Casserole Carrier. Over 200 Free Crocheted Afghan Patterns. Shala loves making things - Coffee sleeve take 3. Crochet Snowflake. Free Vintage Patterns List. CHRISTMAS HOTPAD Crochet Pattern. Rainbow Crochet Zipped Coin Purse Tutorial & SparklePetal - StumbleUpon. Learn Single Crochet | Free Cozies Crochet Pattern Link Directory.
Five months in the making | Chocolate Mints In a Jar. Directory of Free, Online Crochet Patterns by Category. Sister Nail Gun of Enlightened Compassion (Calm but Rageful) - iPod: Crochet Pattern. International Yarns and Latch Hook Kits. Vickie Howell for CARON | iSleeve Houndstooth Digital Tablet Cozy. Trilogy Scarf. How to Make a Thread Crochet Holiday Lace Ornament - Christopher. Crochet SnowFlake 5. Art of Crochet by Teresa - How to Make the Reversible Double Sided Crochet Stitch. International Yarns | Free Project | Flower Power Scarf. International Yarns and Latch Hook Kits. International | Free Project | Nadia Shawl.
---