Crochet
48415930
Eclectic Gipsyland
This tutorial is for both right and left handed people. For left handed pictures, roll your mouse over the image and it will change for you. Tunisian stitches also known as afghan stitches, create a very elegant basket weaved look. Tunisian stitches are like a cross between crocheting and knitting because in crocheting these stitches it involves leaving loops on your hook when you are crocheting forward and then removing them when you crochet in reverse.
How to Crochet: Tunisian Simple Stitch (TSS)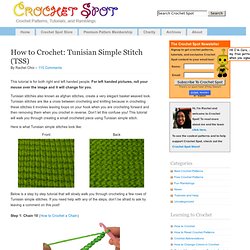 oh!villo
"de Rudolf crochet" | KnitHacker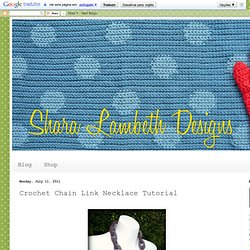 Hello friends! I have had many, many requests for a How-To tutorial so others could make a Crochet Chain Link Necklace, so I thought I ought to do it :-) These necklaces are simple, pretty & even practical, yep, they're baby proof! So here's what you need to know to make yourself a Crochet Chain Link Necklace:
Once again, this blog post is somewhat of a departure from what I typically blog about (crochet, baking, travel), similar to when I blogged about " My Maternity Fashion " here . At first I was hesitant about whether I should blog about this, but I decided that other mamas and mamas-to-be might find it helpful, so I decided to go for it! I will highlight two Canadian companies that have made items that I've loved so far as a new mama :)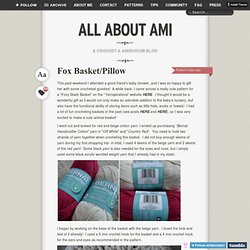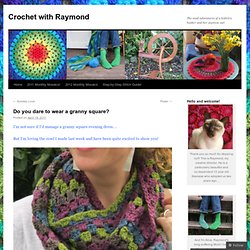 Do you dare to wear a granny square? | Crochet with Raymond
I'm not sure if I'd manage a granny square evening dress…. But I'm loving the cowl I made last week and have been quite excited to show you! I must apologise for the photos, I've cropped them right down this week, so you can't see the whole effect, but let me tell you, it really is lovely, I tried it on my friend to see how it looked on someone and couldn't get it off her and back around my neck fast enough! Being that we are heading into winter at what seems like a veeeeeery fast pace right now, I'm obsessed with cowls and this I have to tell you, is the first of a series of cowl posts.
I designed these little hanging decorations to add some colourful, homespun Hooky Goodness to my Christmas Tree this season, but there's no reason why they can't be used all year round and in all sorts of ways. I've had suggestions for using them as baby rattles, baby mobiles, as tags on wrapped gifts, or simply just as little decorative gifts to pass on to friends and family. These are quick and satisfying little things to work up, ideal to use up those little itty bits of stash yarn that you might have lurking somewhere. I personally prefer to use cotton yarn for making decorations (here I've used Rico Creative Cotton ), but any yarn would be fine. I also tend to switch down a hook size for making decorations which keeps the stitches quite tight and prevents the polyester stuffing showing through the gaps.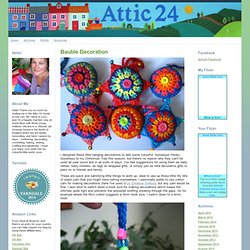 Bauble Decoration
Craft  : un album
Crochet Artist Anu Tuominen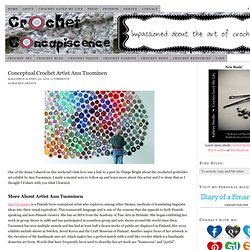 One of the items I shared on this weekend's link love was a link to a post by Things Bright about the crocheted potholder art exhibit by Anu Tuominen.
International Yarns | Free Project | Crochet Elf Slippers
Warm Yourself Handmade Knit & Crochet Designs by warmYourself
So I was looking around blogdom, and came across these gorgeous pincushions here, and after a few little linkys found a great pattern here, and of course, I had to make one of my own straight away!! Isn't it cute? Very easy to make, I am picturing an explosion of different coloured pincushions, or I might turn them into dangley decorations, I do so love hanging bits and pieces!.......... Yes, there will definitely be more of theses appearing around here.
my creative space... pincushion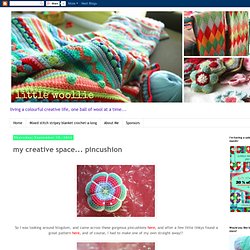 Amigurumi Apples
© June Gilbank 2010 Here's a realistic amigurumi apple: it's not just a ball with a stalk attached, it's actually the shape and size of a real apple! Give one to your (or your child's!)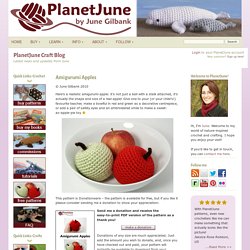 Studio Armadillo web_top
Cardigan - Home
I love having little baskets and containers around to keep things tidy, and have really been wanting to experiment with different materials to crochet with recently. This little basket is not only a perfect way to practice crocheting with rope, but also to hold little odds and ends! For this project I used a Size P crochet hook and one package of clothesline rope. This rope is nylon, but it would be fun to use cotton rope and experiment with dyeing it different colors! How cute would it be to dye the rope a few different colors and make a giant granny square rug? Now, lets get to the project pictured above...
CROCHETED ROPE BASKET
Internet Archive "Crocheting"
Geschafft: Meine Foto-Anleitung zum Häkeln der Sunburst Flower Granny Squares für eine dieser tollen Decken, wie sie viele wahrscheinlich von Sandra Juto oder dieser Flickr Group kennen, ist fertig. Für eine Freundin, die heute Geburtstag hat, wollte ich schon längst mal meine kleine Übersetzung dieser englischen Anleitung von MaryjoO abtippen. Nun hab ich mir etwas mehr Zeit genommen, um die Anleitung noch etwas detaillierter auszuarbeiten. Dank des tollen Fußauslösers , konnte ich die ganzen Häkel-Schritte selbst fotografieren und da die liebe MaryjoO nichts dagegen hatte, stelle ich das Ganze nun auch hier in den Blog und wünsche viel Spaß beim Häkeln . Wolle: Cool Wool 2000/ Merino Superfein von Lana Grossa (Das aber nur als Info, ihr könnt selbstverständlich auch ganz andere Wolle nehmen.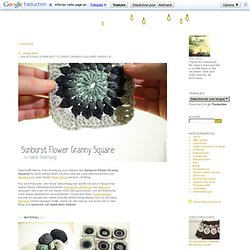 Aveiro square, au crochet # Tuto n°1 # La diffusion du tutoriel de l'Aveiro Square est INTERDITE sur vos blogs, forums, ou pages FaceBook. Si vous souhaitez publier une ou deux photos, faites un lien vers le blog, ou vers Ravelry, et indiquez l'auteur : Vers Cythère pour La Maille au doigt Trop d'abus constatés, m'obligeraient à supprimer les diagrammes de l'Aveiro Square voire ses explications. Merci de votre compréhension.
crochetjapon