How to's
Get flash to fully experience Pearltrees
Stream and download the best songs of 2013 from new single, EP and album releases by popular, signed bands, as well as under-the-radar DIY bands and artists. In case you missed any new or recent releases, this page is constantly updated with free MP3s (to stream or download) of the top songs from the best albums of 2013, featuring many great artists – from the biggest names in alternative and indie rock to the most obscure DIY bands. Come back here often for a reliable fix of new songs, listings of the latest album releases, band profiles and more. Top New DIY Releases – Is Paris Burning, Heyrocco, Matt Churchill, The Hyper Actives, No TV Tonight!, Rounds
It has been so long since I've done my stitch-of-the-week. I've been keeping up with it as far as trying a new stitch, taking pics, etc., but haven't had time to post them. I'll try to be better about it now that the baby is getting a little bit older. Here's the newest one. I won't say what I'm making, but I'm creating a little something for my girls. They all want to match for my mothers wedding in 5 weeks……No pressure!
I search and searched for a free pattern learn how to do the Crocodile Stitch. I found youtube video's showing, how to create the stitch. The video's were confusing at times and very confusing when showing how to add the second row. I had to stop and start the video several times to get the gist of the stitch. After messing around with this stitch on my own, I figured out an easier way to add the second and third row's and so on. So, I wanted to share with everyone who wants to learn how to do the Crocodile Stitch.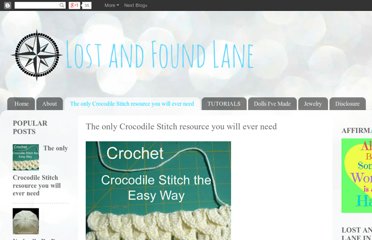 Hello! Would you like to know how I join all the seams of my knitting and crochet? You would?! That's great. I hope the following instructions are clear enough, and that they help you. The invisible stitch I am using, is also known as the 'ladder stitch', because the line of yarn joining your work, looks like a ladder, before it has been pulled taught.
By Alicia Kachmar – 41 Comments One way of crocheting in the round is to chain 2 and then make a certain number of stitches into the 2nd chain from the hook (you can do so with any kind of crochet stitch–sc, hdc, dc, etc.–but for this tutorial, I'll be using sc. This tutorial is for both right and left handed people. For left handed pictures, roll your mouse over the image and it will change for you.
Geschafft: Meine Foto-Anleitung zum Häkeln der Sunburst Flower Granny Squares für eine dieser tollen Decken, wie sie viele wahrscheinlich von Sandra Juto oder dieser Flickr Group kennen, ist fertig.
Feb If you've been reading this blog for any time, you know that I'm not a fan of joining a lot of motifs. However, every now and then, I run across squares (or other motifs) that make it worth the effort to weave in all those loose ends. Lately, I've discovered a number of squares that really 'speak' to me.
Just a warning before we get started with the tutorial, there's LOTS of pictures and I may go into too much detail, but that's just what I do. ;-) By the way, this is the yarn I use . Dc/treble: this refers to the same stitch. Dc if you use US crochet terms and treble if you use UK terms. July 2012 - Please note: these days I do very little crochet because I'm working on an embroidery book.
The sloppy slip knot: how to work in the round with no hole The typical way of starting to work in the round is less than ideal for amigurumi. The standard way is to make a slip knot, chain 2, and then single crochet six times into the first stitch. Why isn't this the best? It leaves an icky hole that lets stuffing poke through, as shown in the photo above. Not so good.
Mmm... happy colours! Ok, so there's a granny triangle tutorial in the works, but first I'm going to show you how to make a magic ring. This is a very handy thing to know how to make. Not just for granny triangles! Why is it handy?