Crise italie
Related Morgan Stanley Wins Big on Italy's Bad Bet
Italy Said to Pay Morgan Stanley $3.4 Billion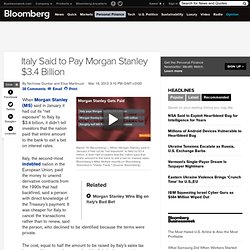 Mafia now Italy's No.1 bank as crisis bites: report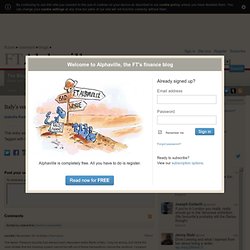 @ Some bloke & UK trader Apparently the decree refers to a "convention" between the Treasury and the Central Bank dated March 22, 2011 and to a decree dated July 29th, 2011 on that convention. I couldnt find the convention, but in the preamble of the July 29th decree, there is written the following: "GIVEN THE CURRENT MARKET ENVIRONMENT, which imposes a liquidity management 'based on criteria of prudence, and the consequent need to carefully assess the levels of risk and the costs' of the Ministry of operations in the money market..."
Italy's very own special liquidity programme? [Updated]
27/11/2011: Even with IMF's €600bn - Italy is too big to bail
There are some interesting reports in the media over the weekend, speculating that the IMF is preparing a super package for Italy, rumored to reach €600 billion.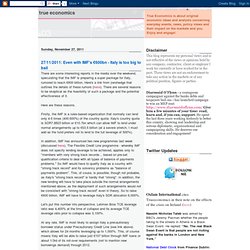 French exposure in pictures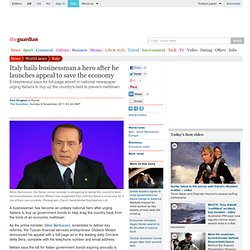 A businessman has become an unlikely national hero after urging Italians to buy up government bonds to help drag the country back from the brink of an economic meltdown. As the prime minister, Silvio Berlusconi, scrambles to deliver key reforms, the Tuscan financial services entrepreneur Giuliano Melani announced his appeal with a full-page ad in the leading daily Corriere della Sera, complete with his telephone number and email address.
Italy hails businessman a hero after he launches appeal to save the economy | World news
Berlusconi pourrait quitter le gouvernement en 2012
Après les gouvernements portugais et irlandais emportés par la crise de leur dette souveraine, le Président du Conseil italien Silvio Berlusconi va-t-il rendre lui aussi son tablier ?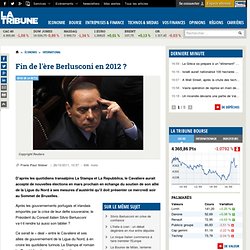 After so many centuries, the secret door sticks a bit. But it still exists, hidden behind an image of Italy in the "Hall of Maps" of Florence's Palazzo Vecchio. "Eccolo," says Francesca, the custodian.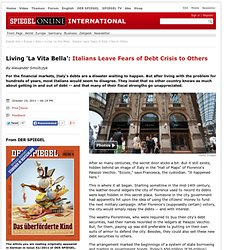 Living 'La Vita Bella': Italians Leave Fears of Debt Crisis to Others - SPIEGEL ONLINE - News - International
On a bright Sunday morning terrace on the Piazza San Domenico – smartly turned-out Neapolitan families strolling animatedly past on their way home from mass, a clown entertaining the children on the Via Benedetto Croce – Gia Caglioti isn't mincing her words. "To be frank," she said, "we've been a country in decline since the 1980s – had we but seen it. Actually, there are plenty of people, including in government, who still won't see it.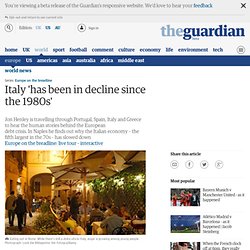 Italy 'has been in decline since the 1980s' | World news
Le gouvernement de Silvio Berlusconi a obtenu ce mercredi la confiance à la Chambre des députés pour son plan d'austérité. Quelques heures plus tard, le parlement italien a voté l'approbation finale de ce plan destiné à sortir le pays de la crise. 316 députés ont voté la confiance tandis que 302 ont voté contre.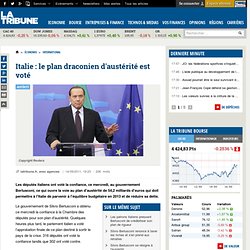 Italie : le plan draconien d'austérité est voté
Madrid et Rome, deux façons d'être en crise
L'une se soumet aux demandes de rigueur de l'Allemagne et de la BCE, l'autre tergiverse, empêtrée dans ses jeux politiques.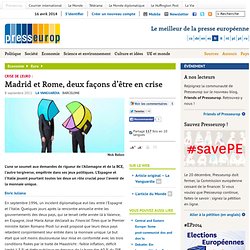 Italy Announces Austerity Plan 2.0 As Local Protests Spread, Turn Violent
After Berlusconi was scolded by everyone, but most importantly by backstop solvency provider ECB, for his bull in a China shop maneuver of the first, now defunct, Italian Austerity plan, here are the details from the next, soon to be gutted "Austerity", which readers may be forgiven, if they take it with just a grain of salt.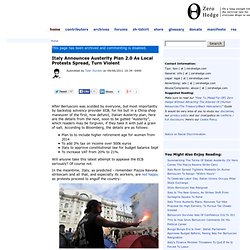 4 August 2011Last updated at 05:30 ET
Eurozone crisis: Italy's debt pile comes under scrutiny
La péninsule n'est pas la pire économie de l'UE, mais sa dette publique et sa faible croissance en font une cible pour la spéculation.
La bataille d'Italie sera cruciale
Dette: Une crise avant tout politique en Italie
Depuis vendredi dernier, la crise de la dette menace de se propager à l'Italie.
Pierenrico Martino is scarcely your typical economic migrant. He comes from one of the richest towns in ItalyItaly: Treviso, near Venice, home of the Benetton fashion empire.
Italy's 'nepotism' fuels supply of young, middle class and educated émigrés | Business
Moody's warns on Italian banks
L'imposture de la dette publique italienne
En quelques mois, le débat sur la dette souveraine s'est orienté principalement à sur le risque de défaut de la Grèce et au problème relatif à une « aide » au Portugal et à la situation irlandaise. L'anagramme PIGS |1| a été crée pour désigner les pays (Portugal, Irlande, Grèce, Espagne (Spain en anglais) potentiellement déstabilisateurs pour l'économie européenne et pour le futur de l'Euro.
Italy: Silvio Berlusconi pressed to make tax cuts by rightwing partner | World news
Is Italy Not Spain The Real Elephant In The Euro Room? | afoe | A Fistful of Euros | European Opinion
#ItalianRevolution: l'indignation gagne la jeunesse italienne
Les difficultés des banques italiennes vont peser sur le FSTE MIB
Flash Eco : Moody's baisse la dette de Florence
Florence and the derivatives machine [updated]
Une crise de la dette italienne se profile-t-elle à l'horizon? - Démystifier la finance - Blog LeMonde.fr
Italy sucked into the crisis one way or another « Euro Area Debt Crisis by Economist Meg
Un nouveau domino va tomber en Europe