Crise italie
Italy Said to Pay Morgan Stanley $3.4 Billion. When Morgan Stanley (MS) said in January it had cut its "net exposure" to Italy by $3.4 billion, it didn't tell investors that the nation paid that entire amount to the bank to exit a bet on interest rates.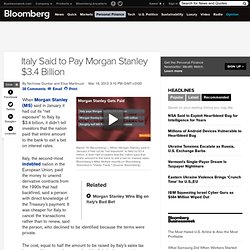 Italy, the second-most indebted nation in the European Union, paid the money to unwind derivative contracts from the 1990s that had backfired, said a person with direct knowledge of the Treasury's payment. It was cheaper for Italy to cancel the transactions rather than to renew, said the person, who declined to be identified because the terms were private.
The cost, equal to half the amount to be raised by Italy's sales tax increase this year, underscores the risk of derivatives countries use to reduce borrowing costs and guard against swings in interest rates and currencies can sour and generate losses for taxpayers. Mafia now Italy's No.1 bank as crisis bites: report. Italy's very own special liquidity programme? [Updated] @ Some bloke & UK trader Apparently the decree refers to a "convention" between the Treasury and the Central Bank dated March 22, 2011 and to a decree dated July 29th, 2011 on that convention.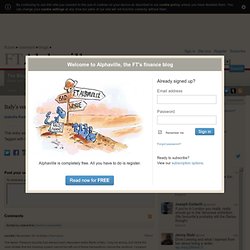 I couldnt find the convention, but in the preamble of the July 29th decree, there is written the following: "GIVEN THE CURRENT MARKET ENVIRONMENT, which imposes a liquidity management 'based on criteria of prudence, and the consequent need to carefully assess the levels of risk and the costs' of the Ministry of operations in the money market... " For me the timing and the intention are very clear.
The Italian repo market is broken because of the fall in the quality of Italian collateral since the July summit and the fact that banks prefer parking it at the ECB. The Italian Government wishes to fix its money market rather than let the ECB do it, which Italy has agreed to by treaty. This is independent monetary policy. 27/11/2011: Even with IMF's €600bn - Italy is too big to bail. There are some interesting reports in the media over the weekend, speculating that the IMF is preparing a super package for Italy, rumored to reach €600 billion.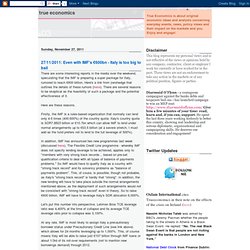 Here's a link from zerohedge that outlines the details of these rumors (here). There are several reasons to be skeptical as the feasibility of such a package and the potential effectiveness of it. Here are these reasons. French exposure in pictures. Italy hails businessman a hero after he launches appeal to save the economy | World news. Silvio Berlusconi, the Italian prime minister, is struggling to tackle the country's debt, but businessman Giuliano Melani has suggested that ordinary Italians could pay for it out of their own pockets.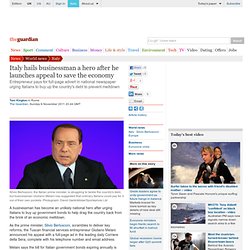 Photograph: David Gadd/Allstar/Sportsphoto Ltd A businessman has become an unlikely national hero after urging Italians to buy up government bonds to help drag the country back from the brink of an economic meltdown. As the prime minister, Silvio Berlusconi, scrambles to deliver key reforms, the Tuscan financial services entrepreneur Giuliano Melani announced his appeal with a full-page ad in the leading daily Corriere della Sera, complete with his telephone number and email address. Melani says the bill for Italian government bonds expiring annually is €260-270bn (£223-232bn), a sum which would be taken care of if every Italian paid €4,500. Berlusconi pourrait quitter le gouvernement en 2012. Après les gouvernements portugais et irlandais emportés par la crise de leur dette souveraine, le Président du Conseil italien Silvio Berlusconi va-t-il rendre lui aussi son tablier ?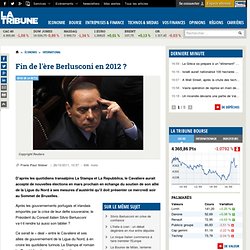 Ce serait le « deal » entre le Cavaliere et ses alliés de gouvernement de la Ligue du Nord, à en croire les quotidiens turinois La Stampa et romain La Repubblica de ce mercredi matin. La Stampa fait ainsi état d'un « accord secret » conclu la nuit dernière entre Silvio Berlusconi et le leader de la Ligue du Nord, Umberto Bossi, à la résidence romaine du magnat de la télévision italien, au palais Grazioli.
Bossi aurait accepté que le chef de gouvernement italien présente ce mercredi soir au Sommet de l'Union européenne à Bruxelles un plan comprenant notamment l'élévation de l'âge de départ en retraite de 65 à 67 ans. Living 'La Vita Bella': Italians Leave Fears of Debt Crisis to Others - SPIEGEL ONLINE - News - International. After so many centuries, the secret door sticks a bit.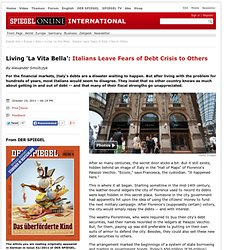 But it still exists, hidden behind an image of Italy in the "Hall of Maps" of Florence's Palazzo Vecchio. "Eccolo," says Francesca, the custodian. Italy 'has been in decline since the 1980s' | World news. On a bright Sunday morning terrace on the Piazza San Domenico – smartly turned-out Neapolitan families strolling animatedly past on their way home from mass, a clown entertaining the children on the Via Benedetto Croce – Gia Caglioti isn't mincing her words.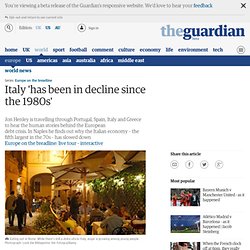 "To be frank," she said, "we've been a country in decline since the 1980s – had we but seen it. Actually, there are plenty of people, including in government, who still won't see it. Italie : le plan draconien d'austérité est voté. Le gouvernement de Silvio Berlusconi a obtenu ce mercredi la confiance à la Chambre des députés pour son plan d'austérité.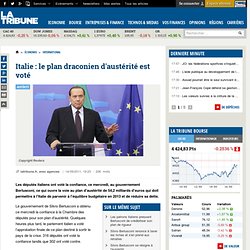 Quelques heures plus tard, le parlement italien a voté l'approbation finale de ce plan destiné à sortir le pays de la crise. 316 députés ont voté la confiance tandis que 302 ont voté contre. Objectif : équilibrer le budget d'ici à 2013 grâce, notamment à 54 milliards d'euros d'économies budgétaires dans les deux ans. Cette approbation était attendue, le gouvernement ayant obtenu la confiance des députés lors d'un vote organisé plus tôt dans la journée. Le Sénat avait approuvé le plan d'austérité le 7 septembre. Ce programme draconien prévoit un relèvement de la TVA, un report de l'âge légal de départ à la retraite pour les femmes travaillant dans le privé et la création d'une taxe spéciale pour les contribuables gagnant plus de 300.000 euros par an. Madrid et Rome, deux façons d'être en crise.
L'une se soumet aux demandes de rigueur de l'Allemagne et de la BCE, l'autre tergiverse, empêtrée dans ses jeux politiques.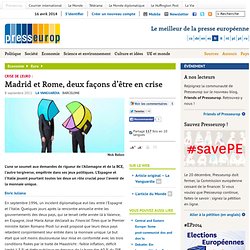 L'Espagne et l'Italie jouent pourtant toutes les deux un rôle crucial pour l'avenir de la monnaie unique. En septembre 1996, un incident diplomatique eut lieu entre l'Espagne et l'Italie. Quelques jours après la rencontre annuelle entre les gouvernements des deux pays, qui se tenait cette année-là à Valence, en Espagne, José María Aznar déclarait au Financial Times que le Premier ministre italien Romano Prodi lui avait proposé que leurs deux pays retardent conjointement leur entrée dans la monnaie unique. Italy Announces Austerity Plan 2.0 As Local Protests Spread, Turn Violent. After Berlusconi was scolded by everyone, but most importantly by backstop solvency provider ECB, for his bull in a China shop maneuver of the first, now defunct, Italian Austerity plan, here are the details from the next, soon to be gutted "Austerity", which readers may be forgiven, if they take it with just a grain of salt.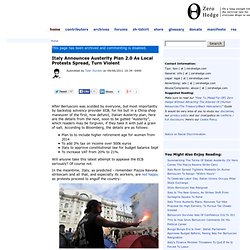 According to Bloomberg, the details are as follows: Plan to to include higher retirement age for women from 2014To add 3% tax on income over 500k eurosItaly to approve constitutional law for budget balance SeptTo increase VAT from 20% to 21%. Will anyone take this latest attempt to appease the ECB seriously? Eurozone crisis: Italy's debt pile comes under scrutiny. 4 August 2011Last updated at 10:30 Silvio Berlusconi was forced to defend his economic strategy before parliament on Wednesday Just a few months ago, international investors were fairly relaxed when they considered Italy's debt mountain - the second highest in the eurozone. Now, Prime Minister Berlusconi has been forced to defend his economic strategy before parliament, and the more excitable City economists are sending me emails declaring that "Italy is bound to default".
La bataille d'Italie sera cruciale. La péninsule n'est pas la pire économie de l'UE, mais sa dette publique et sa faible croissance en font une cible pour la spéculation. Et maintenant que ce nouveau front est ouvert, c'est ici que pourrait se jouer l'avenir de la monnaie unique. La bataille de l'euro a commencé pour de bon. Edward Altman, analyste chez Classis Capital, l'avait prévu il y un mois déjà : "La bataille finale pour la survie de l'euro sera menée, non pas en Espagne, mais sur les plages pittoresques et entre les cathédrales d'Italie".
Dette: Une crise avant tout politique en Italie. Depuis vendredi dernier, la crise de la dette menace de se propager à l'Italie. La presse transalpine dénonce des attaques spéculatives injustes mais pointe surtout la responsabilité des dirigeants politiques, Silvio Berlusconi en tête, qui a perdu toute crédibilité. Comble de l'humiliation, le gouvernement semble attendre un coup de téléphone d'Angela Merkel pour savoir quoi faire. Pour les éditorialistes italiens il n'y a pas de doute: l'attaque spéculative qui secoue ses places financières depuis le "vendredi noir" a un goût très amer et le pays a maintenant touché le fond. Comble de l'humiliation, le gouvernement semble attendre un coup de téléphone d'Angela Merkel pour savoir quoi faire… Italy's 'nepotism' fuels supply of young, middle class and educated émigrés | Business. Pierenrico Martino is scarcely your typical economic migrant.
He comes from one of the richest towns in Italy: Treviso, near Venice, home of the Benetton fashion empire. His family is well off, he says. His father is an accountant; his mother a teacher. Martino, 30, is himself a graduate of the university of Trieste. After college, he did some travelling. Moody's warns on Italian banks.
L'imposture de la dette publique italienne. En quelques mois, le débat sur la dette souveraine s'est orienté principalement à sur le risque de défaut de la Grèce et au problème relatif à une « aide » au Portugal et à la situation irlandaise. L'anagramme PIGS |1| a été crée pour désigner les pays (Portugal, Irlande, Grèce, Espagne (Spain en anglais) potentiellement déstabilisateurs pour l'économie européenne et pour le futur de l'Euro. Le fait que l'Italie n'ait pas été classé dans les PIGS et n'ait pas subi l'attaque spéculative qu'a subi la Grèce ne fait cependant pas qu'elle ne se trouvera pas confrontée à un problème avec sa dette et son déficit publics.
On le sait ceux-ci sont étroitement liés. Italy: Silvio Berlusconi pressed to make tax cuts by rightwing partner | World news. Is Italy Not Spain The Real Elephant In The Euro Room? #ItalianRevolution: l'indignation gagne la jeunesse italienne. Les difficultés des banques italiennes vont peser sur le FSTE MIB. Flash Eco : Moody's baisse la dette de Florence. Florence and the derivatives machine [updated]
Une crise de la dette italienne se profile-t-elle à l'horizon? - Démystifier la finance - Blog LeMonde.fr. Italy sucked into the crisis one way or another « Euro Area Debt Crisis by Economist Meg. Un nouveau domino va tomber en Europe.
---