Fonts - Polices de Caractères
Fontypython - Fonty Python - Font Management for GNU/Linux. The homepage for Fonty Python has moved to For designers and other computer users who must deal with a large number of fonts, a font management solution is essential.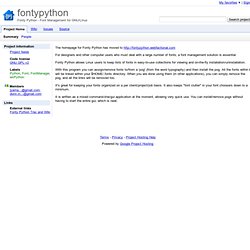 Fonty Python allows Linux users to keep lists of fonts in easy-to-use collections for viewing and on-the-fly installation/uninstallation. With this program you can assign/remove fonts to/from a 'pog' (from the word typography) and then install the pog. All the fonts within it will be linked within your $HOME/.fonts directory. When you are done using them (in other applications), you can simply remove the pog, and all the links will be removed too.
The Font Pool. Fontmatrix | All about fonts. Home | Gestalten Fonts. Dafont.com - Polices à télécharger. Fonty Python - Trac. Fonts - Cool Fonts. Fawnt - Top free fonts | Font - Archive | Blog Design and Webdesign. Die 100 Besten Schriften. FontForge. FontForge. Typositoire.
---