A CLASSER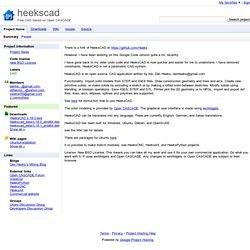 heekscad - Free CAD based on Open CASCADE
I don't have time to administer HeeksCAD properly and I suggest for a more active project you look at FreeCAD. However, I plan to use this Google Code repository as a fork of HeeksCAD aimed at being simpler than it is. I plan to revert the undo code, so that HeeksCAD is quicker and so I can understand it I plan to remove constraints. HeeksCAD will never be a parametric CAD system. If you have fixes for HeeksCAD, then please email me the details.
Rendre le fond des icônes transparent, choisir la couleur ou celle du texte, faire choisir automatiquement la meilleure couleur en fonction du fond d'écran, cacher certaines icônes ou faire apparaître certaines icônes à volonté, Sauvegarder les positions des icônes en fonction de la résolution... Que des choses indispensables pour les changeurs de fonds d'écran et les maniaques du bureau ! Remarque : C'est un "sillyware", autrement dit l'auteur attend de vous que vous lui envoyez quelque chose de stupide ! En cherchant bien, nous sommes sûrs que vous y arriverez :) Ce logiciel n'est plus maintenu par son auteur.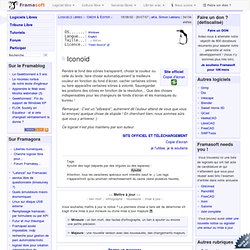 Iconoid - Créer & Éditer
Sweet Home 3D permet de dessiner le plan d'un logement en 2D, d'y disposer des meubles et de visualiser le résultat en 3D. Sweet Home 3D s'adresse aux personnes voulant faire des essais d'aménagement rapidement. De nombreux guides visuels facilitent le dessin d'un logement et la disposition des meubles dans le plan en 2D.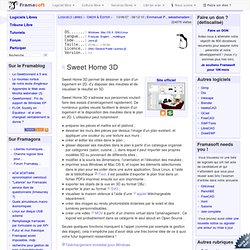 Sweet Home 3D - Créer & Éditer
Fotowall
GrafX2 is a bitmap paint program inspired by the Amiga programs Deluxe Paint and Brilliance. Specialized in 256-color drawing, it includes a very large number of tools and effects that make it particularly suitable for pixel art, game graphics, and generally any detailed graphics painted with a mouse. The program is mostly developed on Linux and Windows, but is also portable on many other platforms. • Features • Screenshots • Download • Documentation • Contact • Older news are archived here .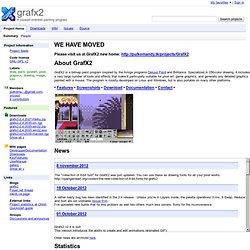 Download License & Disclaimer Alchemy is free software: you can redistribute it and/or modify it under the terms of the GNU General Public License as published by the Free Software Foundation, either version 3 of the License, or (at your option) any later version.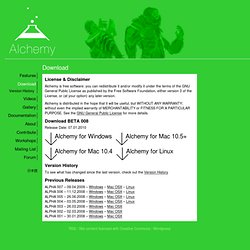 Suite aux nombreuses demandes, voici un lien pour télécharger le logiciel Images Actives . Je vous rappelle que ce logiciel est portable. Vous pouvez dons le laisser par exemple sur votre clé pour l'utiliser où vous voulez.
http://www.mp-rambouillet.ac-versailles.fr/dotclear/index.php?post/2010/12/19/Le-logiciel-Images-Actives-%C3%A0-t%C3%A9l%C3%A9charger-i%C3%A7i-!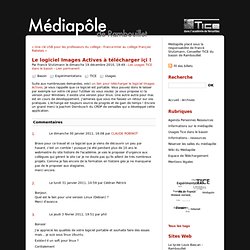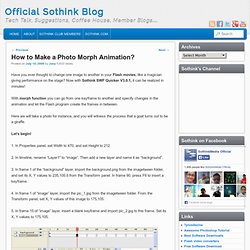 Official Sothink Blog » Blog Archive » How to Make a Photo Morph Animation?
Have you ever thought to change one image to another in your Flash movies , like a magician giving performance on the stage? Now with Sothink SWF Quicker V3.0.1, it can be realized in minutes! With morph function you can go from one keyframe to another and specify changes in the animation and let the Flash program create the frames in between. Here we will take a photo for instance, and you will witness the process that a goat turns out to be a giraffe. Let's begin!
Par Pierre-Jean Coudert le vendredi, octobre 15 2004, 13:46 - Logiciel libre (fr) - Lien permanent Read english version Dans le cadre du développement de WinLibre je cherchais un logiciel libre me permettant de créer des fichiers d'icones multi-résolutions pour Windows. Je n'ai rien trouvé de satisfaisant. J'ai donc décidé de créer un outil avec Delphi qui permettent de transformer n'importe quelle image en fichier .ICO.
GenIconXP - Editeur, Générateur libre d'icones pour Windows - PJBlog : Pierre-Jean, WinLibre et Cie...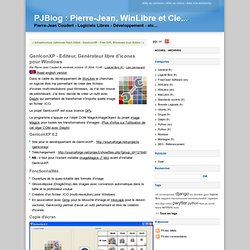 Wings 3 D est un modeleur polygonal en subdivision de surface. Plus concrètement il s'agit d'un éditeur d'images de synthèse "à la manière de" 3D Studio (pour ceux qui connaissent). Mieux vaut directement jeter un coup d'oeil à la jolie gallery pour s'en faire un première et séduisante idéee. Se voulant le pendant de Nendo, , il fonctionne de manière intuitive, notamment dans son approche "glisser-déposer".
Wings 3D - Créer & Éditer