Créer une Bd
warfostrip : Tous les messages sur warfostrip
Bande Dessinée | Generateur35
BD-fig : Tous les messages sur BD-fig
Important notice: CreaToon 3.0 is now available for FREE download! Due to a recent management decision, we decided to discontinue further developments to update CreaToon. Therefore, CreaToon is now available for FREE download, without further technical support. Don't forget to also download the unlock software, also available on the download page. CreaToon® is a powerful software solution for the PC to create 2D animation in the cut-out style. Its main features are:
CreaToon 3.0 - Simply cut-out for you! - Home page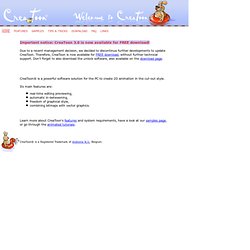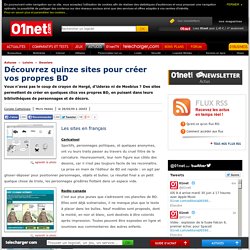 Micro Hebdo le 28/04/09 à 16h03 Les sites en français CaricatoolSportifs, personnages politiques, et quelques anonymes, ont vu leurs traits passer au travers du cruel filtre de la caricature. Heureusement, leur nom figure aux côtés des dessins, car il n'est pas toujours facile de les reconnaître.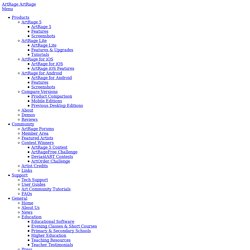 Stylish and easy to use painting software for your computer. Get creative with tools that feel just like the real thing. What Is ArtRage? ArtRage gives you real world painting tools on your computer in a stylish, easy to use environment that lets you get down to the process of creating without digital distractions. Buy ArtRage
WIP en conflits : orcs vs wolfen !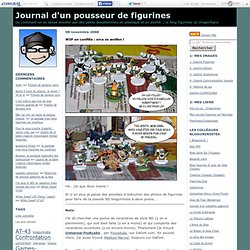 08 novembre 2008 WIP en conflits : orcs vs wolfen ! Hé.. j'ai que deux mains ! Et si en plus je passe des plombes à bidouiller des photos de figurines pour faire de la pseudo BD bloguriniste à deux pixels... Note: J'ai dû chercher une police de caractères de style BD (y en a pleiiinnnnn), qui soit bien faite (y en a moins) et qui comporte des caractères accentués (y en encore moins).
Scribus is an Open Source program that brings professional page layout to Linux, BSD UNIX, Solaris, OpenIndiana, GNU/Hurd, Mac OS X, OS/2 Warp 4, eComStation, Haiku and Windows desktops with a combination of press-ready output and new approaches to page design. Underneath a modern and user-friendly interface, Scribus supports professional publishing features, such as color separations, CMYK and spot colors, ICC color management, and versatile PDF creation.
Encore une fois c'est un peu prendre le problème à l'envers, et ce même dans un projet éducatif. Sur framasoft à chaque fois que l'on parle de "créer des BD" la réponse est toujours la même Scribus et Oo. Or la bande dessinée, ce n'est pas que de la mise en page Voici quelques idées de départ, mais promis, je reste à votre écoute.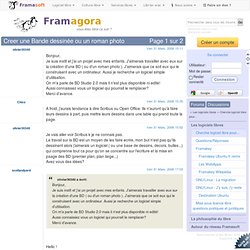 Creer une Bande dessinée ou un roman photo