Creativity
A logo design can have a major impact on the branding and memorability of a company. Sometimes the creativity of a logo can help to draw attention, make it more memorable, or even help to communicate something important about the company or what it does.
40 Examples of Creative Logo Design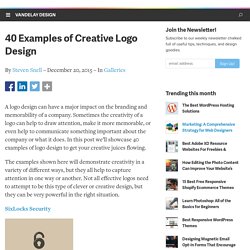 Arfa Mirza Posted on 03. Dec, 2010 | Comment in! diggdigg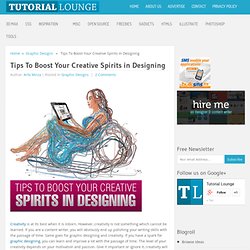 Tips To Boost Your Creative Spirits in Designing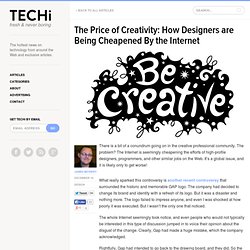 The Price of Creativity: How Designers are Being Cheapened By the Internet
There is a bit of a conundrum going on in the creative professional community.
30 Creative Business Card Designs for Inspiration
are the simplest yet most powerful tools in job-hunting and contact-building. They contain, in its small area, all pertinent information that anybody needs to know about you. They help your prospects understand who you are, what you offer and how you can be contacted.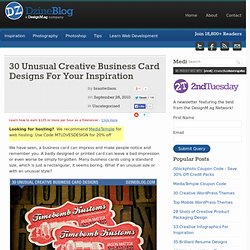 Learn how to earn $125 or more per hour as a freelancer - Click Here Looking for hosting?.
30 Unusual Creative Business Card Designs For Your Inspiration | Dzine Blog
Publishing flyers is most impressive and cheap way of advertisement if you are running a night club, selling drinks, marketing radio station or promoting any concert. It is also very frequent task among non-profit organizations and academic institution. Designing an impressive flyer is very important if you want to sell the show, here are few tips to follow while designing a creative flyer.
70 Awesomely Creative Flyer Designs for Inspiration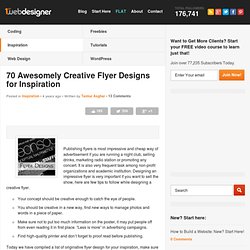 September 25, 2010 | 8 Comments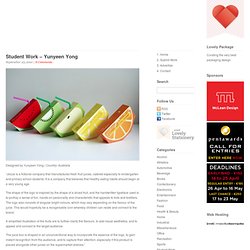 Student Work – Yunyeen Yong
Smart Creative Logo Designs Which Contain Secret Symbolisms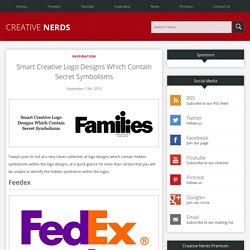 Today's post its full of a very clever collection of logo designs which contain hidden symbolisms within the logo designs, at a quick glance I'm more than certain that you will be unable to identify the hidden symbolism within the logos. Feedex The feedex logo design if you look carefully contains an arrow between the "E" and the "X".
Unbelievably Creative Hand-Made Artworks That Make You Say Wow
91 Designs de clés USB originaux voire insolites « Design Spartan : Graphisme, Webdesign, Digital painting, Illustration…
Vous avez été assez nombreux à réclamer plus d'articles d'inspiration sur le design dans le dernier sondage et lorsque j'ai vu ces clés USB vraiment originales, je n'ai pas hésité à vous faire partager. Voici donc 2 sélections de clés USB plutôt originales et astucieuses, ou carrément insolites. A noter que beaucoup sont redondantes dans ces sélections (on vous a menti sur les chiffres !).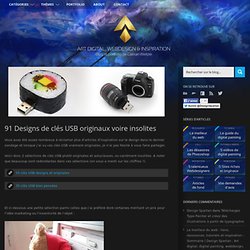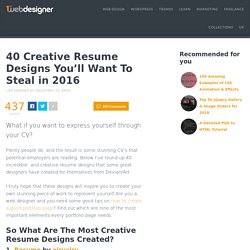 Recently I wrote an article on resume/CV templates available for free, or to purchase, from all across the web. They ranged from print media, to fully fledged, CMS run pages. That's all fine and well, and they are all fantastic templates, but what if you want to express yourself through your CV?
5 Resources for Crowdsourcing Creatives
If you've ever been the position of needing a logo, a brochure or even a name for your new product, you know the value of having a sharp, creative mind at your disposal. But what if you had thousands?
Showcase: 35 Creative and Inspiring 404 Pages
Beautiful & Creative Book Cover Design
Written by: Stanley Poh
Campagne contre le cancer du sein
Bonjour à tous, je me devais de sortir quelques minutes de mon trip Californien… (oui je suis à San Francisco en ce moment même… d'ici peu je posterai quelques photos et vidéos ) pour vous montrer cette super campagne réalisée par DDB Singapour pour la Fondation contre le Cancer du sein. Un super travail de Body-painting qui illustre de manière humoristique un sujet grave, le tout accompagné d'un slogan simple et efficace : "êtes vous obsédé par les bonnes choses ?".
Creative block (the evil sister of writer's block and the unwanted daughter of unmotivation) hits us all at some point in our lives, and often in our daily routine. As designers, creative block can be a cancer to our work, spreading and spreading until our mind produces absolutely nothing at all, leaving us to bang our heads aimlessly at the keyboard or stare at the ceiling for several hours on end.
How to get rid of Creative Block
Beautiful & Creative Single-Page Portfolio Websites
How Do You Ignite Your Creative Passions?
Logo Design Inspiration: 30 Creative Green Logos
40 Cool and Creative Ambigram Designs
Guerrilla Advertising – Creative Attention Seeking #7
The Wild And Wonderfully Creative Animal Artworks
30 Outstandingly Creative Poster Designs
How to Be Corporate and Still Be Creative
How to avoid your Creativity Burnout
35 Beautiful & Creative Business Card Designs - TutorArt | Graph
35 illustrations créatives au service de la lutte contre le Sida
35 Incredibly Creative Character Designs « PSDFan
Fundamentals for a Kick-Ass Creative Company | Build Internet!
10 Tips for Effective Creative Brainstorming
44 Creative Retro Futurism Design Artworks | Naldz Graphics
Awesomely Unique (And Creative) Package Designs To Get Your Atte
50 Creative and Funny Print Ads Around the Globe | Naldz Graphic
35+ Beautiful Examples of Creative Collage for Your Inspiration
Creative Illustrative Lettering Challenge – Part 1
32 Creative and Interesting Bento Boxes
7 Great Tips To Boost Your Creativity