Creativity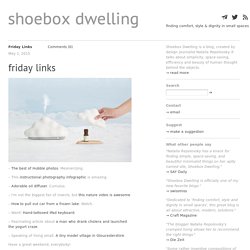 This unusual studio apartment has been designed by Polish design studio Mili Mlodzi Ludzie for the client who loves minimalism. I love how designers handled this small space/small budged project, they managed to furnish and equip a 26 m2 apartment, and, in spite of the limitations, make it truly original. In order to achieve the uncluttered appearance, the desk, TV, storage space and kitchen are all hidden within the white front panels. Handles along with the lines on the ceiling and walls, are arranged in a broken pattern, giving a unique character to the room.
A logo design can have a major impact on the branding and memorability of a company. Sometimes the creativity of a logo can help to draw attention, make it more memorable, or even help to communicate something important about the company or what it does. In this post we'll showcase 40 examples of logo design to get your creative juices flowing. The examples shown here will demonstrate creativity in a variety of different ways, but they all help to capture attention in one way or another. Not all effective logos need to attempt to be this type of clever or creative design, but they can be very powerful in the right situation. Looking for hosting?
40 Examples of Creative Logo Design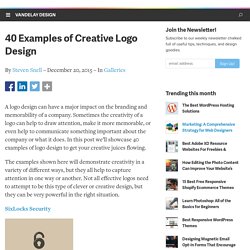 Creativity is at its best when it is inborn. However, creativity is not something which cannot be learned. If you are a content writer, you will obviously end up polishing your writing skills with the passage of time.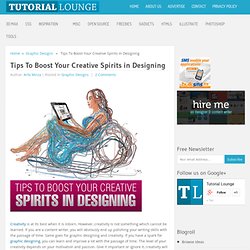 Tips To Boost Your Creative Spirits in Designing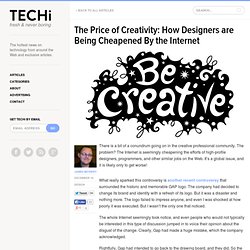 The Price of Creativity: How Designers are Being Cheapened By the Internet
There is a bit of a conundrum going on in the creative professional community. The problem? The Internet is seemingly cheapening the efforts of high-profile designers, programmers, and other similar jobs on the Web. It's a global issue, and it is likely only to get worse! What really sparked this controversy is another recent controversy that surrounded the historic and memorable GAP logo.
30 Creative Business Card Designs for Inspiration
are the simplest yet most powerful tools in job-hunting and contact-building. They contain, in its small area, all pertinent information that anybody needs to know about you. They help your prospects understand who you are, what you offer and how you can be contacted.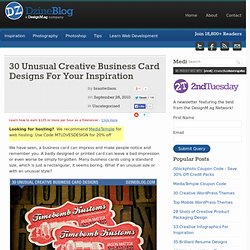 Learn how to earn $125 or more per hour as a freelancer - Click Here Looking for hosting?. We recommend MediaTemple for web hosting. Use Code MTLOVESDESIGN for 20% off We have seen, a business card can impress and make people notice and remember you. A badly designed or printed card can leave a bad impression or even worse be simply forgotten.
30 Unusual Creative Business Card Designs For Your Inspiration | Dzine Blog
Publishing flyers is most impressive and cheap way of advertisement if you are running a night club, selling drinks, marketing radio station or promoting any concert. It is also very frequent task among non-profit organizations and academic institution. Designing an impressive flyer is very important if you want to sell the show, here are few tips to follow while designing a creative flyer.
70 Awesomely Creative Flyer Designs for Inspiration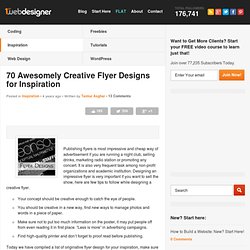 September 25, 2010 | 8 Comments Designed by Yunyeen Yong | Country: Australia "Jooze is a fictional company that manufactures fresh fruit juices, catered especially to kindergarten and primary school students. It is a company that believes that healthy eating habits should begin at a very young age. The shape of the logo is inspired by the shape of a sliced fruit, and the handwritten typeface used is to portray a sense of fun, hands-on personality and characteristic that appeals to kids and toddlers.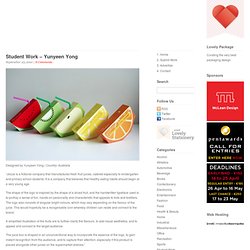 Student Work – Yunyeen Yong
Smart Creative Logo Designs Which Contain Secret Symbolisms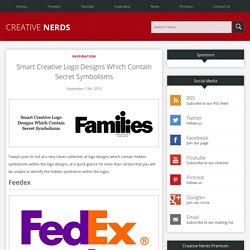 Today's post its full of a very clever collection of logo designs which contain hidden symbolisms within the logo designs, at a quick glance I'm more than certain that you will be unable to identify the hidden symbolism within the logos. Feedex The feedex logo design if you look carefully contains an arrow between the "E" and the "X".
Unbelievably Creative Hand-Made Artworks That Make You Say Wow
91 Designs de clés USB originaux voire insolites « Design Spartan : Graphisme, Webdesign, Digital painting, Illustration…
Vous avez été assez nombreux à réclamer plus d'articles d'inspiration sur le design dans le dernier sondage et lorsque j'ai vu ces clés USB vraiment originales, je n'ai pas hésité à vous faire partager. Voici donc 2 sélections de clés USB plutôt originales et astucieuses, ou carrément insolites. A noter que beaucoup sont redondantes dans ces sélections (on vous a menti sur les chiffres !).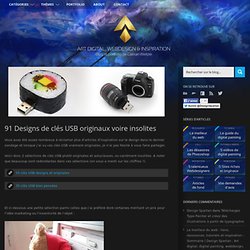 Recently I wrote an article on resume/CV templates available for free, or to purchase, from all across the web. They ranged from print media, to fully fledged, CMS-run pages. That's all fine and well, and they are all fantastic templates, but what if you want to express yourself through your CV?
5 Resources for Crowdsourcing Creatives
If you've ever been the position of needing a logo, a brochure or even a name for your new product, you know the value of having a sharp, creative mind at your disposal. But what if you had thousands? By the same token, what if you're the person who always wins accolades for doodling logos and thinking up taglines on the fly, but you have no clue how to parlay your talents into work? The answer is crowdsourcing. A number of firms have sprung up around the idea of pooling both talent and ideas together into virtual creative marketplaces. The result?
Showcase: 35 Creative and Inspiring 404 Pages
Beautiful & Creative Book Cover Design
Written by: Stanley Poh Before the early nineteenth century, books were hand-bound using heavy materials such as wood, leather, gold, silver and jewels. Over the centuries, book binding had always serve as a protection to expensively printed or hand-made pages, and as embellishments tribute to the cultural authorities. Other than the two most common covers; hardcovers and paperbacks, there are many other alternatives and additions, such as dust jackets, ring-binding and out-dated forms such as the nineteenth-century "paper-boards" and the even more antiquated hand-binding. It is often said; don't judge a book by its cover, but in this case, the opposite appears to be more true.
Campagne contre le cancer du sein
How to get rid of Creative Block
Beautiful & Creative Single-Page Portfolio Websites
How Do You Ignite Your Creative Passions?
Logo Design Inspiration: 30 Creative Green Logos
40 Cool and Creative Ambigram Designs
Guerrilla Advertising – Creative Attention Seeking #7
The Wild And Wonderfully Creative Animal Artworks
30 Outstandingly Creative Poster Designs
How to Be Corporate and Still Be Creative
How to avoid your Creativity Burnout
35 Beautiful & Creative Business Card Designs - TutorArt | Graph
35 illustrations créatives au service de la lutte contre le Sida
35 Incredibly Creative Character Designs « PSDFan
Fundamentals for a Kick-Ass Creative Company | Build Internet!
10 Tips for Effective Creative Brainstorming
44 Creative Retro Futurism Design Artworks | Naldz Graphics
Awesomely Unique (And Creative) Package Designs To Get Your Atte
50 Creative and Funny Print Ads Around the Globe | Naldz Graphic
35+ Beautiful Examples of Creative Collage for Your Inspiration
Creative Illustrative Lettering Challenge – Part 1
32 Creative and Interesting Bento Boxes
7 Great Tips To Boost Your Creativity