Creative Container Gardening
Tower of Herbs. Nano Garden lets you grow vegetables right in your kitchen. Growing your own vegetables is fun, healthy and saves money at the grocery store.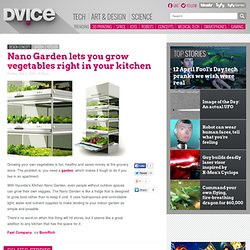 The problem is, you need a garden, which makes it tough to do if you live in an apartment. With Hyundai's Kitchen Nano Garden, even people without outdoor spaces can grow their own veggies. The Nano Garden is like a fridge that is designed to grow food rather than to keep it cold. It uses hydroponics and controllable light, water and nutrient supplies to make tending to your indoor garden as simple and possible. Making Organic Garden Circles & Curbly | DIY Design Community &... Here is a quick easy way to make a modern circle shape garden.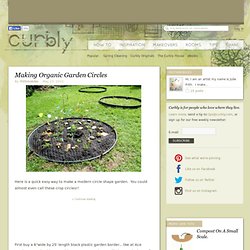 You could almost even call these crop circles!! First buy a 6"wide by 25' length black plastic garden border... like at Ace Hardware. It should come with a connector rod. You will also need 8 bags of 2 cubic foot bags... organic planting mix. How to Make Stone Planters -- Martha Stewart Home & Garden. Make your own stunning planter using stones and cement.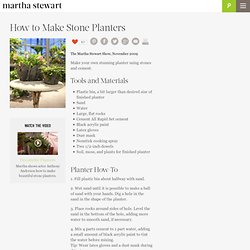 Tools and Materials Plastic bin, a bit larger than desired size of finished planterSandWaterLarge, flat rocksCement All Rapid Set cementBlack acrylic paintLatex glovesDust maskNonstick cooking sprayTwo 1/2-inch dowelsSoil, moss, and plants for finished planter. Apartment Gardening: Turn a Filing Cabinet Into a Planter.
Yes you can have a garden, even in an urban home.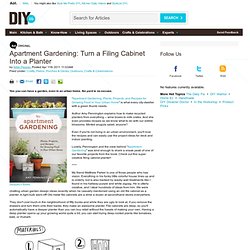 No yard is no excuse. "Apartment Gardening: Plants, Projects, and Recipes for Growing Food in Your Urban Home" is what every city-dweller with a green thumb needs. Author Amy Pennington explains how to make recycled planters from everything -- wine boxes to milk crates. Digging & No bull! Cattle troughs make great containers. Cattle troughs, or stock tanks, are popping up in public and private gardens all around Austin.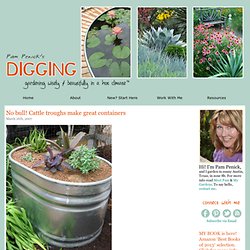 They look great in many styles of gardens—informal cottage, sleek contemporary, rustic—and can be planted or filled with water to make container ponds. I have a small, round one (3-ft diameter, 2-ft deep) in my back garden that holds a dwarf water lily, horsetail, star grass, and a few goldfish. It's just like one I long admired at the Wildflower Center, only smaller.
DIY Vertical Herb Garden with a Shoe Organizer. By LiveOAK Staff on July 20, 2009 Confounded by vegetable digging cats and toiling in the vegetable patch, Instructables member pippa5 came up with this cool DIY vertical garden solution.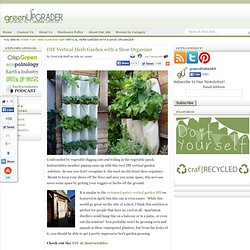 In case you don't recognize it, she used an old closet shoe organizer. Meant to keep your shoes off the floor and save you some space, this new use saves some space by getting your veggies or herbs off the ground. It is similar to the reclaimed gutter vertical garden DIY we featured in April, but this one is even easier.
Upcycled Tea Time for the Birds | Urban Gardens | Unlimited Thinking For Li... July 26, 2010 by Robin Plaskoff Horton On my the hunt for objects repurposed into cool things for two garden rooms and a garden we are doing for the September Stamford, CT Designer Show House, I came across these teacups and creamers upcycled into bird feeders.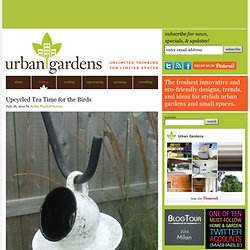 Working with the theme "Conversing with Nature: A Creative Garden Retreat," interior designer, Victoria Lyon, and I are designing two rooms that will serve as a potting shed as well as a place to develop creative ideas for the garden, paint, sketch, read garden books, and otherwise lose one's self in imaginative thought. We've got some fantastic eco-friendly and innovative things up our green sleeves: stay tuned for details.
Lil' Meadow - Woolly Pocket, The good life grows in pockets. Pocket DimensionsHeight = 9 inchesFootprint = 24 x 24 inchesSoil Volume = 3.0 cubic feet How to Assemble, Plant & Water Meadow?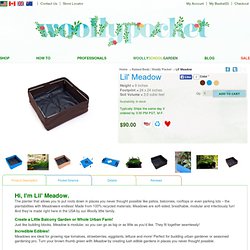 Tuck your plants into a cozy bed: Using Meadow is Easy! How to dry herbs from your tasty herb garden. If you've ever tried to buy dried or fresh herbs from the grocery store then you know that getting flavor and spice into your frugal family meals can be expensive.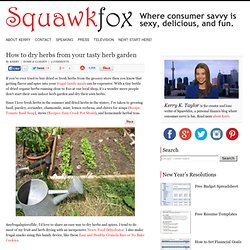 With a tiny bottle of dried organic herbs running close to $10 at our local shop, it's a wonder more people don't start their own indoor herb garden and dry their own herbs. Since I love fresh herbs in the summer and dried herbs in the winter, I've taken to growing basil, parsley, coriander, chamomile, mint, lemon verbena, and chives for soups (Recipe: Tomato Basil Soup), stews (Recipes: Easy Crock Pot Meals), and homemade herbal teas.
Anyfrugalspiceoflife, I'd love to share an easy way to dry herbs and spices. I tend to do most of my fruit and herb drying with an inexpensive Nesco Food Dehydrator. I also make frugal snacks using this handy device, like these Easy and Healthy Granola Bars or No Bake Cookies. How to germinate seeds in eggshells. Whoa, finally.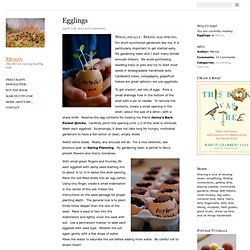 Spring has sprung. For short-summered gardeners like me, it is particularly important to get started early. My gardening team and I start many tender annuals indoors. Create flower pot for desk or bedside stand. I love having lots of plant in my house. I have them in every room, small and big, the one's that flower and the other that don't. Follow these simple instructions of how to create a flower pot for your office desk or bedside stand, but I'm sure once you make it you will find a perfect place for it.
You will need: How to get your Herb Garden at home. Herbs are easy to grow at home and it's a great way to add color and fresh herbs to your cooking.You can add them to almost any recipe. Try this simple instructions of creating new containers for your herbs. What a great idea to have them on the windowsill close to place where you cook. What you will need to make this project: Metal can ( I used food can)Herbs (pick whichever you use the most)Decorative paperPVA glueclear varnishbrushscissorshammer/screwdriver or simply drill Use drill or hammer and screwdriver to make holes in the can so if there is too much water it can come out. DIY Vertical Garden with Reclaimed Gutters.
By LiveOAK Staff on April 29, 2009 Suzanne Forsling Gutter Garden When Suzanne Forsling moved to Juneau Alaska from Iowa, she found that it was a little bit harder to get her garden to grow. Frustrated by cold soil, scarce sunlight, hungry slugs, root maggots, porcupines, cats, bears and ravens she got resourceful. How To Make a Hanging Gutter Garden aHa! Home & Garden | Apartment... How to Turn a Pallet into a Garden. Good news and bad news. I had planned to film a short video showing you how to make a pallet garden, but the weather didn't cooperate.
I was stapling the landscape fabric onto the pallet when it started drizzling and got really windy. That's the bad news. The Victory Garden . Grow . Primers & Projects . "Antique Stone" Planters. Hypertufa troughs and planters: they look great, plants love them, and you can make your own at home. "Antique Stone" Planters They look like hand-carved stone, but hypertufa trough planters are actually cleverly cast concrete planters you can make yourself!
The principle behind these versatile, easy-to-make faux-stone planters is that their composition of mixed sand, peat moss and cement facilitate excellent drainage, which allows you to grow plants that otherwise probably wouldn't make it in the ground, such as certain herbs, alpine plants, dwarf evergreens and others.
The planters' sturdy antique look will add interest to your garden on their own as well!
Attack of the 16-foot planter! « Door Sixteen. Soda Bottle Carrots: a Very Small Kitchen Garden | Your Small Kitchen Garden. Gutter Gardens Grow Produce Without Taking Up Space.   Oh So Pretty: Creative and Colorful Combinations for Container Gardens. Make a cone-shaped hanging basket for plants | How to | Projects | BBC Gardeners' World. Garden as they Balconies.
Newspaper Seedling Pots. Window Boxes Good Enough To Eat. Urban Gardening Help — Gardening Videos from - Backyard Gardener. The Windowfarms Project. Create your own classic planter - Make your own classic planter - Projects - How to. Small Footprint, Big Yield: Create an Easy Micro Organic Urban Garden Today...
---