Make it make it make it!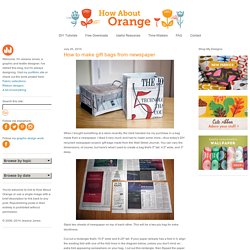 When I bought something at a store recently, the clerk handed me my purchase in a bag made from a newspaper. I liked it very much and had to make some more—thus today's DIY recycled newspaper project: gift bags made from the Wall Street Journal. You can vary the dimensions, of course, but here's what I used to create a bag that's 5" tall, 4.5" wide, and 3" deep.
I actually made this for my honey for our anniversary a couple of years ago, but with Valentine's Day fast approaching, I thought I'd share. This is so easy to make, but it has a lot of impact -- who wouldn't love to get this? I want to say right now that I am not claiming this idea as original.
Deck of cards = awesome, easy, romantic gift! - OCCASIONS AND HOLIDAYS
#34136
posterplanter
Unbelievably Creative Hand-Made Artworks That Make You Say Wow