JQuery
Select2 3.3.2. Gets or sets the selection.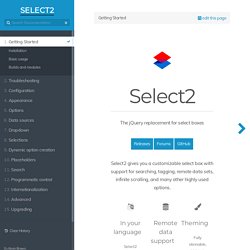 If the value parameter is not specified, the id attribute of the currently selected element is returned. If the value parameter is specified it will become the current selection. val method invoked on a single-select with an unset value will return "", while a val method invoked on an empty multi-select will return []. JQuery. MVC 2 jQuery Client-side Validation - IBloggable - implemented.
Well, I watched Phil Haack's show What's New in Microsoft ASP.NET MVC 2 and was impressed about the client-side validation (starts at 17:45) that MVC 2 offers.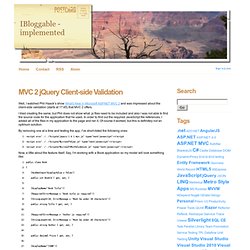 I tried creating the same, but Phil does not show what .js files need to be included and also I was not able to find the source code for the application that he used. In order to find out the required JavaScript file references, I added all of the files in my application to the page and ran it. Of course it worked, but this is definitely not an optimum solution. By removing one at a time and testing the app, I've short-listed the following ones: Sélecteur RegExp pour jQuery. Traduction de l'article de James Padlosey : Regex Selector for jQuery. il y a quelques temps, j'ai publié un article (traduction) expliquant combien c'était ultimement génial d'étendre les sélecteurs de filtres de jQuery.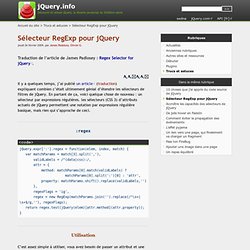 En partant de ça, voici quelque chose de nouveau : un sélecteur par expressions régulières. les sélecteurs (CSS 3) d'attributs actuels de jQuery permettent une notation par expressions régulière basique, mais rien qui s'approche de ceci.
UI
jQuery: The Write Less, Do More, JavaScript Library. Visual jQuery 1.2.6. DZS jQuery Flipbook - WordPress plugin Preview. "DIAPO" un slider JQuery avec thumbs et effets. Voila une petite ressource bien sympathique et surtout bien utile pour vos projets.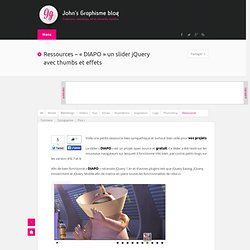 Le slider « DIAPO » est un projet open source et gratuit. Ce slider a été testé sur les nouveaux navigateurs sur lesquels il fonctionne très bien, par contre petits bugs sur les version d'IE 7 et 8. Afin de bien fonctionné « DIAPO » nécessite jQuery 1,4+ et d'autres plugins tels que jQuery Easing, jQuery HoverIntent et jQuery Mobile afin de mettre en place toutes les fonctionnalités de celui-ci. Plus d'informations.
---