Creation tools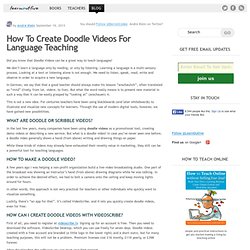 Did you know that Doodle Videos can be a great way to teach languages? We don't learn a language only by reading, or only by listening. Learning a language is a multi-sensory process. Looking at a text or listening alone is not enough. We need to listen, speak, read, write and observe in order to acquire a new language. In German, we say that that a good teacher should always make his lessons "anschaulich", often translated as "vivid" (lively, from lat. videre, to live).
How To Create Doodle Videos For Language Teaching - Learn Out Live!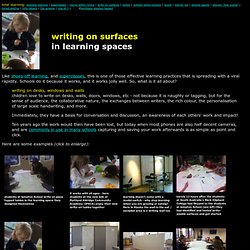 writing on surfaces in learning spaces
L ike shoes-off learning , and superclasses , this is one of those effective learning practices that is spreading with a viral rapidity. Schools do it because it works, and it works jolly well. So, what is it all about?
StoryNexus
The following is an annotated list of online repositories containing images which can be used without cost or restriction for educational purposes. There are sometimes conditions on using images, which should be consulted prior to use - for example, attribution. Many of these repositories licence their contents under Creative Commons as Open Educational Resources OER).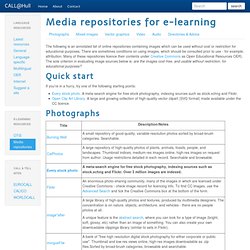 CALL@Hull: Media repositories
MachinEVO 2013
MachinEVO has just begun.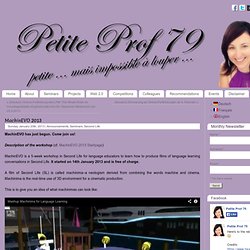 It's really time to put the age old arguments about online classes being dull, cold, and alienating to bed and accept that these problems are only effects of the choices made by those who design, develop, and teach the course.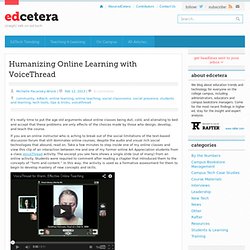 Humanizing Online Learning with VoiceThread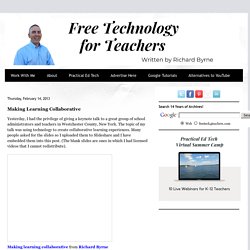 Yesterday, I had the privilege of giving a keynote talk to a great group of school administrators and teachers in Westchester County, New York. The topic of my talk was using technology to create collaborative learning experiences. Many people asked for the slides so I uploaded them to Slideshare and I have embedded them into this post.
Making Learning Collaborative
Whether you are a photographer, a graphic designer, an internet marketer or a personal hobby blogger, you would probably won't like someone stealing your copyright images without any due permission and credit! Right?
Image Plagiarism – Track Duplicate Images Using Google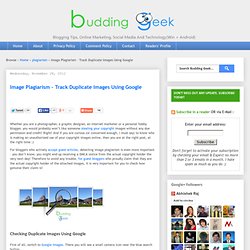 JISC Advance :: news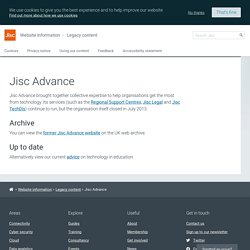 Henshaws College has launched an accessible version of YouTube, which was funded by Jisc through Jisc Advance. It allows people with learning difficulties and disabilities to use this mainstream technology independently. ACCESS: YouTube simplifies the standard You Tube site making it easier to search and play videos, and allows the use of assistive technologies.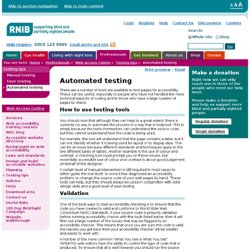 There are a number of tools are available to test pages for accessibility. These can be useful, especially to people who have not handled the more technical aspects of coding and to those who have a large number of pages to check.
Automated testing
Elgan: How I publish from Google+
Rajen Sheth noted in his Jan. 25th FETC keynote that Google's Chromebooks are rapidly gaining momentum in the schools of the nation.
Chromebooks Gaining Popularity in Schools | Chromebook Blog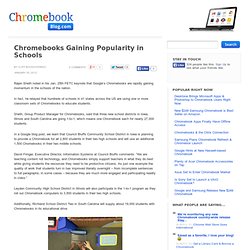 While perusing the headlines and posts detailing today's release of Google Drive, Google's cloud-based storage service, many compare the service the another popular cloud storage service, Dropbox.
Understanding the Minor Differences Between Google Drive and Dropbox
Copyright, Plagiarism, and Digital Literacy (by Sue Lyon-Jones
image credit: PugnoM on Flickr
The LMS as a mixing panel for social learning
Photo by Sergiu Bacioiu, cc licensed on Flickr (This post is cross-posted from a guest blog post I wrote for Hazel Owen at Ethos Consultancy NZ community site ) I have a hard truth to share with you.
TAGSExplorer: Interactive archive of twitter conversations from a Google Spreadsheet for
TAGSExplorer is an interface to TAGS based Google Spreadsheets of archived tweets.
Get Out – ESMA | Les Courts Métrages
interactive media resources
LdShake
Creating Infographics with Students