Craft Sites
Random Tutorial Generator
Daisy Ribbons - handmade hair bows - ribbon flowers and butterflies
Don't Panic! 7 Ways to File a Tax Extension By William Perez Tax Planning: U.S. Expert Share
BIC-Markit
craftbits.com DIY Crafts and Handmade Gift Ideas 1000's of Free Craft Ideas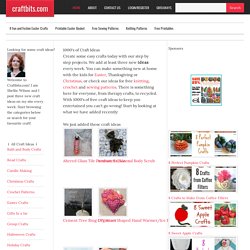 Craft Projects | Cut Out + Keep - StumbleUpon
I create hand painted ornaments and gifts that are whimsical, elegant, sentimental, collectible and meant to be cherished for a lifetime! Have a look around! If you need help with choosing or finding a design - you can always contact me! Hand Made just for you! I have created unique ornament designs for Baby Showers, Bridal Showers, Engagements, First Christmas for Baby or the New Couple, Sweet Sixteens and Weddings. Let me help you preserve your memories of the special moments in your life by turning them into a treasured keepsake.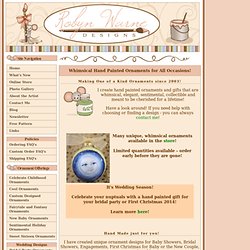 Whimsical Hand Painted Ornaments and Gifts for all Occasions from Robyn Warne Designs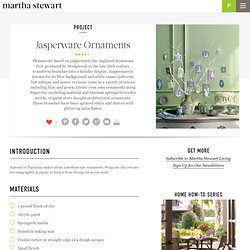 Jasperware Ornaments - Martha Stewart Crafts by Technique
Ornaments based on jasperware, the unglazed stoneware first produced by Wedgwood in the late 18th century, transform branches into a holiday display. Jasperware is known for its blue background and white cameo patterns, but antique and newer versions come in a variety of colors, including lilac and green. Create your own ornaments using Paperclay modeling material and German springerle-cookie molds, or paint store-bought architectural ornaments.
Scrapbook Showgram - Scrapbooking with Sandi Genovese
Framed Photo Silhouette If you're starting to collect summer projects for the kids this is a perfect one to file away! They will love this fun craft and you will enjoy the end results hanging in your home.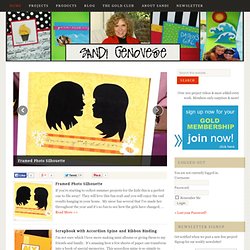 Frequently Asked Questions Where do you find all your tips? I've been collecting vintage homemaking magazines, books/cookbooks and craft patterns for over 20 years, I love this stuff! The internet has given me an opportunity to compile all this information into a handy resource that anyone can review. Are you legit or just someone seeking to be a big blog celebrity? I'm a pretty private person and don't publish photos of myself or my personal information...if I was trying to "fake it till I make it" so I can be a "celebrity", I'm doing a pretty poor job of things ;).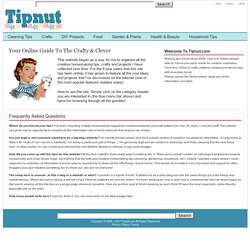 pin tangle Search Results - pintangle.com
Made By Hand Online - British Handmade Contemporary Craft & Gifts | Made By Hand Online
www.make-stuff.com/indexes/gardeningindex.html