Craft Sites
Daisy Ribbons - handmade hair bows - ribbon flowers and butterflies. Need. Know. Accomplish. Don't Panic!
7 Ways to File a Tax Extension By William Perez Tax Planning: U.S. Expert Share. Craftzine.com: CRAFT: Dedicated to the renaissance in the world of crafts. BIC-Markit. Docrafts - your source of creative inspiration for crafting. Arts & Crafts, Acrylic Paint, Fashion Crafting, Jewelry Making, and More! | Plaid Enterprises. Crafts | Handmade Gift Ideas | DIY Projects - Craftbits.com.
Craft Projects | Cut Out + Keep - StumbleUpon. Whimsical Hand Painted Ornaments and Gifts for all Occasions from Robyn Warne Designs. eHow | How to Videos, Articles & More - Discover the expert in you. TableTalk: The Best Idea I've Had This Year. Jasperware Ornaments - Martha Stewart Crafts by Technique. Ornaments based on jasperware, the unglazed stoneware first produced by Wedgwood in the late 18th century, transform branches into a holiday display.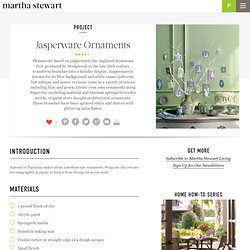 Jasperware is known for its blue background and white cameo patterns, but antique and newer versions come in a variety of colors, including lilac and green. Create your own ornaments using Paperclay modeling material and German springerle-cookie molds, or paint store-bought architectural ornaments. Scrapbook Showgram - Scrapbooking with Sandi Genovese. Creative DIY Tips & Project Ideas For Homemakers. Pin tangle Search Results - pintangle.com. Made By Hand Online - British Handmade Contemporary Craft & Gifts | Made By Hand Online. Dafont.com. Www.make-stuff.com/indexes/gardeningindex.html.
---