Craft projects
Printing
Bags. Sewing. Light Fun Crafts. Lights. Pictures. Candles. Flowers. Norfolk - Stallfinder Ltd. UK stallholders events fundraising and party plan. Home made beauty products. Storage. Jewellery.
Clothes and shoes. Annie Sloan About the Chalk Paint. Page corner bookmarks. This project comes to you at the request of Twitterer @GCcapitalM.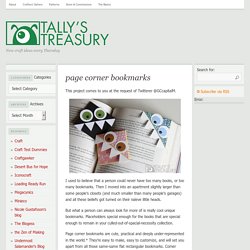 I used to believe that a person could never have too many books, or too many bookmarks. Then I moved into an apartment slightly larger than some people's closets (and much smaller than many people's garages) and all these beliefs got turned on their naïeve little heads.
Homemade Mamas. Home. Buttons. Skruben: How To: Self-Watering Seed Starter Pots.
---