Innovation Organique
User-Led Innovation Can't Create Breakthroughs; Just Ask Apple and Ikea | Co.Design. The user is king.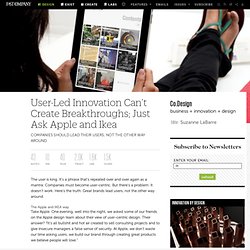 It's a phrase that's repeated over and over again as a mantra: Companies must become user-centric. But there's a problem: It doesn't work. Digital Innovations at UCLA. Cultural-Digital Intersections: Village Incubators, Emergent Databases, Indigenous Networks in Central Asia, and the South Asian Web Graduate School of Education and Information Studies, and the Department of Design/Media Arts in the School of the Arts and Architecture Primary contact Ramesh Srinivasan Assistant Professor Information Studies (courtesy: Design| Media Arts) (310) 206 - 8320 srinivasan@ucla.edu Project description.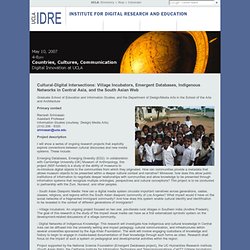 Disrupting College. 3D printing: The printed world. Implementing a "rapid innovation" entity: timeline. For Vijay Govindarajan, there is no doubt: "Innovation cannot happen inside the performance engine, so it requires a dedicated innovation team.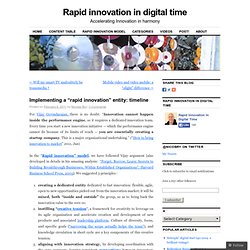 Every time you start a new innovation initiative — which the performance engine cannot do because of its limits of reach — you are essentially creating a startup company. This is a major organizational undertaking." Innovation Camps « Invitro Innovation. Many companies today have fewer competitive options, with the only path to generate greater revenues and profits is to GROW.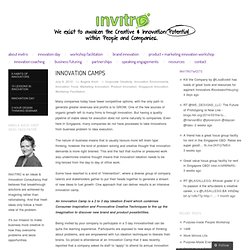 One of the few sources of organic growth left to many firms is through innovation. But having a quality pipeline of viable ideas for execution does not come naturally to companies. Even here in Singapore, many companies do not have processes to take innovations from business problem to idea execution. The nature of business means that is usually favours more left brain type thinking, however the kind of problem solving and creative thought that innovation demands is more right brained. This and the fact that routine or pressured work also undermines creative thought means that Innovation Ideation needs to be ring-fenced from the day to day of office work.
---