Coworking
Des passionnés de la première heure qui partagent leur expérience sur le coworking. Tous sujets relatifs à la mise en route, l'exploitation et la diffusion des activités d'un espace de coworking. philvert Oct 27
The contention of this brief post is a simple one: That at root all currencies are political and inherently imperfect technologies for representation of social energy . And that a viable social contract and a viable currency are both dependent on a very difficult to define, but critical metric: the fairness consensus. All that you see as a civilization is a product of individual and collective decisions in an intricate complex/chaotic dance operating within the constraints of natural law, resources and chance.
Decision Technologies: Currencies and the Social Contract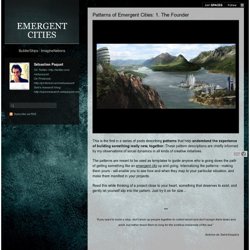 This is the first in a series of posts describing that help . These pattern descriptions are chiefly informed by my observations of social dynamics in all kinds of creative initiatives. The patterns are meant to be used as templates to guide anyone who is going down the path of getting something like an emergent city up and going. Internalizing the patterns - making them yours - will enable you to see how and when they map to your particular situation, and make them manifest in your projects.
Patterns of Emergent Cities: 1. The Founder
ConnectivismEducationLearning - Connectivism and Connective Knowledge 2011
Knowledge Workers & The Commons – A Reflection
The ecology map is a graph representing the system of actors with their mutual relations. It provides a systemic view of the service and of its context. The graph is built through the observation of the service from a specific point of view that becomes the centre of the whole representation; for example if the selected subject is the user, the graph will show all the actors starting from their relations with him. References:
Actors map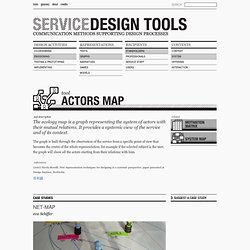 The aim of the motivation matrix is the understanding of the connexions between the different actors of the system. This is possible thanks to the elicitation of the motivation that each one of them has while participating in the system: each actor expresses what he needs or expects from the service. The motivation matrix is an interesting means of investigation of the solution assuming the point of view of each stakeholder with his own interests. References: (2007) Nicola Morelli, New Representation Techniques for Designing in a Systemic Perspective, paper presented at Design Inquires, Stokholm (2005) François Jégou, Ezio Manzini, Anna Meroni, Design Plan.
Motivation matrix
Yes, The Khan Academy IS the Future of Education (video
Salman Khan has taken a simple idea, YouTube videos that explain math, and transformed it into the future of education. I'm just going to come out and say it: the Khan Academy is the best thing that has happened to education since Socrates. The brainchild of Salman Khan, the Khan Academy became famous by teaching simple math lessons for free through over 2000 YouTube videos. Now, after millions in donations and an expansion of the company, the academy is so much more.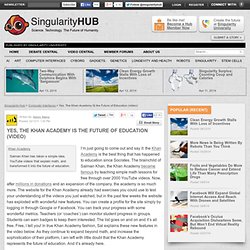 I am a grandfather of an immensely inspiring family, thanks to the most incredible wife. To satisfy my family's needs, I was for 30 years business entrepreneur, roller coasting between success and failure. 10 years ago I was forced to stop and reflect. I dug into theory and found out I had been doing wrong most of the time. I fear I will not escape remaining amidst this trans-disciplinary quest, bouncing back and forth from action to theory.
About plural rationalities and closed hegemonies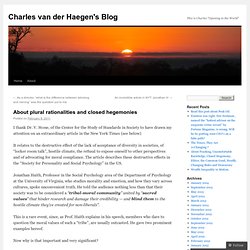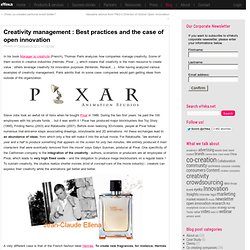 Creativity management : Best practices and the case of open innovation
In his book Manager la créativité (French), Thomas Paris analyzes how companies manage creativity. Some of them evolve in creative industries (Hermès, Pixar…), which means that creativity is the main resource to create value ; others leverage creativity for innovation purposes (Nintendo, Renault…). After having analyzed various examples of creativity management, Paris admits that -in some case- companies would gain getting ideas from outside of the organization.
OpenKollab Project Matching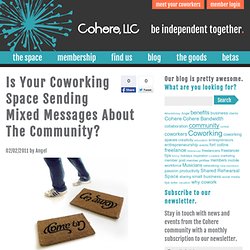 Is Your Coworking Space Sending Mixed Messages About The Community? | Cohere Coworking Community
Is Your Coworking Space Sending Mixed Messages About The Community? Just like a laptop or lucky suit, coworking spaces have to be cared for or they won't perform. Last week we talked about myriad reasons why coworking spaces are not frat-houses for freelancers . We might occasionally binge on M&Ms or circulate a hilarious YouTube video, but for most, the coworking space is where we go to get work done. In their attempt to create "friendly atmospheres" and "comfortable workspaces", however, some coworking facilities have strayed far from (what I hope was) their original goal of creating a professional space in which the mobile workforce can be at its most productive. Catalysts/owners: when a potential member visits your space or a traveling coworker stops in via the Visa Program you've got to take it up a notch…you're the face of coworking for the entire community as far as visitors are concerned!