Articles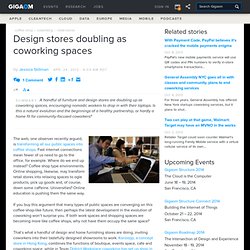 The web, one observer recently argued, is transforming all our public spaces into coffee shops. Fast internet connections mean fewer of us need to go to the office, for example. Where do we end up instead? Coffee shop type environments. Online shopping, likewise, may transform retail stores into relaxing spaces to ogle products, pick up goods and, of course, down some caffeine.
Design stores doubling as coworking spaces — Online Collaboration
Coworking - How coworking is changing how and where we work - Why Space Matters - Turnstone
Summer coworking on the university campus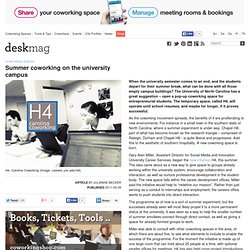 When the university semester comes to an end, and the students depart for their summer break, what can be done with all those empty campus buildings? The University of North Carolina has a great suggestion – open a pop-up coworking space for entrepreneurial students.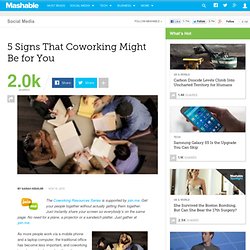 5 Signs That Coworking Might Be For You
The Coworking Resources Series is supported by join.me.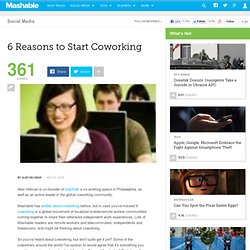 Alex Hillman is co-founder of IndyHall, a co-working space in Philadelphia, as well as an active leader in the global coworking community.
6 Reasons to Start Coworking
Aidez un espace associatif de coworking Lillois !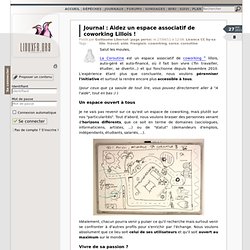 Salut les moules, La Coroutine est un espace associatif de coworking lillois, auto-géré et auto-financé, où il fait bon vivre ('fin travailler, étudier, se divertir...) et qui fonctionne depuis Novembre 2010.
Lyon : 30 jours de coworking passés au crible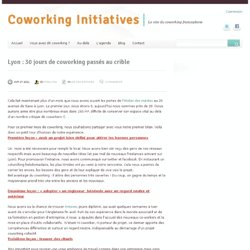 Cela fait maintenant plus d'un mois que nous avons ouvert les portes de l'Atelier des médias au 20 avenue de Saxe à Lyon.
Compte-rendu du 1er Barcamp Activity
Le 18 novembre 2011 | par Xavier de Mazenod |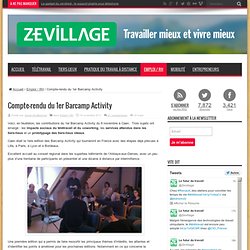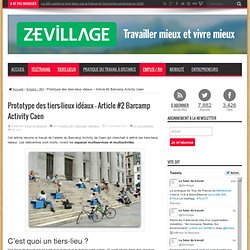 Cet article résume le travail de l'atelier du Barcamp Activity de Caen qui cherchait à définir les tiers-lieux idéaux. Les télécentres sont morts, vivent les espaces multiservices et multiactivités. C'est quoi un tiers-lieu ?
La fin des télécentres
Coworking services compris
Cet article résume le travail de l'atelier du Barcamp Activity de Caen qui cherchait à définir les services à développer dans les tiers-lieux orientés travail (télécentres ou espaces de coworking). Le tiers-lieux ou l'espace de coworking ne se limite pas à la mise à disposition de tables et de chaises. C'est avant tout un lieu de vies, multiples et complexes.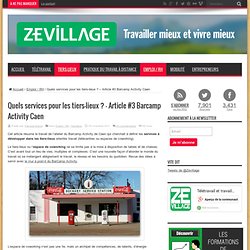 The Idea in Brief Casual interactions among employees promote trust, cooperation, and innovation, and companies have devised open floor plans and common areas to encourage them.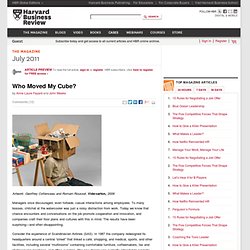 Who Moved My Cube?
En préambule, il faut distinguer 2 cas de figure: 1) Les initiateurs d'un espace de coworking poursuivent l'exercice de leurs activités
coworkinghowto [licensed for non-commercial use only] / Les statuts de la structure et des porteurs de projets
25 février 2010
Infogramme - Le coworking: un modèle d'avenir pour les bibliothèques?
Ten tips to make your coworking space more profitable
As the Global Coworking Survey has shown, coworking spaces earn their income from a variety of sources, not just from monthly memberships. So what are some innovative ways to boost your revenue stream?
10 Cool Coworking Spaces From Around the World | Huddle's Blog
Coworking is an emerging trend for a new generation of workers looking to avoid the traditional 8-5 shift in a boring cubicle, or the dreaded commute. Coworking spaces have been developed by entrepreneurs, consultants, and freelance artists seeking an alternative to working in coffee shops and cafes, or the isolation of independent or home offices. Coworking spaces offer the appeal of a progressive workspace, blended with a casual cafe like feel, while still offering all of the important things you need to run your business. (high-speed internet, phones, conference rooms).
slideshare
il y a 2 années Les résultats préliminaires de la deuxième enquête mondiale coworking ont révélé une mine d'informations sur l'intérêt du coworking, notamment une productivité accrue et les avantages du networking. L'enquête a mis en lumière les défis à venir; seulement 40% des espaces de coworking ont fait des profits cette année.
Les résultats préliminaires de la deuxième enquête mondiale sur le coworking – Hub Rocket - Espace de Coworking à Bordeaux
Qu'est-ce que le coworking ? Où en trouver ?
Quand une coopérative et un espace de coworking réinventent la façon de travailler
Coworking : les travailleurs nomades sont chouchoutés
Le coworking : Ensemble c'est tout !
5 adresses de co-working à Paris