Articles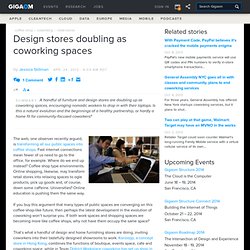 The web, one observer recently argued, is transforming all our public spaces into coffee shops. Fast internet connections mean fewer of us need to go to the office, for example. Where do we end up instead? Coffee shop type environments. Online shopping, likewise, may transform retail stores into relaxing spaces to ogle products, pick up goods and, of course, down some caffeine.
Design stores doubling as coworking spaces — Online Collaboration
Coworking - How coworking is changing how and where we work - Why Space Matters - Turnstone
Summer coworking on the university campus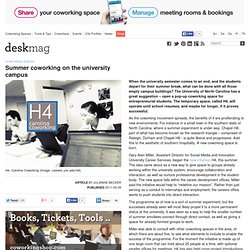 When the university semester comes to an end, and the students depart for their summer break, what can be done with all those empty campus buildings? The University of North Carolina has a great suggestion – open a pop-up coworking space for entrepreneurial students. The temporary space, called H4, will operate until school resumes, and maybe for longer, if it proves successful. As the coworking movement spreads, the benefits of it are proliferating to new environments. For instance in a small town in the southern state of North Carolina, where a summer experiment is under way. Chapel Hill, part of what has become known as the research triangle – comprised of Raleigh, Durham and Chapel Hill - is quite liberal and progressive.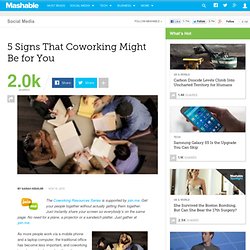 5 Signs That Coworking Might Be For You
The Coworking Resources Series is supported by join.me. Get your people together without actually getting them together. Just instantly share your screen so everybody's on the same page. No need for a plane, a projector or a sandwich platter.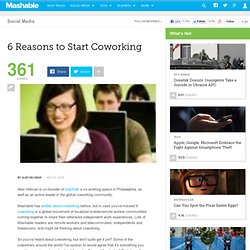 Alex Hillman is co-founder of IndyHall, a co-working space in Philadelphia, as well as an active leader in the global coworking community. Mashable has written about coworking before, but in case you've missed it: coworking is a global movement of localized mobile/remote worker communities coming together to share their otherwise independent work experiences. Lots of Mashable readers are remote workers and telecommuters, independents and freelancers, and might be thinking about coworking. So you've heard about coworking, but don't quite get it yet? Some of the coworkers around the world I've spoken to would agree that it's something you need to experience to understand the value "beyond the desks."
6 Reasons to Start Coworking
Aidez un espace associatif de coworking Lillois !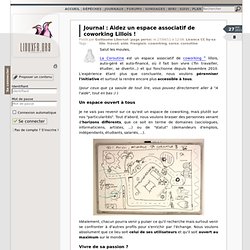 Salut les moules, La Coroutine est un espace associatif de coworking lillois, auto-géré et auto-financé, où il fait bon vivre ('fin travailler, étudier, se divertir...) et qui fonctionne depuis Novembre 2010. L'expérience étant plus que concluante, nous voulons pérenniser l'initiative et surtout la rendre encore plus accessible à tous. (pour ceux que ça saoule de tout lire, vous pouvez directement aller à "A l'aide", tout en bas :) ) Un espace ouvert à tous Je ne vais pas revenir sur ce qu'est un espace de coworking, mais plutôt sur nos "particularités".
Lyon : 30 jours de coworking passés au crible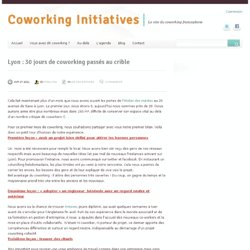 Cela fait maintenant plus d'un mois que nous avons ouvert les portes de l'Atelier des médias au 20 avenue de Saxe à Lyon. Le premier jour, nous étions 6, aujourd'hui nous sommes près de 20. (nous aurions aimé être plus nombreux mais dans 150 m², difficile de conserver son espace vital au-delà d'un nombre critique de coworkers !) Pour ce premier mois de coworking, nous souhaitions partager avec vous notre premier bilan. Voilà donc un petit tour d'horizon de notre expérience.Première leçon : avoir un projet bien défini pour attirer les bonnes personnes Un mois a été nécessaire pour remplir le local.
Compte-rendu du 1er Barcamp Activity
Voici, en feuilleton, les contributions du 1er Barcamp Activity du 8 novembre à Caen. Trois sujets ont émergé : les impacts sociaux du télétravail et du coworking, les services attendus dans les tiers-lieux et un prototypage des tiers-lieux idéaux. Caen était la 1ère édition des Barcamp Activity qui tourneront en France avec des étapes déjà prévues à Lille, à Paris, à Lyon et à Bordeaux. Excellent accueil au conseil régional dans les superbes bâtiments de l'Abbaye-aux-Dames, avec un peu plus d'une trentaine de participants en présentiel et une dizaine à distance par intermittence.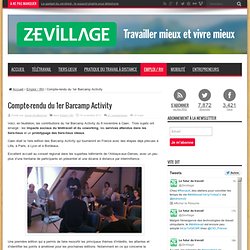 Cet article résume le travail de l'atelier du Barcamp Activity de Caen qui cherchait à définir les tiers-lieux idéaux. Les télécentres sont morts, vivent les espaces multiservices et multiactivités. C'est quoi un tiers-lieu ?
La fin des télécentres
Coworking services compris
Cet article résume le travail de l'atelier du Barcamp Activity de Caen qui cherchait à définir les services à développer dans les tiers-lieux orientés travail (télécentres ou espaces de coworking). Le tiers-lieux ou l'espace de coworking ne se limite pas à la mise à disposition de tables et de chaises. C'est avant tout un lieu de vies, multiples et complexes.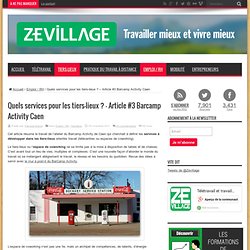 The Idea in Brief Casual interactions among employees promote trust, cooperation, and innovation, and companies have devised open floor plans and common areas to encourage them. But such efforts can easily backfire. Spaces, whether physical or virtual, invite interaction only if they properly balance three factors, or "affordances." Proximity Designs must drive traffic to shared spaces and give people reasons to remain.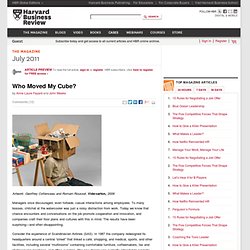 Who Moved My Cube?
En préambule, il faut distinguer 2 cas de figure: 1) Les initiateurs d'un espace de coworking poursuivent l'exercice de leurs activités 2) Les initiateurs d'un espace de coworking sont des entrepreneurs, dont l'activité principale est de créer et gérer un espace de coworking Association Le statut d'association à but non lucratif est intéressant pour plusieurs raisons: exonération de TVA et d'impôts, ouverture aux subventions et aides publiques (mise à disposition de locaux y compris). Néanmoins le caractère non lucratif de l'activité de coworking ne parait pas (du tout) évident: l'activité d'une pépinière d'entreprise serait considérée comme lucrative.
coworkinghowto [licensed for non-commercial use only] / Les statuts de la structure et des porteurs de projets
25 février 2010 Classé dans Bibliothèques , Coworking Ça fait longtemps que je reporte l'écriture de ce billet, comme c'est souvent le cas avec les sujets plus importants que je veux aborder. (Mon billet précédent n'en faisant pas partie!) Je lance aujourd'hui une discussion qui, je l'espère, rejoindra autant la communauté des bibliothèques que celle du coworking (on dit également cotravail, mais pour les besoins du billet, je vais conserver le terme généralement associé au mouvement).
Infogramme - Le coworking: un modèle d'avenir pour les bibliothèques?
Ten tips to make your coworking space more profitable
As the Global Coworking Survey has shown, coworking spaces earn their income from a variety of sources, not just from monthly memberships. So what are some innovative ways to boost your revenue stream? At the recent Coworking Europe conference in Berlin, a workshop led by Manuel Zea from Spain created a list of ten ideas to help push a coworking space toward profitability. Here's a summary of what the workshop discussed. Rent your space to members and non-members The principle is simple: use what you already have.
10 Cool Coworking Spaces From Around the World | Huddle's Blog
Coworking is an emerging trend for a new generation of workers looking to avoid the traditional 8-5 shift in a boring cubicle, or the dreaded commute. Coworking spaces have been developed by entrepreneurs, consultants, and freelance artists seeking an alternative to working in coffee shops and cafes, or the isolation of independent or home offices. Coworking spaces offer the appeal of a progressive workspace, blended with a casual cafe like feel, while still offering all of the important things you need to run your business. (high-speed internet, phones, conference rooms).
slideshare
Les résultats préliminaires de la deuxième enquête mondiale sur le coworking – Hub Rocket - Espace de Coworking à Bordeaux
Qu'est-ce que le coworking ? Où en trouver ?
Quand une coopérative et un espace de coworking réinventent la façon de travailler
Coworking : les travailleurs nomades sont chouchoutés
Le coworking : Ensemble c'est tout !
5 adresses de co-working à Paris