Costume
Designers Create Golden Cloth from Spider Silk. In Greek mythology, the young weaver Arachne was transformed into a spider by the jealous goddess Athena.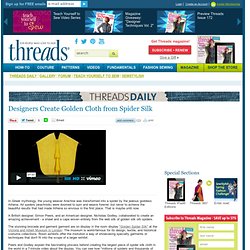 All spiders (arachnids) were doomed to spin and weave forever, but never to achieve the beautiful results that had made Athena so envious in the first place. That is maybe until now. A British designer, Simon Peers, and an American designer, Nicholas Godley, collaborated to create an amazing achievement - a shawl and a cape woven entirely from the web silk of golden silk orb spiders. The stunning brocade and garment garment are on display in the room display "Golden Spider Silk" at the Victoria and Albert Museum in London. The museum is world-famous for its design, textile, and historical costume collections. 32 Sublime Gowns From New York Fashion Week. Cascade Head Silk Hankies from KnitPicks. Vintage Clothing, Cute Dresses, Indie & Retro Women's Clothing | ModCloth. Web-goddess: 25 Ways to Wear a Scarf. Black Milk Clothing - Welcome. Season of the Witch Grosgrain Halloween Costume.
Powered By Blogger Widgets | Customized By: Blogging Tips close 17,754 readers.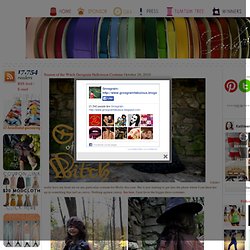 The Naiad Frock Grosgrain Giveaway. Lisa said...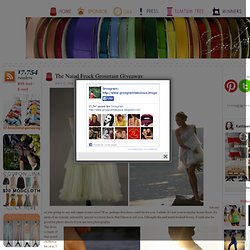 Wow, is that pretty! I love that you can post these gorgeous, poetic pictures and at the same time tell the story of how you had to navigate crab carcasses to take them. :) July 12, 2010 at 8:24 AM. Midsummer Nights Dream Tutu Tutorial. A few months ago a friend of mine asked me if I could sew a dress for her daughter who was going to be a flower girl in an upcoming wedding with a 'Midsummer Night's Dream' theme.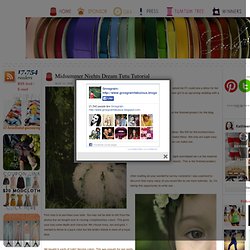 I said sure, if you let me photograph the finished product for the blog. Deal. So we perused etsy for some good ideas. She fell for the knotted tutus. Fortunately, I knew exactly how to make these.
---