Cool
Today, the shed at the Heineken estate and a wall made of WOBO at the Heineken Museum in Amsterdam are the only structures where the 'beer brick' was used. As to the remaining WOBO's it's not clear how many exist, or where, but the idea, even some four decades later, remains a lasting example in end-use innovation. Mr.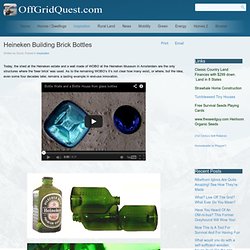 Heineken Building Brick Bottles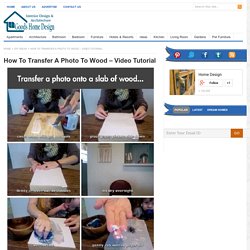 How To Transfer A Photo To Wood - Video Tutorial
Many decorations are expensive and not that stylish to being worth your attention. With the tricks featured in this tutorial, you can make your own custom piece of decoration. Read the following and learn how to transfer a photo to wood and actually make a nice `painting` to place in your living room. Here is what you'll need:
Magnetic Thinking Putty
Weight Pulling
MythBusters: Crash Cliches High-Speed 1
Many use bottles to add some colour, light and design to a wall here and there. Below are a few examples with links to facebook. Bottles used in walls in this way are cut and taped together presenting the ends of the bottle on both sides of the wall stretching across the whole thickness of the wall. Cutting the bottle can be a bit of a challenge if you don't know the best way to do it. As with many simple and effective techniques we can look back to the Roman period to around AD 20 when cracking off was invented (see the video above).
How to cut a glass bottle... the easy way.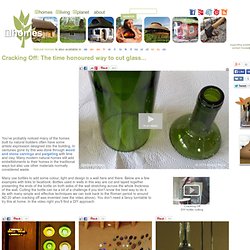 13 Major Clean Energy Breakthroughs of 2013
December 18, 2013 | Like this article? Join our email list: Stay up to date with the latest headlines via email.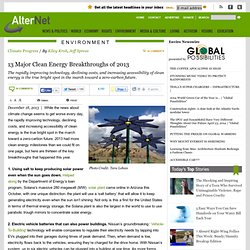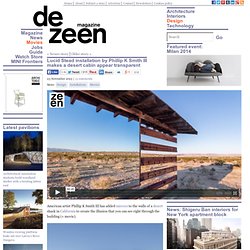 Lucid Stead installation by Phillip K Smith III at a desert cabin
American artist Phillip K Smith III has added mirrors to the walls of a desert shack in California to create the illusion that you can see right through the building (+ movie). Entitled Lucid Stead, the installation was created by Phillip K Smith III on a 70-year-old wooden residence within the California High Desert. Mirrored panels alternate with weather-beaten timber siding panels to create horizontal stripes around the outer walls, allowing narrow sections of the building to seemingly disappear into the vast desert landscape. "Lucid Stead is about tapping into the quiet and the pace of change of the desert," said Smith. "When you slow down and align yourself with the desert, the project begins to unfold before you.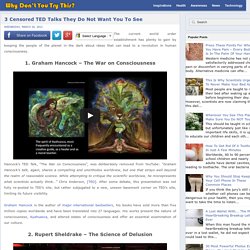 3 Censored TED Talks They Do Not Want You To See
The current world order establishment has plenty to gain by keeping the people of the planet in the dark about ideas that can lead to a revolution in human consciousness. 1. Graham Hancock – The War on Consciousness Hancock's TED Talk, "The War on Consciousness", was deliberately removed from YouTube: "Graham Hancock's talk, again, shares a compelling and unorthodox worldview, but one that strays well beyond the realm of reasonable science.
Our Technical Reality (2013 Edit)
Congressman Ron Paul's Farewell Speech to Congress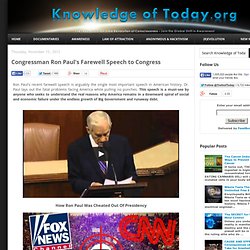 Ron Paul's recent farewell speech is arguable the single most important speech in American history. Dr. Paul lays out the fatal problems facing America while pulling no punches. This speech is a must-see by anyone who seeks to understand the real reasons why America remains in a downward spiral of social and economic failure under the endless growth of Big Government and runaway debt. "We need an intellectual awakening."
Replicator™ 2X Desktop 3D Printer
Online Room Planner | Urban Barn
HERE IS TODAY
22 Motivational Pictures To Get You Off Your Ass : DormStormer
99 Songs to Make Your Homework Awesome - Tracklist - Google диск
Travel Scenic Utah In 3D Panoramas - Utah3D.Net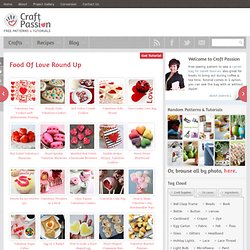 Nothing describes heart shaped, pink/red treats and chocolates best for Valentine's Day. Here, I listed down a round up of some recipes that you can make for the upcoming Valentine's Day. Be it sweet, romantic, lovely, one-of-a-kind, yummy, delicious, healthy, simple or delicacy, I hope you will have something on your romantic day!!! 1. Valentines Day Cookies with Buttercream Frosting at Tidymom. 2. Simply Dotty Valentines Cookies at Sweet Sugar Belle. 3.
Recipe | Valentine's Food
By MH Staff - Posted on 25th August 2011 Warning: this stunt involves sharp edges, breaking glass and fire. But if you're careful, it could also involve fun. Pick a brand with a sturdy but attractive bottle. (Try Grolsch or Darling Brew's dumpie-style bottle.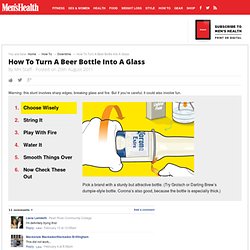 nvert Bottle Into a Glass
BallDroppings
imgur: the simple image sharer
Singapore-based artist Keng Lye creates near life-like sculptures of animals relying on little but paint, resin and a phenomenal sense of perspective. Lye slowly fills bowls, buckets, and boxes with alternating layers of acrylic paint and resin, creating aquatic animal life that looks so real it could almost pass for a photograph. The artist is using a technique very similar to Japanese painter Riusuke Fukahori who was featured on this blog a little over a year ago, though Lye seems to take things a step further by making his paint creations protrude from the surface, adding another level of dimension to a remarkable medium. See much more of this series titled Alive Without Breath over on deviantART. (via ian brooks)
Alive Without Breath: Three Dimensional Animals Painted in Layers of Resin by Keng Lye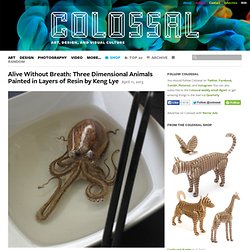 9 Bytz | Food for the Idle Mind
The ultimate flatulence filtering underwear
Charlie Hague and Megan Williams told to pull down their 'hobbit home' made entirely out of natural materials
Family of three is made homeless by planning inspector's decisionThey built their home from scratch, but have been ordered to tear it downThe couple admit they built it without first getting planning permissionTheir labour of love was branded 'harmful' to the countryside By Stuart Woledge PUBLISHED: 19:30 GMT, 1 August 2013 | UPDATED: 14:12 GMT, 2 August 2013 Homeless: Charlie Hague and Megan Williams, with their only child Eli, have been left homeless A young couple have been left heartbroken after planners ordered their unique 'hobbit home' to be bulldozed, effectively leaving them homeless.
TreeHouse Point
Unique Natural Sculptures Blend Layers of Stone with Glass
Mr Wilson bites your towel
Master of Pen and Ink: The Monumental Drawings of Ikeda Manabu
Map Envelope
Boxetti
Killspencer Veil for iPhone 4/4S
"WebGL Bookcase" by Google Data Arts Team
Wear - Shop Cool Material
Life Hacks
Kickstarter
Skull Shot Glasses - 4-pack
Credit Card Knife
The Most Popular Featured Desktops and Home Screens of 2011
To Do List
LikeCOOL, Coolest Gadget Magazine.
:: Spyderco ::
Create
Piety within Progression
NYC's Day and Night Combined in Stephen Wilkes Photography
BIG | Bjarke Ingels Group
Laser Crosswalk Saves Pedestrians From a Painful Death - GEARFUSE
Funny keeping a zipper up tip
Public Art Concepts - Dan Sternof Beyer 2011 - StumbleUpon
Your Age on Other Worlds | Exploratorium
Silk - StumbleUpon
These 50 Photos Will Blow you Away - StumbleUpon
Mowing Picture
A Showcase of Workstations that'll Make You Jealous | Inspiration
Carved Book Landscapes by Guy Laramee