Cool WebZ
Scale Of The Universe 2. Sites of the Week for October 21st 2011. Creative Single Page Web Designs. Single page web designs are a modern trend for designing and it is very inspiring to see what these designers are investing to create these webpages.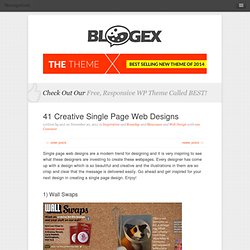 Every designer has come up with a design which is so beautiful and creative and the illustrations in them are so crisp and clear that the message is delivered easily. Go ahead and get inspired for your next design in creating a single page design. Enjoy! 23 Inspiring Single Page Designs. A website should be designed to accommodate it's content.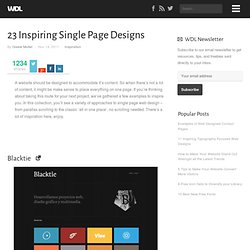 So when there's not a lot of content, it might be make sense to place everything on one page. If you're thinking about taking this route for your next project, we've gathered a few examples to inspire you. In this collection, you'll see a variety of approaches to single page web design – from parallax scrolling to the classic 'all in one place', no scrolling needed. There's a lot of inspiration here, enjoy. Duolingo | Learn Spanish, French, German, Portuguese, Italian and English for free.
Welcome to Tao Community - We are more than just a Group of Companies, We are a Community. Welcome to adidas. Hiroshi seo / photographs TIME:LINE - 瀬尾 浩司. Infinite OZ | Tin Man | SCIFI.COM. Coolstore. TheOleg | Freelance designer. We Choose the Moon: Celebrating the 40th Anniversary of the Apollo 11 Lunar Landing. Marc Ecko. AgencyNet - an innovation-focused digital creative agency. WATERLIFE - NFB. Dave Werner's Portfolio 2006.
---