Cool web 2.0 tools for educational use
Remote colleagues working for the common good. shellyw39 Jan 16
iGoogle
Concept mapping tool that experiecne web 2.0 using teachers recommend. Free version lets you create 3 maps on your account. by shellyw39 Feb 28
Concept Maps, Network Diagrams and Workflows - Easy...Free...3-D - Simple Mapper
Recommended by a colleague I trust as a preferred web 2.0 concept mapping tool. Looks good from what I saw. Try it. by shellyw39 Feb 1
There's a gazillion cool online tools nowadays and many provide code that you can use to embed what you've found or created into your blog posts, pages or added to text widgets in your blog sidebar. Refer to the following instructions to embed: Below's a list of tools to get you started: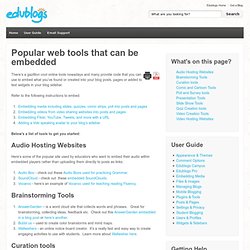 Popular web tools that can be embedded into posts, pages or added to text widgets in sidebars -Edublogs Help and Support
Tools to embed in blogs or use independelt of a blog. Good ideas here. by shellyw39 Jan 27
VotApedia - Audience Response by Mobile Phone
Votapedia - polling tool with mobile phone by shellyw39 Jan 16
EDucational wikkis lists plus great info on uses for wikkis and how to create some by shellyw39 Feb 24
Great list of web 2.0 tools plus terrific advice on other tools for education. by shellyw39 Feb 24
Really good list of Web 2.0 tools. Nice collections of useful tools by an educator. This is in an award winning wikki. by shellyw39 Feb 24
Amazing collection of tools for educators classified in categories. Made by repsected educator. Used Mindomo to create the map. by shellyw39 Feb 28
Cool Tools for creating web content
Very nice word cloud making tool - incorporating shapes. Good examples and community around the tool. by shellyw39 Feb 27
Word cloud generator that takes text from given URLs to create tag clouds. Its handy and works well. Enable stduents to creat word tags of their own work or from pages of a goup of students. by shellyw39 Jan 16
iPad App Guide #1: Evernote | TPACK iPads in Schools
What it does Evernote for iPad is a cross-platform app for recalling / remembering information. You can use this app to save website screenshots, notes, pictures, and audio comments; which are instantly synchronised between your computer, mobile device, and web Evernote account.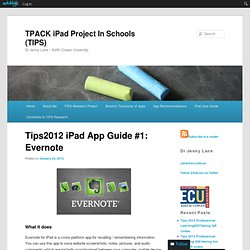 Ap for capturing notes and keeping ideas from the web in pne place while researching. Can access your notes from nay device at any time. by shellyw39 Jan 27
Organise notes, pictures etc as you browse the web. Great for students to gather information and share it. Good information literacy tool with good teacher input about the IL process by shellyw39 Dec 27
Mind Maps can help you organise your thoughts, on JCU Study Skills Online you can read about mind maps and watch a video by Tony Buzan who has published many books on the subject. The University of Hull has produced this very impressive collection of diagrams on learning. To create mind maps one of the simplest tools to use is Bubbl.us. This training video shows you how to use Bubbl.us SpicyNodes can be used by students of any age (with parent / guardian permission). This easy to use site presents just a few nodes at once so information can be clearly presented.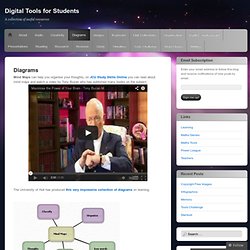 Diagrams « Digital Tools for Students
Range of free tools for making mind maps for different purposes. Another to consider is Inspiration (www.inspiration.com) which is not free. by shellyw39 Jan 5
Polling tools event
Introduction In this recorded session we took a look at if, and how, we use/have used e-polling or surveys. The idea for this session was triggered when I used a poll in the overview for last week's Serendipity and wondered about the different polling and survey tools that people use.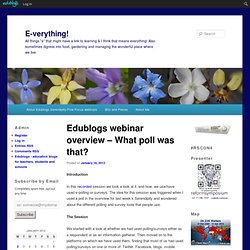 Summary of an online event aboput using Polling tools. Thinking about ideas beyond engagement - should be a good stats discussion starter. by shellyw39 Jan 16