Cookery
Want To Learn How to Make Gordon Ramsays Favourite Dessert?-Hot Chocolate Fondant | La Mia Vita Dolce - StumbleUpon. Posted by Grace Massa Langlois on Friday, 16th July 2010 Gordon Ramsay and his thoughts on Hot Chocolate Fondant – "Whenever I'm asked for my favourite recipe, this is the one.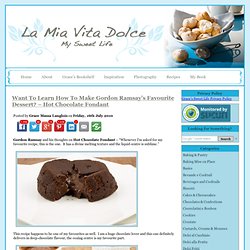 It has a divine melting texture and the liquid centre is sublime." This recipe happens to be one of my favourites as well. I am a huge chocolate lover and this one definitely delivers in deep-chocolate flavour, the oozing centre is my favourite part. I've tried countless recipes for these molten lava cakes but non have compared to this one. Baking. Double Berry Coco Punch. Slow Cooker Teriyaki Pork Tenderloin. Slow Cooker Teriyaki Pork Tenderloin It's been a while since I've made a recipe from AllRecipes.com.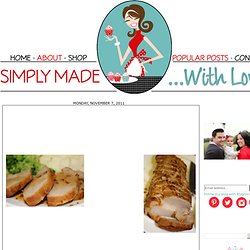 I used to go on the site all the time to find recipes, but with Pinterest I haven't had to do that much searching. Quiche Lorraine. Baked Macaroni and Cheese Recipe : Alton Brown. Wood Butter – The perfect thing for your wood bowls and utensils. — Creative Culinary :: Food & Cocktail Recipes - A Denver, Colorado Food & Cocktail Blog. Several months ago Wendi with Bon Appetit Hon, did a post on Wood Butter; like you I had a moment of Huh?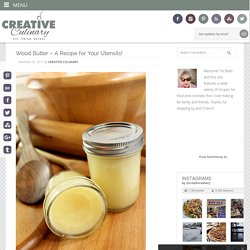 What? Well, typically called Spoon Oil, Wendi had decided that Wood Butter fit better and I agree; leave it to another food person to put the perfect name on this elixir that is so simple but so perfect for the care of the wood items we use in the kitchen. A necessity but also a bit indulgent…yes, butter is perfect! Double Crust Peach Cobbler Recipe - Soul.Food.com - 130520. Slow Cooker Chicken-Barley Stew. Crock Pot Hungarian Beef Goulash Recipe This crock pot beef goulash recipe skips browning the beef and instead coats it in a spice crust.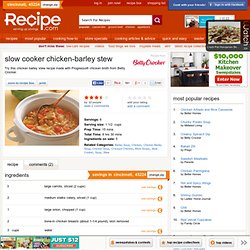 This combine-and-cook slow-cooker beef goulash recipe is quick to mix together and a healthy slow-cooker recipe for dinner. Chicken Gumbo Recipe - Food.com - 58158. Fajita Seasoning Mix Recipe - Food.com - 28011. Beef Flavored Rice Recipe - Food.com - 462415. I usually only cook rice with vegetable or chicken stock, and have no explanation why I haven't used beef stock, so thought that I should give it a try.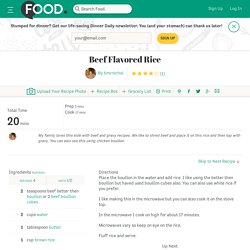 The flavour was good, and went especially well with the brown rice ( which I love)...I did however, have to cook mine an awful lot longer than stated ( but then no microwave is the same!!) And because of this I ended up adding a lot more water to the rice, to prevent it from burning, as the water had been absorbed without the rice being cooked enough. Happy Holidays! Recipes, Decorations, Holiday Traditions, Party Ideas - BHG.com. Celebrate the holidays with Better Homes and Gardens!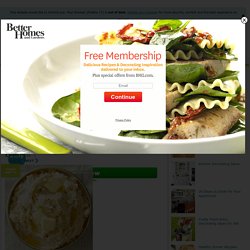 Starting with New Year's parties and appetizers, pretty Valentine's Day cards, Easter egg decorating ideas, and Fourth of July crafts, we help you enjoy the holiday festivities. When it… read more Celebrate the holidays with Better Homes and Gardens! Starting with New Year's parties and appetizers, pretty Valentine's Day cards, Easter egg decorating ideas, and Fourth of July crafts, we help you enjoy the holiday festivities. When it comes to Halloween, we've collected the best pumpkin stencils, the tastiest Halloween treats, the spookiest decorations, and the silliest costumes for trick-or-treating. Medieval Cookery.
Medieval Cookery - Tartys In Applis. Recipe by Daniel Myers 4 - 5 apples6 figs, chopped1/4 cup raisins1 1/2 tsp. powder douce1/4 tsp. saltpinch saffron Short Paest for Tarts Peel, core, and grate apples.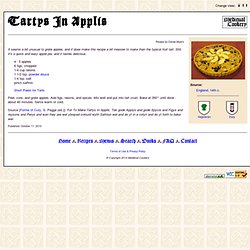 Add figs, raisins, and spices. Just A Pinch Recipe Club. Nanaimo Bars. Other than my short stint as a resident of New York City, I've never lived in a city with a "signature" food.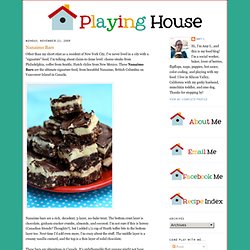 I'm talking about claim-to-fame level: cheese steaks from Philadelphia, coffee from Seattle, Hatch chiles from New Mexico. These Nanaimo Bars are the ultimate signature food, from beautiful Nanaimo, British Columbia on Vancouver Island in Canada. Nanaimo bars are a rich, decadent, 3-layer, no-bake treat. Candy Cane Blossoms. Too darn cute.
I am the first to admit that I am a sucker for cute packaging and anything "Holiday themed" as evidenced in earlier posts. I saw these candy can kisses hit my local CVS right after Halloween. Normally I would have made some gripe about it being too early to put out Christmas Candy, but since they were so cute, I bought a bag and put it in my pantry to be saved until today. Recipes, menus, meal ideas, food, and cooking tips. Pumpkin Gingerbread Recipe. Chicken Cordon Bleu II Recipe. Famous Chicken Adobo Recipe. Chicken Noodle Casserole I Recipe. Chicken Pot Pie IX Recipe. Reuben Dip Recipe. Frozen Butterbeer for the Deathly Hallows Premiere – Cook Like a Champion. There's something you might not know about me.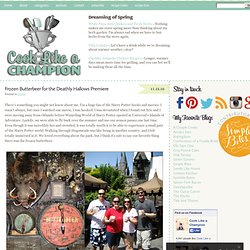 I'm a huge fan of the Harry Potter books and movies. I wasn't always, but once I watched one movie, I was hooked. I was devastated when I found out Eric and I were moving away from Orlando before Wizarding World of Harry Potter opened at Universal's Islands of Adventure. Luckily, we were able to fly back over the summer and use our season passes one last time. Even though it was incredibly hot and crowded, it was totally worth it to be able to experience a small part of the Harry Potter world. Cooks.com - Recipe Search and More. Monkey Bread. 4 cans refrigerator biscuits (about 40) 1 1/2 tablespoons cinnamon 1/2 cup butter 1 cup white sugar 1 cup brown sugar, packed 1/2 cup pecans, raisins and/or coconut, if desired Cut each biscuit into 4 pieces. Pour sugar and cinnamon into a plastic bag and mix. Add biscuit pieces, several at a time; shake to coat well.
Place pieces in a buttered tube or Bundt pan until all are used. Sprinkle layers with nuts, raisins or coconut. Green Beans with New Potatoes Recipe : Paula Deen. Directions Remove the ends from the beans. Snap the beans in 2 pieces, place into a colander, wash, and set aside to drain. Meanwhile, in a large cast iron Dutch oven, lightly brown the salt pork in the bacon grease over medium heat, turning often, for approximately 10 minutes. Toss the green beans into the pot, stirring them with a wooden spoon to coat well with the pork fat. Add the broth and House Seasoning. Brie En Croute Recipe : Paula Deen.
---