Pos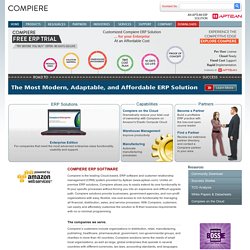 Compiere is the leading Cloud-based, open-source ERP software and customer relationship management (CRM) system. Compiere solutions provide businesses, government agencies, and non-profit organizations with easy, flexible, low-cost access to rich functionality for managing all financial, distribution, sales, and service processes. With Compiere, customers can easily and affordably customize the solution to fit their business requirements with no or minimal programming. The companies we serve. Compiere's customers include organizations in distribution, retail, manufacturing, publishing, healthcare, pharmaceutical, government, non-governmental groups, and charities in more than 40 countries.
PhreeSoft | Small business solutions built with PHP!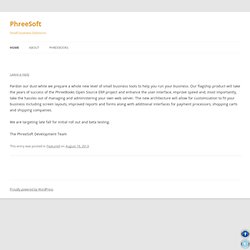 Pardon our dust while we prepare a whole new level of small business tools to help you run your business. Our flagship product will take the years of success of the PhreeBooks Open Source ERP project and enhance the user interface, improve speed and, most importantly, take the hassles out of managing and administering your own web server. The new architecture will allow for customization to fit your business including screen layouts, improved reports and forms along with additional interfaces for payment processors, shopping carts and shipping companies.
Free Java ERP and CRM - jfire.net
Dolibarr 3.4.2, a new maintenance release for branch 3.4 of Dolibarr ERP & CRM is available. Version 3.4.2 contains only fixes of bugs found into 3.4 branch. We recommand everybody that use version 3.4.0 or 3.4.1 to upgrade to this new version. As any maintenance release, no new features, nor data structure changes are present into this version (see "Read more" for full list of fixes). You can download it from stable section of download area Note that, according to roadmap (http://wiki.dolibarr.org/index.php/Category:RoadMap), version 3.5.0 should be available this month too.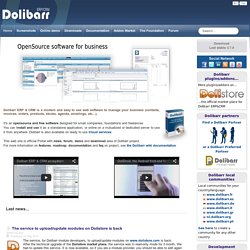 xTuple | Open Source ERP for Mac, Linux and Windows
Accounting, CRM and ERP PostBooks is a full-featured, fully-integrated business management system, the core of the award winning xTuple ERP Suite. Built to run in the cloud or on a local server, it provides the ultimate in power and flexibility for a range of businesses and industries of any size. Please contact us for more product information or to schedule a guided demonstration.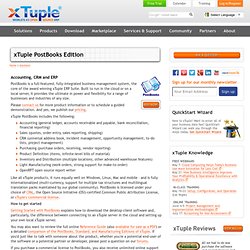 PostBooks | Open Source ERP for Mac, Linux and Windows