CONTENT STRATEGY
Fusing Content Strategy with Design
The content strategy movement has captured the hearts and minds of Web practitioners everywhere. For many (and I count myself among this camp) content strategy (CS) represents a vital next step in the evolution of what we do and how we provide value.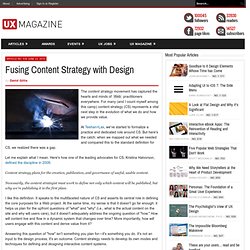 September 9, 2010 • written by Heather Lloyd-Martin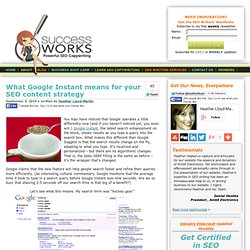 SEO Copywriting | What Google Instant means for your SEO content strategy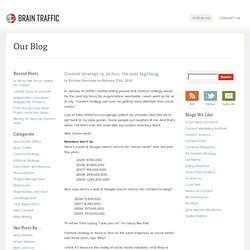 Content strategy is, in fact, the next big thing
In January of 2009, I started telling people that content strategy would be the next big focus for organizations worldwide.
Trying to fix an organization's content problems by installing a content management system (CMS) is like trying to save a marriage by booking a holiday.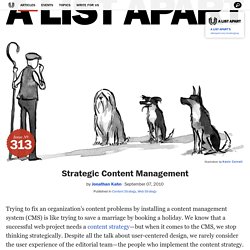 Strategic Content Management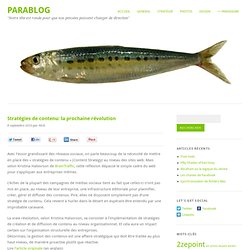 Avec l'essor grandissant des réseaux sociaux, on parle beaucoup de la nécessité de mettre en place des "stratégies de contenu" (Content Strategy) au niveau des sites web. Mais selon Kristina Halvorson de BrainTraffic , cette réflexion dépasse le simple cadre du web pour s'appliquer aux entreprises mêmes. L'échec de la plupart des campagnes de médias sociaux tient au fait que celles-ci n'ont pas mis en place, au niveau de leur entreprise, une infrastructure éditoriale pour plannifier, créer, gérer et diffuser des contenus.
Stratégies de contenu: la prochaine révolution | parablog
Fusing Content Strategy with Design