CONTENT STRATEGY
SEO Copywriting | What Google Instant means for your SEO content strategy. September 9, 2010 • written by Heather Lloyd-Martin You may have noticed that Google operates a little differently now (and if you haven't noticed yet, you soon will.)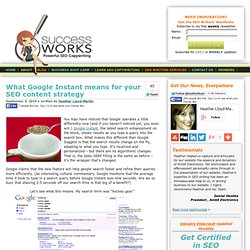 Google Instant, the latest search enhancement on the block, shows results as you type a query into the search box. What makes this different than Google Suggest is that the search results change on the fly, adapting to what you type. It's localized and personalized – but there are no algorithmic changes. Content strategy is, in fact, the next big thing. In January of 2009, I started telling people that content strategy would be the next big focus for organizations worldwide.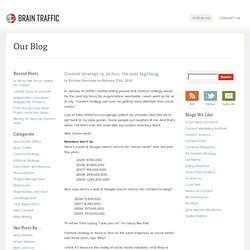 I even went so far as to say, "Content strategy will soon be getting more attention than social media." Lots of folks smiled encouragingly, patted my shoulder, and told me to get back to my style guides. Some people just laughed at me. And that's when I hit them over the head with my content inventory. Strategic Content Management. Trying to fix an organization's content problems by installing a content management system (CMS) is like trying to save a marriage by booking a holiday.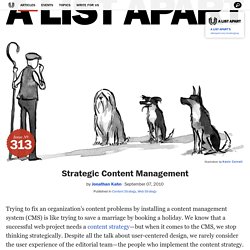 We know that a successful web project needs a content strategy—but when it comes to the CMS, we stop thinking strategically. Despite all the talk about user-centered design, we rarely consider the user experience of the editorial team—the people who implement the content strategy. We don't design a CMS, we install it.
The problem: tools aren't magic pixie dust#section1. Stratégies de contenu: la prochaine révolution | parablog. Avec l'essor grandissant des réseaux sociaux, on parle beaucoup de la nécessité de mettre en place des « stratégies de contenu » (Content Strategy) au niveau des sites web.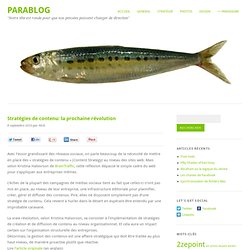 Mais selon Kristina Halvorson de BrainTraffic, cette réflexion dépasse le simple cadre du web pour s'appliquer aux entreprises mêmes. L'échec de la plupart des campagnes de médias sociaux tient au fait que celles-ci n'ont pas mis en place, au niveau de leur entreprise, une infrastructure éditoriale pour plannifier, créer, gérer et diffuser des contenus. A Big List of Sites That Teach You How To Do Stuff. With all due respect to Kevin Smith, the web is no longer only for complaining about movies.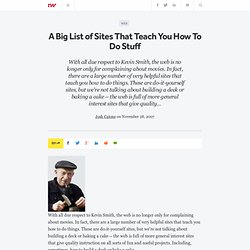 In fact, there are a large number of very helpful sites that teach you how to do things. These are do-it-yourself sites, but we're not talking about building a deck or baking a cake -- the web is full of more general interest sites that give quality instruction on all sorts of fun and useful projects. Including, sometimes, how to build a deck or bake a cake.
---