Actual 'CDN/Cloud' Server Info & Docs
Interesting 3rd Party Services
Add photos
Uploading From Picasa
SmugMugExport
3rd Party Services [USE THESE ONLY]
Kaltura: Open Source Video Developer Community | Leading the Open Video Revolution
KalturaCE vs Kaltura On-Prem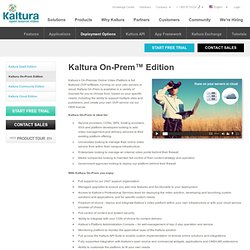 On-Prem™ Edition
Kaltura's On-Premise Online Video Platform is full featured OVP software, running on your own servers or cloud.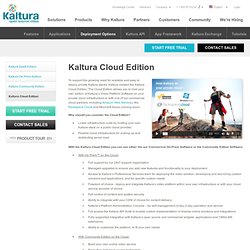 Kaltura Cloud Edition
To support the growing need for scalable and easy to deploy private Kaltura stacks, Kaltura created the Kaltura Cloud Edition. The Cloud Edition allows you to host your own edition of Kaltura's Video Platform Software on your private cloud infrastructure or with one of our commercial cloud partners, including Amazon Web Services, the Rackspace Cloud and Microsoft Azure (coming soon).
Kaltura offers a fully hosted edition of its video platform. Kaltura's subscription-based model includes a wide range of pricing options and packages.
Video Platform | Kaltura SaaS Edition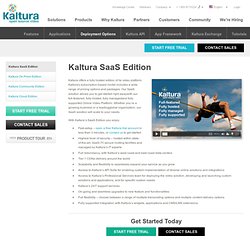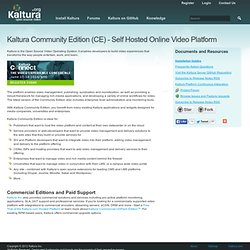 Community Edition (CE) - Self Hosted Online Video Platform
Kaltura Community Edition is a free, open-source, on-premise Video Platform, developed through the combined efforts of Kaltura and the community. Looking for a commercial license, or maintenance and support services?Checkout the difference between Kaltura CE and Kaltura On-Prem™
CE V3.0 - Documentation
Amazon Cloudfront Guide | V3.0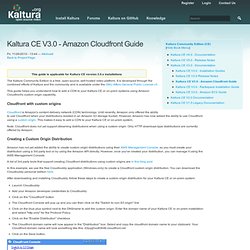 This guide is applicable for Kaltura CE version 3.0.x installations The Kaltura Community Edition is a free, open-source, self-hosted video platform.
Kaltura CE installation and configuration on Debian Lenny $ wget http://kaltura.org/sites/default/files/releases/kalturaCE_alpha_1.0.tgz
KalturaServerCESetup - build-your-own-video-site - How to set up Kaltura Server Community Edition - Code and documentation for a talk at OVC 2009 supporting creation of a personal video sharing site using open source code and tools. - Google Project Hosti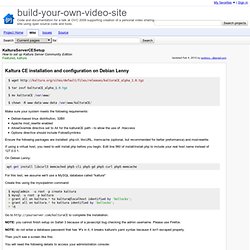 kaltura [svn] - trunk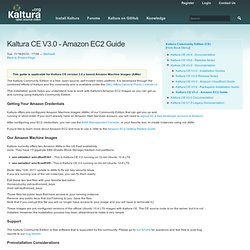 Amazon EC2 Guide
This guide is applicable for Kaltura CE version 3.0.x based Amazon Machine Images (AMIs)
CE V4.0 - Generic Installation Package
This guide is applicable for Kaltura CE version 4.0.x Congratulations on setting up your Kaltura CE ! To get easily started with your Kaltura CE you should first become familiar with the following applications:
CE V4.0 - Getting Started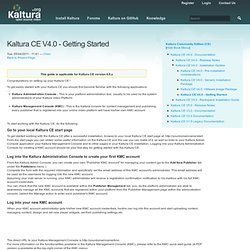 Terminology | Kaltura
Documentation
Amazon Simple Storage Service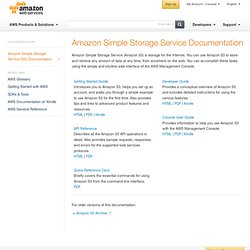 Introduces you to Amazon S3, helps you set up an account, and walks you through a simple example to use Amazon S3 for the first time.
Simple Storage Service (S3)
Amazon S3 Getting Started Guide
S3 Developers Guide
In general, bucket owners pay for all Amazon S3 storage and data transfer costs associated with their bucket.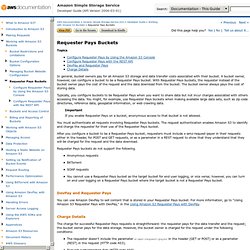 Amazon Simple Storage Service
Amazon S3 Resources
Amazon Web Services General Reference.
Using Amazon S3 from AWS Explorer
Specifying Amazon S3 Resources in Bucket Policies
How to Use Resources, Principals, Operations, and Conditions in Bucket Policies
Granting Permission, Using Canonical ID, to a CloudFront Origin Identify
Amazon Simple Storage Service
When you upload a folder, Amazon S3 uploads all the files and subfolders from the specified folder to your bucket.
Uploading Objects into Amazon S3
Virtual Hosting of Buckets
In general, virtual hosting is the practice of serving multiple web sites from a single web server.
You can use AWS SDKs when developing applications with Amazon S3.
Using the AWS SDKs and Explorers
Amazon Simple Storage Service
Sample Code & Libraries
A command line client for interacting with the AWS Elastic Beanstalk APIs.
Amazon CloudFront
Amazon CloudFront - Getting Started
AWS - Live Streaming Server
Sample Code & Libraries
CloudFront Plugin for Joomla! : Sample Code & Libraries
Downloads - joomcloudfront - Joomla! plugin & component for the Joomla! 1.5 CMS
Manager for Amazon CloudFront : Sample Code & Libraries
CloudFront Tool in PHP : Sample Code & Libraries
JetS3t - Java Toolkit for Amazon S3 and Amazon CloudFront : Sample Code & Libraries
JetS3t - Cockpit Online - 0.8.1
JetS3t - Cockpit
Downloads
CDN Plugins and Server Setup
JetS3t - Downloads
Managing Amazon EC2 - SSH login and protecting your instances - Everyday's findings
Amazon EC2 Getting Started Guide
Developer Tools
EC2 API Tools : Developer Tools
EC2 AMI Tools : Developer Tools
Amazon EC2 User Guide
HDDN | High Definition Distribution Network | Video Delivery Solution
API » NetDNA Support Site
MaxCDN | Content Delivery Network | CDN
jdorfman/netdna-api-samplecode - GitHub