Actual 'CDN/Cloud' Server Info & Docs
Interesting 3rd Party Services
Add photos. Uploading From Picasa. SmugMugExport. 3rd Party Services [USE THESE ONLY] Kaltura: Open Source Video Developer Community | Leading the Open Video Revolution. Red5. WOWZA. KalturaCE vs Kaltura On-Prem. On-Prem™ Edition. Kaltura's On-Premise Online Video Platform is full featured OVP software, running on your own servers or cloud.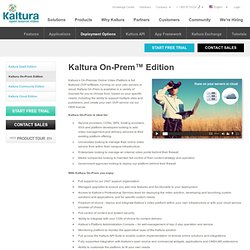 Kaltura On-Prem is available in a variety of licenses for you to choose from, based on your specific needs, including the ability to support multiple sites and publishers, and create your own OVP service via our OEM license. Kaltura On-Prem is ideal for: Service providers, CDNs, ISPs, hosting providers, ISVs and platform developers looking to add video management and delivery services to their existing platform offeringUniversities looking to manage their online video service from within their campus infrastructureEnterprises looking to manage an internal video portal behind their firewallMedia companies looking to maintain full control of their content strategy and operationGovernment agencies looking to deploy our platform behind their firewall With Kaltura On-Prem you enjoy:
Kaltura Cloud Edition. To support the growing need for scalable and easy to deploy private Kaltura stacks, Kaltura created the Kaltura Cloud Edition.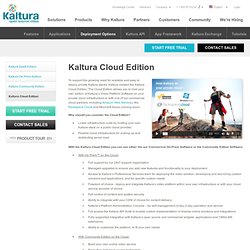 The Cloud Edition allows you to host your own edition of Kaltura's Video Platform Software on your private cloud infrastructure or with one of our commercial cloud partners, including Amazon Web Services, the Rackspace Cloud and Microsoft Azure (coming soon). Video Platform | Kaltura SaaS Edition. Kaltura offers a fully hosted edition of its video platform.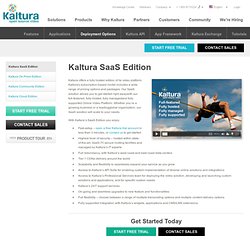 Kaltura's subscription-based model includes a wide range of pricing options and packages. Our SaaS solution allows you to get started right awaywith our full-featured, fully hosted, fully managedand fully supported Online Video Platform. Whether you're a growing business or a leadingglobal organization, our SaaS solution will scale to your needs. With Kaltura's SaaS Edition you enjoy: Community Edition (CE) - Self Hosted Online Video Platform. Kaltura is the Open Source Video Operating System, it enables developers to build video experiences that transforms the way people entertain, work, and learn.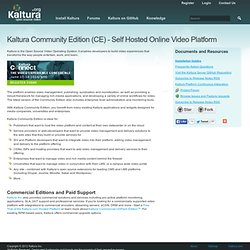 The platform enables video management, publishing, syndication and monetization, as well as providing a robust framework for managing rich-media applications, and developing a variety of online workflows for video. The latest version of the Community Edition also includes enterprise level administration and monitoring tools. CE V3.0 - Documentation. Amazon Cloudfront Guide | V3.0. This guide is applicable for Kaltura CE version 3.0.x installations The Kaltura Community Edition is a free, open-source, self-hosted video platform.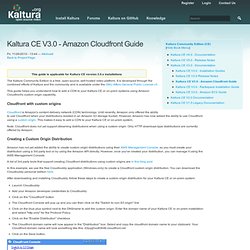 It is developed through the combined efforts of Kaltura and the community and is available under the GNU Affero General Public License v3 This guide helps you understand how to add a CDN to your Kaltura CE or on-prem systems using Amazon Cloudfront's custom origin capability. Cloudfront with custom origins Cloudfront is Amazon's content delivery network (CDN) technology.
KalturaServerCESetup - build-your-own-video-site - How to set up Kaltura Server Community Edition - Code and documentation for a talk at OVC 2009 supporting creation of a personal video sharing site using open source code and tools. - Google Project Hosti. Kaltura CE installation and configuration on Debian Lenny $ wget $ tar zxvf kalturaCE_alpha_1.0.tgz $ mv kalturaCE /var/www/ $ chown -R www-data:www-data /var/www/kalturaCE/ Make sure your system meets the following requirements: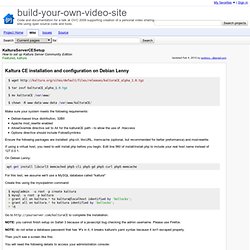 Kaltura [svn] - trunk. Amazon EC2 Guide. This guide is applicable for Kaltura CE version 3.0.x based Amazon Machine Images (AMIs) The Kaltura Community Edition is a free, open-source, self-hosted video platform.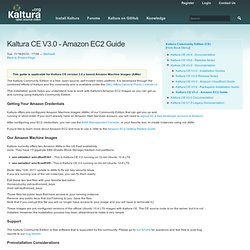 It is developed through the combined efforts of Kaltura and the community and is available under the GNU Affero General Public License v3 This installation guide helps you understand how to work with Kaltura's Amazon EC2 images so you can get up and running using Kaltura's Community Edition. Getting Your Amazon Credentials. CE V4.0 - Generic Installation Package. CE V4.0 - Getting Started. This guide is applicable for Kaltura CE version 4.0.x Congratulations on setting up your Kaltura CE !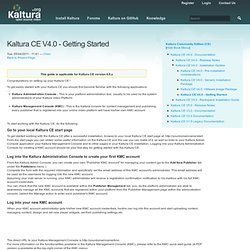 To get easily started with your Kaltura CE you should first become familiar with the following applications: Terminology | Kaltura. Cloud Computing Services. Documentation. Amazon Simple Storage Service. Amazon Simple Storage Service (Amazon S3) is storage for the internet.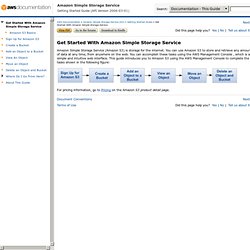 You can use Amazon S3 to store and retrieve any amount of data at any time, from anywhere on the web. You can accomplish these tasks using the AWS Management Console , which is a simple and intuitive web interface. Simple Storage Service (S3) Amazon S3 Getting Started Guide. S3 Developers Guide. Amazon Simple Storage Service. In general, bucket owners pay for all Amazon S3 storage and data transfer costs associated with their bucket.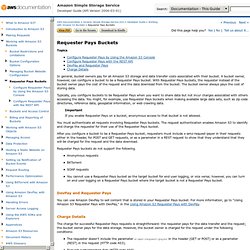 A bucket owner, however, can configure a bucket to be a Requester Pays bucket. With Requester Pays buckets, the requester instead of the bucket owner pays the cost of the request and the data download from the bucket. The bucket owner always pays the cost of storing data. Typically, you configure buckets to be Requester Pays when you want to share data but not incur charges associated with others accessing the data.
Amazon S3 Resources. Amazon Web Services General Reference. To reduce data latency in your applications, most Amazon Web Services products allow you to select a regional endpoint to make your requests. An endpoint is a URL that is the entry point for a web service. For example, is an entry point for the Amazon DynamoDB service. Some services, such as IAM, do not support regions; their endpoints therefore do not include a region. A few services, such as Amazon EC2, let you specify an endpoint that does not include a specific region, for example,
Using Amazon S3 from AWS Explorer. Amazon Simple Storage Service (Amazon S3) is a storage service that enables you to store and retrieve data from any connection to the Internet. All data stored by you on Amazon S3 is associated with your account and is, by default, accessible only by you. The AWS Toolkit for Visual Studio enables you to store data on Amazon S3 and to view, manage, retrieve, and distribute that data. Amazon S3 uses the concept of buckets, which you can think of as being similar to file systems or logical drives. Buckets can contain folders—which are similar to directories—and objects, which are similar to files. In this section, we'll be using these concepts as we walk through the Amazon S3 functionality exposed by the AWS Toolkit for Visual Studio. How to Use Resources, Principals, Operations, and Conditions in Bucket Policies. Specifying Amazon S3 Resources in Bucket Policies You can refer to buckets and objects in bucket policies.
Amazon S3 policies use the Amazon Resource Name (ARN) format for specifying them, as follows: arn:aws:s3:::[resourcename] The resource name is the fully qualified name of a bucket or object that the user is requesting access to. Granting Permission, Using Canonical ID, to a CloudFront Origin Identify. Amazon Simple Storage Service. Uploading Objects into Amazon S3. When you upload a folder, Amazon S3 uploads all the files and subfolders from the specified folder to your bucket. It then assigns a key value that is a combination of the uploaded file name and the folder name. For example, if you upload a folder /images containing two files, sample1.jpg and sample2.jpg, Amazon S3 uploads the files and then assigns the corresponding object key names images/sample1.jpg, and images/sample2.jpg.
Note that the key names include the folder name as a prefix. Virtual Hosting of Buckets. In general, virtual hosting is the practice of serving multiple web sites from a single web server. One way to differentiate sites is by using the apparent host name of the request instead of just the path name part of the URI. An ordinary Amazon S3 REST request specifies a bucket by using the first slash-delimited component of the Request-URI path. Alternatively, you can use Amazon S3 virtual hosting to address a bucket in a REST API call by using the HTTP Host header. In practice, Amazon S3 interprets Host as meaning that most buckets are automatically accessible (for limited types of requests) at. Using the AWS SDKs and Explorers. Amazon Simple Storage Service. Sample Code & Libraries.
Amazon CloudFront. Amazon CloudFront - Getting Started. AWS - Live Streaming Server. Sample Code & Libraries. CloudFront Plugin for Joomla! : Sample Code & Libraries. Downloads - joomcloudfront - Joomla! plugin & component for the Joomla! 1.5 CMS. Manager for Amazon CloudFront : Sample Code & Libraries. CloudFront Tool in PHP : Sample Code & Libraries. JetS3t - Java Toolkit for Amazon S3 and Amazon CloudFront : Sample Code & Libraries. JetS3t - Cockpit Online - 0.8.1. JetS3t - Cockpit. Downloads.
JetS3t - Downloads. Managing Amazon EC2 - SSH login and protecting your instances - Everyday's findings. Amazon EC2 Getting Started Guide. Developer Tools. EC2 API Tools : Developer Tools. EC2 AMI Tools : Developer Tools. Amazon EC2 User Guide. HDDN | High Definition Distribution Network | Video Delivery Solution. API » NetDNA Support Site. MaxCDN | Content Delivery Network | CDN.
Jdorfman/netdna-api-samplecode - GitHub.
---