Scoop.It
Introduces the Scoop.it ScoreScoop. "Quality is not an act, it's a habit."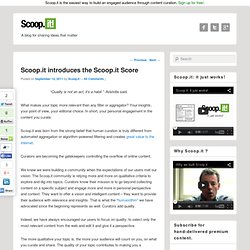 -Aristotle said. What makes your topic more relevant than any filter or aggregator? Your insights, your point of view, your editorial choice. In short, your personal engagement in the content you curate. Content Curation World | Scoop.it. Scoop.it Went Live This Week: Here is The Story - Curated, Scooped and Storified · myrstad. Scoop.it: reinventing content curation and development. Be heard everywhere!Scoop. Today is a great day for us: during the last weeks, the entire team worked hard to release this new version of Scoop.it we just launched today!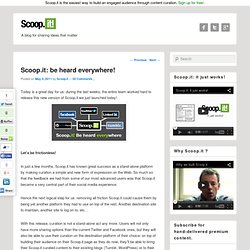 Let's be frictionless! In just a few months, Scoop.it has known great success as a stand-alone platform by making curation a simple and new form of expression on the Web. So much so that the feedback we had from some of our most advanced users was that Scoop.it became a very central part of their social media experience. Hence the next logical step for us: removing all friction Scoop.it could cause them by being yet another platform they had to use on top of the rest.
Scoop.it heads to the US as traction picks up (TCTV) At The Next Web conference in Amsterdam I caught up with Guillaume Decugis, CEO of Scoop.it, a news curation startup coming out of France, but which is rapidly gaining traction and is poised to put down roots in the US.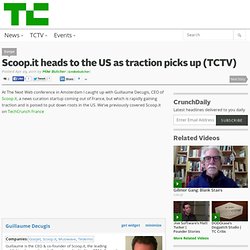 We've previously covered Scoop.it on TechCrunch France Guillaume is the CEO & co-founder of Scoop.it, the leading publishing-by-curation platform. Launched in Nov. 2011, Scoop.it attracted about 100 million unique visitors in two years by enabling people and businesses to efficiently discover, curate and… Learn More. Scoop it - Everyone is a publisher.
---