MasterNewMedia curation guide
Real-Time News Curation: Part 6 - The Tools and Technologies In this part of the guide you will find: 1. A Brief History of News Curation Tools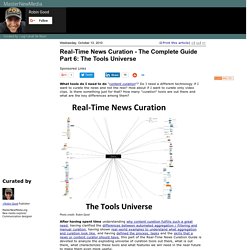 I have received a lot of emails from readers asking to illustrate more clearly what the actual typical tasks of a news curator are, and what are the tools that someone would need to use to carry them out. In Part 4 and 5 of this guide I am looking specifically at both the workflow, the tasks involved as well as at the attributes, qualities and skills that a newsmaster, or real-time news curator should have. 1. Identify Niche Identify your specific topic-theme.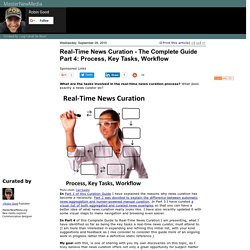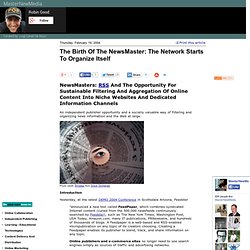 What Is The Discovery? The discovery is the unlimited and yet untapped power we now have to search, filter, aggregate and create focussed news/information channels with the only support of our know-how, culture, experience and a little unknown free technology called: RSS. Where Is The Real Value?
The Birth Of The NewsMaster: The Network Starts To Organize Itself
Part III: Curation Types and Real-World Examples There exists many types of curation , and many ways to interpret what curation really is. As I have attempted to illustrate in Part II of this guide, in my own view, aggregation is automated and it is not the same as curation.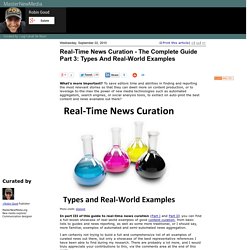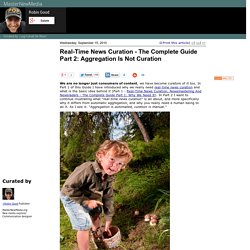 We are no longer just consumers of content , we have become curators of it too. In Part 1 of this Guide I have introduced why we really need real-time news curation and what is the basic idea behind it (Part 1 - Real-Time News Curation, Newsmastering And Newsradars - The Complete Guide Part 1: Why We Need It ). In Part 2 I want to continue illustrating what " real-time news curation " is all about, and more specifically why it differs from automatic aggregation, and why you really need a human being to do it. As I see it: " Aggregation is automated, curation is manual.
Real-Time News Curation: NewsMastering and NewsRadars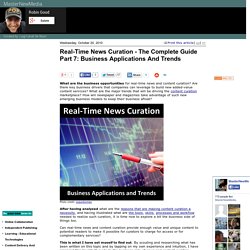 Real-Time News Curation: Part 7 - Business Opportunities 1. Where Is The Money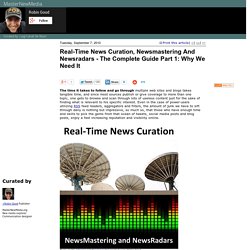 The time it takes to follow and go through multiple web sites and blogs takes tangible time, and since most sources publish or give coverage to more than one topic, one gets to browse and scan through lots of useless content just for the sake of finding what is relevant to his specific interest. Even in the case of power-users utilizing RSS feed readers, aggregators and filters, the amount of junk we have to sift through daily is nothing but impressive, so much so, that those who have enough time and skills to pick the gems from that ocean of tweets, social media posts and blog posts, enjoy a fast increasing reputation and visibility online. Photo credit: dsharpie and franckreporter mashed up by Robin Good " What we need to get much better at is scaling that system so you don't have to pay attention to everything, but you don't miss the stuff you care about... " Ev Williams at a Girls in Tech event at Kicklabs via Stowe Boyd's blog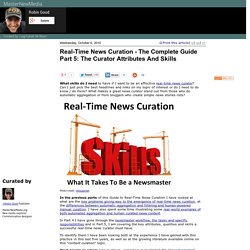 What skills do I need to have if I want to be an effective real-time news curator ? Can I just pick the best headlines and links on my topic of interest or do I need to do know / do more? What makes a great news curator stand out from those who do automatic aggregation or from bloggers who create simple news stories lists?