Human Discovery vs. Search
Context first: A unified field theory of publishing. Aggregation versus curation: Do travelers really know or care? If someone told you that they aggregate things and someone else told you that they curate things, would you know the difference?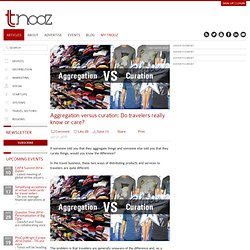 In the travel business, these two ways of distributing products and services to travelers are quite different. The problem is that travelers are generally unaware of the difference and, as a result, don't understand what they are getting when they look for experiences through a curator or an aggregator. Let's first define the terms. According to Oxford, the term "aggregate" means: verb /agrigayt/ combine into a whole. Announcing People and Content Discovery. Posted on August 2, 2011 by william We're calling this latest slew of features Eqentia+, in sympathy with GooglePlus.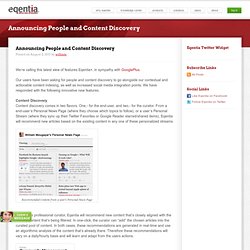 Our users have been asking for people and content discovery to go alongside our contextual and actionable content indexing, as well as increased social media integration points. We have responded with the following innovative new features. Content DiscoveryContent discovery comes in two flavors. One,- for the end-user, and two,- for the curator. The Human Algorithm. When I became a reporter, almost 20 years ago, my job was to dig up scarce, precious facts and deliver them to a passive audience.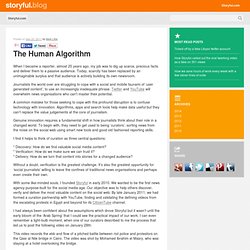 Today, scarcity has been replaced by an unimaginable surplus and that audience is actively building its own newsroom. Journalists the world over are struggling to cope with a social and mobile tsunami of 'user generated content', to use an increasingly inadequate phrase. The End of the Destination Web and the Revival of the Information Economy. InShare639 In recent weeks journalism and the future of all media have once again gone under the knife.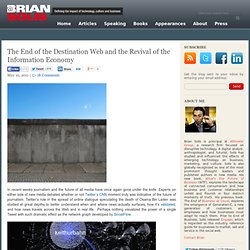 Experts on either side of new media debated whether or not Twitter's CNN moment truly was indicative of the future of journalism. The Relevance Of Context In Content Curation - Gerd Leonhard. Curation is the new search tool. Everyone wants to be a news filter now. As the avalanche of information coming through social networks and real-time tools like Twitter continues to grow, the need for filters to make sense of that tsunami of data also increases, and it seems as though everyone has a different way of trying to solve that problem.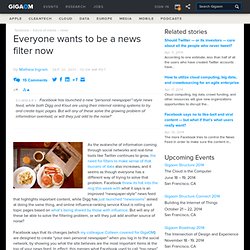 Facebook threw its hat into the ring this week with what it says is an improved "newspaper-style" news feed that highlights important content, while Digg has just launched "newsrooms" aimed at doing the same thing, and online influence-ranking service Klout is rolling out topic pages based on what's being shared by those with influence. But will any of these be able to solve the filtering problem, or will they just add another source of noise? Facebook says that its changes (which my colleague Colleen covered for GigaOM) are designed to create "your own personal newspaper" when you log in to the social network, by showing you what the site believes are the most important items at the top of your news feed. Return of the Editor: Why Human Filters are the Future of the Web. Before news aggregators, content curators, and Google's omnipotent algorithm, the world's information was sorted by real human beings.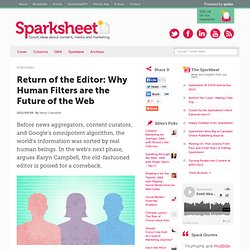 In the web's next phase, argues Karyn Campbell, the old-fashioned editor is poised for a comeback. If web 1.0 was about websites and 2.0 the power of network connectivity, whatever 3.0 looks like, better filters will play a big part. The web has become too big and noisy. The design community has helped guide us through some of the slush, and search technology has made leaps filtering and personalizing information for us. Content curation: computers and humans creating collaborative intelligence. We don't have a problem of "information overload"… we have a problem of "filter failure".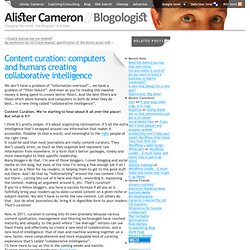 And even as you're reading this massive money is being spent to create better filters. And the best filters are those which allow humans and computers to both do what they do best… in a new thing called "collaborative intelligence". Content Curation. Pierre Lévy on Collective Intelligence Literacy. The Rise Of Pinterest And The Shift From Search To Discovery. The current toast of the web is Pinterest, the visual pinboard for collecting and sharing content online.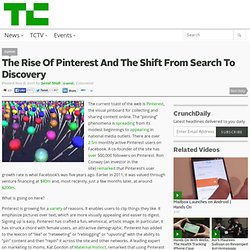 The "pinning" phenomena is spreading from its modest beginnings to appearing in national media outlets. There are over 2.5m monthly active Pinterest users on Facebook. A co-founder of the site has over 500,000 followers on Pinterest. Ron Conway (an investor in the site) remarked that Pinterest's user growth rate is what Facebook's was five years ago. Earlier in 2011, it was valued through venture financing at $40m and, most recently, just a few months later, at around $200m. People Curation. I just finished reading a great post by Ville Kilkku titled: Klout, Triberr, paper.li, and the future of content curation.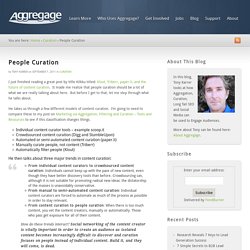 It made me realize that people curation should be a lot of what we are really talking about here. But before I get to that, let me step through what he talks about. He takes us through a few different models of content curation. I'm going to need to compare these to my post on Marketing via Aggregation, Filtering and Curation – Tools and Resources to see if this classification changes things. Individual content curator tools – example scoop.itCrowdsourced content curation (Digg and StumbleUpon)Automated or semi-automated content curation (paper.li)Manually curate people, not content (Triberr)Automatically filter people (Klout) Content Curation by people not Ai « PrePrint. Currently, I am exploring digital content curation and have been searching out visually interesting curation tools.
I initially started with Vodpod as a way of curating all the audio-visual material I stumbled upon. Vodpod is very effective for collecting videos and following the video collection streams of other collectors. You can collect videos from others that are of interest and others can collect from you. It is also a great place to store the gems you find.
I have embedded a link to my vodpod account on my blog as a way of sharing further. What's The Role Of Curation In Search?
---